6 Images
Miller's biggest hits
A Career to Kill For
Frank Miller is the most important figure in comics in the past 25 years but his art and writing are not for the faint of heart. Hollywood is a fan -- adaptations of Miller's work include "300" and "Sin City," while "Batman Begins" was clearly influenced by his Batman work. Next up: "Sin City II: A Dame to Kill For," and then Miller himself writes and directs "The Spirit," which begins filming this year. Here's a look at some of his key work:
(Takashi Seida / Warner Bros. Ent.)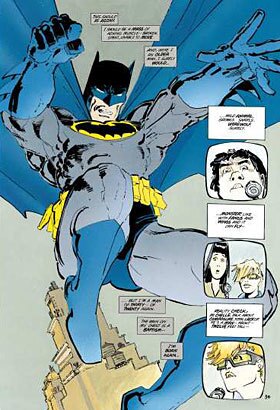 'The Dark Knight Returns'
(1986)
Miller's masterpiece, "Dark Knight" began to erase the prevailing public view of Batman as the campy 1960s character portrayed Adam West on television and, more important, it created a wildfire of media attention to the maturation and ambition of comics as art form. In the four issue series (and later graphic novel) Bruce Wayne, aged and bitter, comes back out of retirement to a Gotham City gone mad and, like Dirty Harry in a cape, he escalate his violence to match his beloved city and even murders the Joker.
(Frank Miller)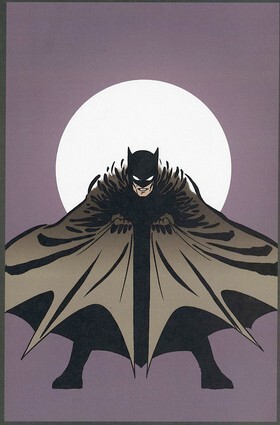 Batman: Year One
(1987)
Miller wrote and David Mazzucchelli handled the art on the four-issue run of Batman's monthly comic book that essentially updates the hero's origin tale with compelling nuance and drama; this short run of issues (later collected as a graphic novel) stands in the eyes of many fans as Miller's most satisfying and accessible work. It certainly impressed Hollywood: The film "Batman Begins" borrowed heavily from it.
(David Mazzucchelli / DC Comics)
Sin City (1991)
The tales of the crooked cops, hookers, sex fiends, thugs and an occasional true innocent of Basin City began in 1991 and stretched out throughout the decade. The hyper-noir stories (now collected in a series of graphic novels) find Miller writing like Mickey Spillane transferring "High Noon" to a sprawling, spooky metropolis that is under a constant barrage of rain and blood. The comic book came alive in a way no other has in the 2005 film directed by Robert Rodriguez and Miller (along with "guest" director Quentin Tarantino) and two more sequels are coming.
(Dimension Films)
'300'
(1998)
Miller was struck as a child by a film he saw called "The 300 Spartans" that offered a dramatic version of the ancient battle of Thermopylae. Miller long aspired to revist that battle in comics and even traveled the battlefield in Greece and met with scholars to inform his view of King Leonidas and his struggle against King Xerxes. The art here presents the now-classic Miller style -- dark, blocky caricatures of body types, bold use of shadow and brush stokes set against wispy line work and majestic color. The film adaptation is one of the biggest and most controversial hits of 2007.
()
The Dark Knight Strikes Again!
(2001)
The sequel to "The Dark Knight Returns" was a massive sales success but the reviews this time around were far from the nearly uniform awe and praise enjoyed by the original. The loopy storyline, the computer arts effects and the general sense that Miller was poking fun at the original "Dark Knight" tale led to a mighty backlash, although some critics said that Miller, as usual, was on the cutting edge of comics and this time the fans weren't ready to appreciate his bold choices.
(Frank Miller / DC Comics)