From the Archives: Heath Ledger's friends and colleagues talk about his 'gentle way'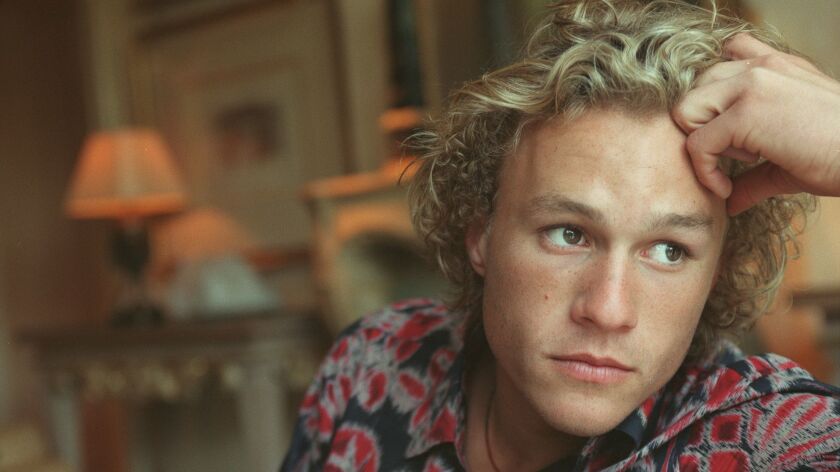 Just ahead of the 2009 Academy Awards, when Heath Ledger posthumously won the supporting Oscar for his role as the Joker in Christopher Nolan's "The Dark Knight," writer Michael Ordona talked with friends and associates of the actor, who died on Jan. 22, 2008. This appreciation of Ledger's work and persona was originally published on Feb. 11, 2009.
---
The late Heath Ledger's stunning, almost unrecognizable turn as the Joker in "The Dark Knight" shouldn't have come as a surprise.
It was far from the first time he had transformed himself for a role, whether drastically, as the scruffy skateboarding impresario in "Lords of Dogtown," or subtly, as the repressed, gay cowboy in "Brokeback Mountain." Here, the recollections of some who worked with the supporting actor nominee add detail to a picture of a complex man and challenging artist whose creative fire and generosity of spirit lifted those around him.
"His energy and enthusiasm for life will never cease to inspire me," said Ledger's longtime friend and business partner Matt Amato. "A friend of mine said after Heath died that we must continue in Heath's 'gentle way.' Those words sounded perfect to me -- Heath's gentle way."
From Heath Ledger's American debut in the underrated "Taming of the Shrew" adaptation "10 Things I Hate About You" (1999) through "The Patriot" and the Chaucer-inspired romp "A Knight's Tale," the handsome young actor looked to be on a teen-idol trajectory. But even then, he showed signs of being separate from the pack.
"I was intimidated by how worldly wise he seemed to be and how much he understood himself," said Jason Isaacs, who played the sadistic Col. Tavington in "Patriot." "He took a house in the forest while we all lived together in a condo. Like many in my profession, I seem to need company and to fill the silence with noise; he didn't need that, and he was very happy in his house in the forest. I know 21-year-olds; I'd never met a 21-year-old like him."
In 2001's "Monster's Ball," he made an indelible impression in a brief appearance as a tough death-row guard's sensitive son. It was an understated, soulful turn in a supporting role -- hardly the stuff of a teen idol lusting for fame.
Indeed, Daniel Day-Lewis, who had never met Ledger, cited that performance last year while dedicating his SAG win for "There Will Be Blood" to the young actor just five days after his death, saying his character "seemed to be almost like an unformed being, retreating from themselves, retreating from his father, from his life, even retreating from us, and yet we wanted to follow him, and yet were scared to follow him, almost. It was unique."
After a few relatively unremarkable lead turns, he flexed his acting muscles in an offbeat supporting role in "Lords of Dogtown" (2005), directed by Catherine Hardwicke.
"With his physicality, he had style," said Hardwicke ("Twilight"). "He didn't just surf or skate, he did it with his own weird, funky Heath style."
His metamorphosis to play the real-life Skip Engblom was startling. With long, ratty hair and eyes hidden behind dark sunglasses, he insisted on wearing prosthetic teeth, causing much fretting among those who hired him in part "for his beauty," Hardwicke said.
But Ledger, then a grizzled veteran in his mid-20s, brought more than quirky talent to the production.
"The younger actors, he was kind of like the godfather to all these boys, the Fagin," Hardwicke said. "He would encourage them, take them under his wing. He had half a trailer, he was so modest but he set up a camp outside it. He set up tiki torches and people would play guitars and call it Camp Heath."
Next, a more delicate transformation earned Ledger his first Academy Award, Golden Globe and BAFTA nominations. Beyond his rich emotional life as Ennis Del Mar in "Brokeback Mountain," his subtle technical choices in the film were the fine strokes that completed the painting. His clenched jaw, tight shoulders and habitual mumbling spoke of a man stoically refusing to express his true self. It was only with his secret lover that Ennis could allow his muscles to relax, his voice to come out clearly.
In 2005, Ledger joined Amato in the Los Angeles-based arts collective the Masses to hone the skills to direct films, starting with music videos. A rapidly developing visual style is apparent in the handful of his videos released so far, for artists such as Ben Harper. His steep growth curve can be seen in two pieces he directed for rapper and childhood friend Nfa: The first, "Seduction Is Evil," is a fairly straightforward presentation, possibly inspired by "Chicago"; the second, "Cause N Effect," is something much freer, abstract and striking. Two more are complete and awaiting release: one of Australian singer Grace Woodroofe covering David Bowie's "Quicksand" and an animated clip Ledger designed and storyboarded for Modest Mouse, completed after his death.
"Both these new videos reflect Heath's talents as a visionary artist. Someday, there will be an exhibit of his stunning photographs," said Amato in an e-mail exchange. "What Heath brought to us at the Masses was his pure creative energy, chessboards and surfboards.
"One fond memory I have is how he assisted me on a difficult edit. My carpal-tunnel syndrome was acting up . . . so Heath said, 'I'll be your hands.' And he was."
Ledger's next projects included the gritty drug-addiction drama "Candy" and the Bob Dylan tribute "I'm Not There," making it possible to trace the evolution of his sexual cool from the charming teen of "10 Things" to the swaggering musical star he played in the Todd Haynes movie. Then came "The Dark Knight." With his terrifying alchemy as the Joker -- which may earn only the second posthumous acting Oscar -- Ledger gave his final completed performance.
"Dark Knight" director Christopher Nolan, at a recent DGA symposium, spoke of Ledger's deep commitment to the role for months before shooting even began, saying the actor would call him up to talk about the character, how he should play him, and about other actors, movies and TV shows that had influenced him.
"Patriot" costar Isaacs witnessed it firsthand. Just before "Dark Knight" started shooting in London, he ran into Ledger and his then-partner Michelle Williams and their baby daughter. The new father was carrying around a notebook in which he was jotting ideas about the Joker. Remembering the 28-year-old Aussie's "boundless energy" and love of life and his daughter, Isaacs said of the young actor's fatal overdose of prescription drugs, "I knew in my heart there was no way it was suicide.
"I'll tell you an odd thing that happened," he added. "He died and everybody who had known him and worked with him on 'The Patriot,' we all phoned each other. Not like everybody didn't know; it was all over the headlines. None of us had anything particularly interesting or profound to say; we just wanted to say his name out loud. And be sad together. Because he was a lovely person."
---
SERIOUS CAREER
Although to many it felt as if Heath Ledger was just getting warmed up in his film career, the actor, who was 28 when he died last year, had amassed an impressive body of work. Beginning with his 1999 U.S. film debut, "10 Things I Hate About You," Ledger made 15 movies -- 16 if you count the one he was working on when he died.
2009: "The Imaginarium of Dr. Parnassus," a traveling theater company has a race with the devil.
2008: "The Dark Knight," the Joker unleashes chaos in Gotham City.
2007: "I'm Not There," looks at different aspects of the life of Bob Dylan.
2006: "Candy," heroin addicts in love.
2005: "Casanova," the fabled romantic learns about real love.
2005: "Brokeback Mountain," two cowboys keep their love a secret.
2005: "The Brothers Grimm," traveling con artists encounter a curse.
2005: "The Lords of Dogtown," based on the lives of the early Dogtown skateboarders in Venice.
2003: "The Order," a priest travels to Rome to investigate a death in his order.
2003: "Ned Kelly," the life of the Australian outlaw.
2002: "The Four Feathers," a British officer appears to be a coward when he resigns his post.
2001: "Monster's Ball," a racist prison guard falls in love with the African American wife of a prisoner he executed.
2001: "A Knight's Tale," a peasant creates a new identity for himself as a knight.
2000: "The Patriot," a father and son fight in the American Revolution.
1999: "Two Hands," an Australian film about a teen who gets into debt with the local gangster.
1999: "10 Things I Hate About You," a modern-day telling of "The Taming of the Shrew."
---
Get our daily Entertainment newsletter
Get the day's top stories on Hollywood, film, television, music, arts, culture and more.
You may occasionally receive promotional content from the Los Angeles Times.