For Sacramento, 'Lady Bird' offers a vivid portrait of a city that revels in its 'modest pleasures'
Reporting from Sacramento —
"You clearly love Sacramento," says the Catholic nun and high school principal as she looks over the college essay written by one of her students.
The teenager, who clearly thinks the city is uncool, shrugs and says she just pays attention to her surroundings.
"Well, it comes across as love," says the nun. "Don't you think maybe they are the same thing, love and attention?"
The scene is an inflection point in the story line of "Lady Bird," Greta Gerwig's tribute to her Northern California hometown. It's also a moment that rings true to Sacramentans who see essential truths about their city in the movie, which is nominated for five Oscars, including best picture.
"The pleasures of Sacramento are modest pleasures, but they're also the best pleasures," said David Watts Barton, a native whose local journalism career has included a newspaper column and a public radio talk show.
As a supply stop for Gold Rush miners headed into the Sierra Nevada and now the center of the state's political universe, Sacramento is an essential character in California's history. But the community and its people aren't accustomed to fanfare. Nor do they often seek it.
"It's not a 'show-offy' place," said Gerwig, who now lives in New York City, in a phone interview. "It doesn't sell itself hard… It's not there to sort of prove it on Instagram or something. If you're there, you know."
It's an attitude quickly embraced by newcomers, even those who once might have offered the city its most famous backhanded compliment: It's close to both San Francisco and Lake Tahoe.
"Sacramento was only a stopping point for me at first," said Jenn Kistler-McCoy, who arrived almost a decade ago from New Mexico. "But I fell in love with this city."
Kistler-McCoy began offering a communion with Gerwig's vision of Sacramento three weeks ago. Her "Lady Bird" walking tour (at $20 a person) guides visitors from the quirky Pasty Shack restaurant of East Sacramento to McKinley Park's historic rose garden, where Lady Bird (Saoirse Ronan) and Danny (Lucas Hedges) pledge their love to one another.
(Kistler-McCoy offers a running tour as well, for those who want to burn a few more calories while reveling in the cinematic highlights).
The 90-minute tour offers a blend of movie production notes and local history and has drawn sightseers from as far away as the East Coast. But it seems most popular with those who live nearby. On a recent weekend, all but one of the 14 tour-takers were locals.
"One of the coolest things I get to see is people talking about their experiences," Kistler-McCoy said.
As the group stopped at the post office where Lady Bird mails her college applications — Kistler-McCoy offers stamped postcards for the group to send thank you notes to Gerwig — the conversation kept coming back to how the movie "gets" Sacramento.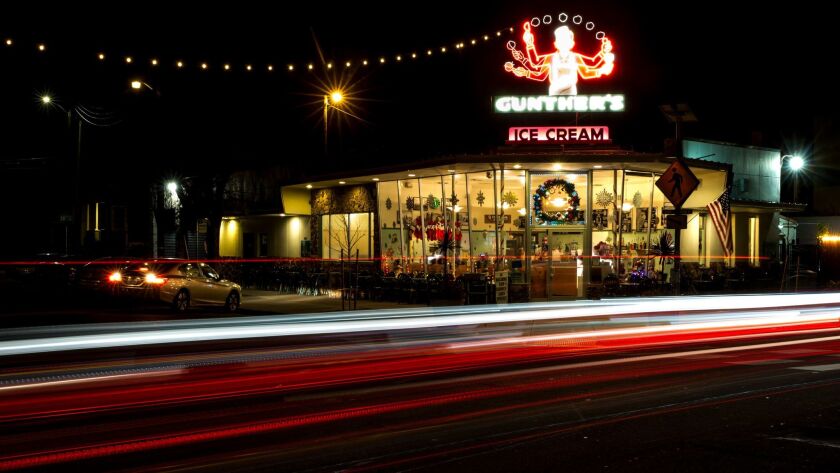 "People don't see it like that unless you live here," said Vanessa Crowder of the portrayal. "You see the movie and you're like, 'Let's just keep that going.'"
"There's always been cool stuff going on here," Barton said of the city's vibrant music and arts scene. "But you need to look for it."
Gerwig attributes the connection that locals are making with the film to her own connection with another of the city's native daughters, writer Joan Didion. The movie opens with a 1979 quote from Didion: "Anybody who talks about California hedonism has never spent a Christmas in Sacramento."
"When I first read Joan Didion," Gerwig said, "I was getting to see the place I was from through the eyes of this brilliant writer." She paused for a moment, and then said, "It's something to have your place reflected back to you."
So far, Sacramento likes what it sees through the eyes of the 34-year-old filmmaker. On the day Oscar nominations were announced, a local billboard company blazed a "Congratulations Greta Gerwig" digital display on signs over the city's busy thoroughfares. At Club Raven, a 70-year-old neighborhood bar whose neon sign briefly flickers in the movie, there's now a six-dollar "Lady Bird" cocktail (vodka, blackberry syrup, homemade sweet and sour mix and soda water).
But while the movie hits many of the right notes, it's missing some of what makes up Sacramento's unique melody. Most notable may be a sense of heterogeneity. The teenager played by Ronan bitingly calls it "the Midwest of California" in an early scene. And yet a Time Magazine cover story from 2002 — the same year, ironically, in which the movie is set — hailed Sacramento as "America's most diverse city."
Nor is the city of 495,000 immune to problems. Few places in the nation were hit harder by the Great Recession's foreclosure crisis. And like other California cities, it faces a seemingly intractable crisis of homelessness. Barton noted that rising housing costs, in a place traditionally among the state's most affordable, have squeezed out some of the artists and musicians he describes as "the people who make the city interesting."
Still, leaders see a civic renaissance led by an always present sense of community. "The ethos of Sacramento is its people," said Steve Hansen, a city councilman whose district includes some of the locales featured in the movie.
Gerwig attended the all-girls St. Francis High School and grew up in the modest River Park neighborhood, which Lady Bird calls "the wrong side of the tracks." But much of the movie showcases Sacramento's more eclectic and upscale locations.
Few of those places have drawn as much attention as the iconic "blue house," a stately two-story home built in 1935 and impossible to miss in the Sacramento neighborhood known as the "Fabulous Forties." The house is a key part of some of the movie's most pivotal scenes (no spoilers here).
"We knew she had a small budget," said Chris Wood, the house's owner, who said his family was paid a small fee for the one-day shoot. "When they knocked on the door, we never thought it would turn into something like this."
The steady stream of sightseers began shortly after the film opened. Not that he and his family mind; they have been happy to step out of the way for sidewalk photos. Last weekend, said Wood, a couple showed up to take engagement portraits in front of the four-bedroom, two-bath house.
Through 'Lady Bird,' Greta Gerwig and Saoirse Ronan find connections in art and life »
Joan O'Neill, who plays the grandmother of Lady Bird's first boyfriend, Danny, is a local who lives just down the street from the "blue house"; Gerwig used to attend ballet class with O'Neill's granddaughter.
"The movie's really incredible with how people relate to it," Wood said. "It's pretty special."
Gerwig said she hopes to eventually make a "quartet" of movies around her hometown. "Sacramento has a very specific and beautiful light," she said. "We don't have to do anything to it to make it beautiful. If we shoot it honestly, it'll look that way."
A montage sequence in the film includes some of the community's most beloved touchstones, including Gunther's Ice Cream, in its 1949 location, and the Tower Theatre where Gerwig's movie still shows five times a day.
"For us, seeing it there was just the best," said Michele Limeberger, a Sacramento native who lives in the nearby Land Park neighborhood.
Locals love the inside jokes, the reference to wealthy students hanging out at the upscale Pavilion's Shopping Center or living in the tony suburb of Granite Bay.
Not surprisingly, some of those most eager to soak it all in are mothers and daughters.
"I bawled my eyes out the whole time," said Sarah Lombardi, a graduate student who moved to Sacramento from Worcester, Mass. "Some of it mirrored my own experience. I wanted that new adventure, but had to leave my family," she said while taking the Lady Bird tour with her mother, Mary Jane Lombardi.
As the Lombardis stood in front of the "blue house," an SUV parked on the opposite side of the street. A mother and her two teenage daughters quickly got out, snapped a selfie with the house, and drove away.
Wood said he's thinking about hosting an outdoor Oscars party for his neighbors, a way to bring full circle the movie that reaffirms their love for a city that others may have overlooked in their hurry to get somewhere else.
"It just makes you feel good about who you are, and where you're from," he said.
Follow @johnmyers on Twitter, sign up for the daily Essential Politics newsletter and listen to the weekly California Politics Podcast
---
The complete guide to home viewing
Get Screen Gab for weekly recommendations, analysis, interviews and irreverent discussion of the TV and streaming movies everyone's talking about.
You may occasionally receive promotional content from the Los Angeles Times.