Long before 'Roma's' Yalitza Aparicio, Mexican TV and cinema often parodied indigenous people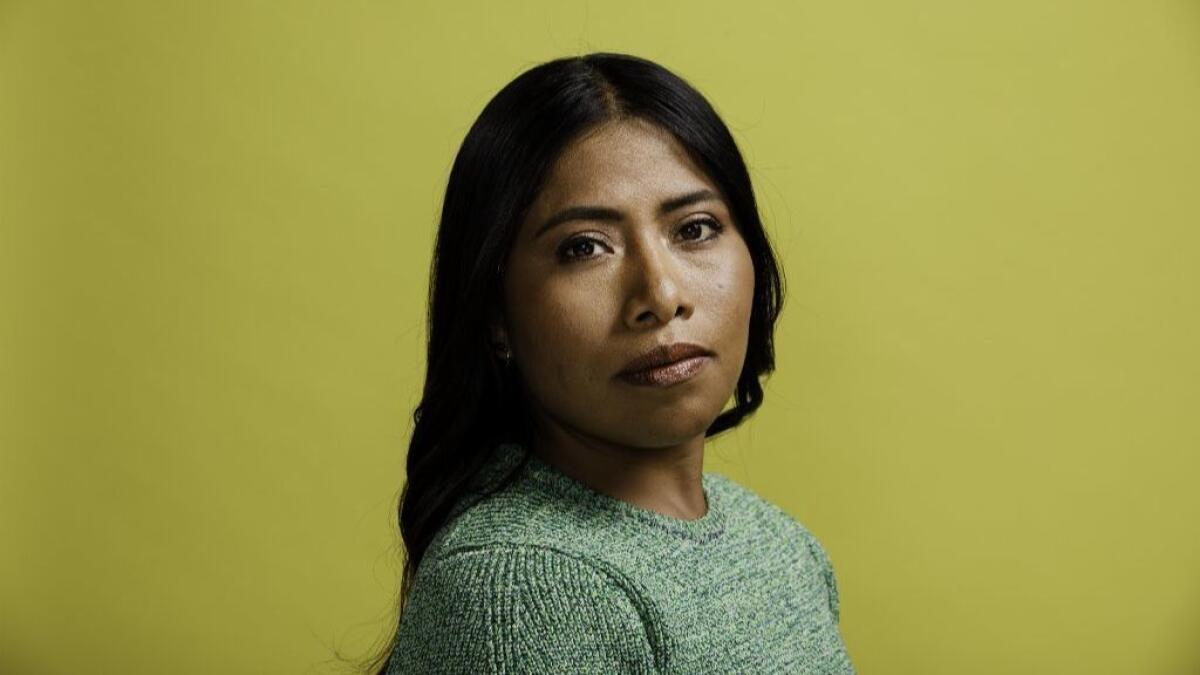 The brown-skinned woman with jet-black hair braided into pigtails arrives at a train station near her rural pueblo of San José de los Burros.
She dons a brightly colored blouse and a long, multilayered skirt. In one hand she carries a cardboard box, and a bag filled with oranges is slung over her shoulder. At her side stands calmly her beloved burro Filemón.
"You can't take donkeys on the train," the train ticket salesman tells her in the Spanish-language comedy "Tonta, tonta, pero no tanto," or "Stupid, Stupid, But Not That Much."
"He's only a burro by name," the woman replies in a childlike accent. "And he's more intelligent than the whole family."
She bids farewell to her mother, who tells her: "I won't tell you to write to us because you don't know how to." After hugging her father, he says to her: "And if you write to us, what's the point if we can't read."
Within the first 10 minutes of Fernando Cortés' blockbuster 1972 comedy, it's evident that the indigenous woman — a popular comedic character named La India María — is the butt of the joke.
Nearly 50 years later, we're still seeing remnants of those stereotypes that are played off as harmless parody. Earlier this week, Yalitza Aparicio, the indigenous Mexican actress who was Oscar nominated this year for her acclaimed performance in Alfonso Cuarón's "Roma," was ridiculed for her Mixtec and Triqui heritage.
Yeka Rosales, a TV personality for the Mexican-based Televisa network, drew harsh criticism after wearing "brownface," a prosthetic nose and thick lips to make fun of Aparicio. The mockery coincided with the network's season premiere of "La Parodia," a parody comedy series.
In response to the social-media outcry, Televisa issued a statement in Spanish saying: "Televisa strongly condemns any form of racism or discrimination. We do not believe that the production of 'La Parodia' engages in this type of practice" but added that some of its comments were made in "bad taste" and would be edited from the show.
Just last month, a video emerged of Mexican actor Sergio Goyri making vicious, racist remarks about Aparicio, calling her a "damn Indian" undeserving of her Oscar nomination for lead actress. He later apologized to her on Instagram.
"This [stereotyping] is as old as film," says Rubén Hernández-León, a UCLA sociology professor and director of the university's Center for Mexican Studies. "If we think about film and TV as the media of the 20th century, it's all throughout the 20th century in Mexico."
The parallels between La India María and the ridiculing of Aparicio are striking. As created and played by the actress María Elena Velasco, La India María was one of Mexico's most recognized and beloved personas — and rooted in damaging stereotypes of indigenous people. The portrayal often suggested they were rural, naive, noble, uneducated, simple-minded and ill-equipped for city life, sometimes mischievous, but often susceptible to the trickery of others.
The big laughs came from the stereotypes. And the immense popularity of her appearances on the Mexican variety show "Siempre en Domingo" ("Always on Sunday") during the 1970s launched the indigenous character, with all of its stereotypes, into a successful career that spanned more than 40 years. (The character was retired when Velasco died in 2015.)
La India María went on to star in nearly two-dozen roles in Mexican TV and film, including "Revista musical Nescafe" ("Nescafe Musical Revue"), "¡Ay María qué puntería!" ("María, What an Aim!"), "Pobre, pero honrada" ("Poor But Honest") and "La hija de Moctezuma" ("Moctezuma's Daughter").
But this stereotypical representation of indigenous people on Mexican screens dates back many generations. The 1939 film "El indio," which starred Pedro Armendáriz and Consuelo Frank as indigenous farmworkers, is thought to showcase an early form of comedic "indios," which later inspired Velasco's omnipresent character.
In Mexico, the term "indio/a" is derogatory and considered a racist and classist insult. It has historically been used to describe someone who is "primitive, uncultured, ignorant [or] uneducated," said Hernández-León.
The Mexican-American TV series "Señora Acero" on Telemundo, which ended in January after a five-season run, featured a character known as El Indio Amaro, a narco of a Tijuana cartel. He's violent (another indigenous trope) and walks around eating onions. His wife is superstitious (yet another stereotype) and casts curses with herbs.
Hernández-León noted the 1957 Mexican film "Tizoc: Amor Indio," or "Indian Love," that starred María Félix and Pedro Infante as the poor yet humble indigenous man Tizoc. Infante, hailed as one of the greats of the Golden Age of Mexican cinema between the 1930s and '60s, was fair-skinned and donned "brownface" for his character.
Though not a comedy, the romantic drama is typical in its depiction of the indigenous character, Hernández-León said.
"Tizoc is not meant as a kind of insulting thing. It's the portrayal of the Indian as a noble character with sort of authentic and good, positive feelings until he gets crossed and then all this violence erupts … and also in the movie he's lusting for a white-looking Mexican" who belongs to the upper classes, he said.
But common among most, if not all, of the films and TV shows featuring native Mexicans is a critical detail.
"Whichever of these [stereotypical] representations we've encountered, you'll never actually see an indigenous Mexican" representing themselves, Hernández-León pointed out.
"They're always mestizos, or of mixed race. That's why "Roma" "has created such a stir, because for the first time in a long time… [a film] has brought to the fore the fact that indigenous Mexican actors are not hired in general to represent themselves or to represent any other characters," Hernández-León said.
For Leda Ramos, a faculty lecturer at Cal State L.A.'s Department of Chicana/o and Latina/o Studies, Aparicio's role as Cleo, though muted, has sparked a necessary conversation.
"It still opened up a huge space for dialogue… and complicated as it is, it opened up this very damaging part of our Latinx culture, which is that self-hating and that self-loathing and that annihilation of our soul" that's been perpetuated so rampantly in Mexican telenovelas (soap operas) and film, she said.
But despite the dialogues, the public outcry against the parodying of Aparicio and her groundbreaking role in "Roma," Hernández-León hesitated to say that any change would come of it.
"It's too soon to tell ... but I think that it has certainly made a very important contribution in terms of forcing Mexicans and forcing people who work in film and TV to look themselves in the mirror of Mexican racism," he said.
"[That means] confronting ourselves with the fact that to think that Mexico is some kind of racial democracy or a place where race is not used as some kind of criteria to determine people's choices and chances is just not true," Hernández-León said, adding that "racism and colorism are alive and well in Mexico."
Get our L.A. Goes Out newsletter, with the week's best events, to help you explore and experience our city.
You may occasionally receive promotional content from the Los Angeles Times.