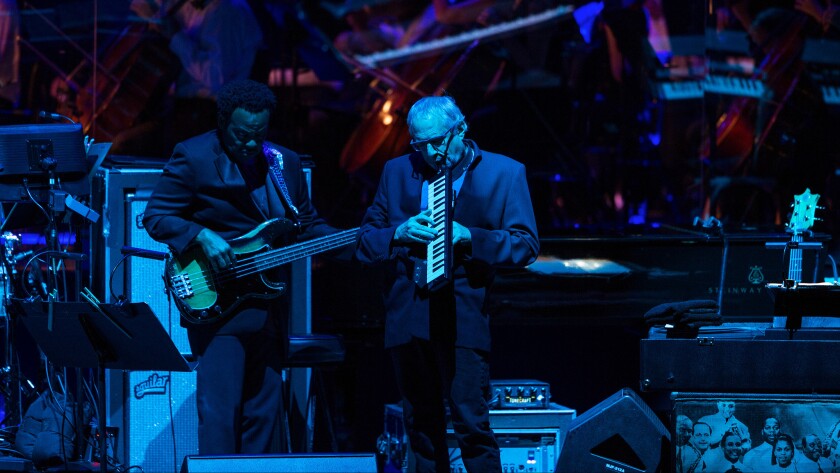 Here's what you combine to create Steely Dan, according to Thomas Wilkins of the Hollywood Bowl Orchestra: "profound poetry, creative genius and a clear understanding of what a groove is."
Those are the elements Wilkins laid out, anyway, as he welcomed the veteran jazz-rock group to the stage Saturday night to open the Bowl's 95th summer season.
Yet as generous as the conductor was, his list left out at least one thing, which was a willingness to risk looking like total sellouts.
After all, Saturday's concert wasn't just Steely Dan at a venue it's played several times, including less than a year ago, when the band was there with Elvis Costello. This was Steely Dan backed by the formally attired members of the Hollywood Bowl Orchestra — precisely the kind of gig that the group's famously acerbic leaders, Donald Fagen and Walter Becker, might've scoffed at back in their 1970s heyday.
See the most-read stories in Entertainment this hour >>
And you could tell they had that about-face in mind. Addressing the capacity crowd not long into Steely Dan's 85-minute set, Becker joked that he'd thought they'd been booked to play a bowling alley — and had dressed accordingly in a T-shirt and windbreaker. (His partner had obviously been clued in: Fagen wore a necktie over his T-shirt.)
So how did this unlikely pairing shake out? Here are five thoughts on the show.
1. It definitely didn't feel like any great betrayal. About the worst you could say, as one reader emailed me afterward, is that the added horns and strings made Steely Dan sound a bit like Chicago (which, whaddyaknow, will play the same spot with the same orchestra over the Fourth of July weekend).
Sometimes the arrangements were mellowing the group's signature bile; "Green Earrings," for instance, had kind of a "Love Boat" vibe, while "Third World Man" got pretty schmaltzy. But other songs used the orchestra more strategically. Take "Deacon Blues," a song about crawling like a viper through suburban streets, making love to women languid and bittersweet; here, the sentimental strings were helping Fagen embody a character he's already warning us not to trust.
2. The band also got some surprising energy out of the classical players, who provided a touch of film-score menace in the intro to "Josie" and kept up with Steely Dan's drummer, Keith Carlock, as he went to town on his kit at the end of "Aja."
3. Heavy rock is one thing. But airtight funk? Evidently that's another, as Steely Dan had the orchestra sit out "Time Out of Mind" and "Hey Nineteen," the latter of which received the night's biggest reaction from the crowd. (It's a tune, don't forget, about being mystified by the tastes of a younger generation.)
4. Playing with an orchestra wasn't the only novelty for Steely Dan on Saturday. According to Fagen, the show also marked the first time the band had ever performed with fireworks, which exploded over the Bowl during "Bodhisattva."
5. As is his custom, Becker paused "Hey Nineteen" before the lines about the Cuervo Gold and the fine Colombian to do a zany monologue, in this case a riff on how he and Fagen started Steely Dan in Los Angeles because they "were too freaky-deaky for New York."
He's held onto his local knowledge too. Thanking the assembled Angelenos for coming, Becker specifically shouted out "people from the Valley and outlying areas," then zeroed in further. "Tarzana, Woodland Hills, Reseda," he said. "I know the names."
Twitter: @mikaelwood
ALSO
Steely Dan with strings at the Hollywood Bowl? 'For some reason we decided we were gonna do this'
The complicated crooner: 5 thoughts on Bob Dylan's show at the Shrine
Summer scene gets a jolt of L.A.'s rock legacy with Guns N' Roses, Red Hot Chili Peppers and Prophets of Rage
---