10 Images
Naked for a cause
By Stephanie Lysaght, Los Angeles Times Staff Writer
Lady Godiva; Trendsetter
The noblewoman had a novel idea: When she wanted a tax lifted, she took action by riding through the streets in the buff.
Some celebrities have taken a cue from her, stripping down to bolster support for their favorite causes.
(Lady Godiva by John Collier)
Your new favorite coffee-table book
Only one man has what it takes to get both Heidi Klum and Kimora Lee Simmons to ditch their knickers -- Elton John, of course!
In his coffee table book, "4 Inches," countless celebrities modeled in only Cartier jewels and Jimmy Choos. Proceeds went to the Elton John AIDS Foundation.
(Getty Images)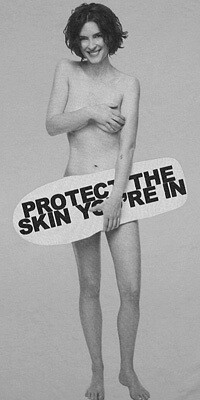 Showing some skin for skin cancer
The ever-pale Winona Ryder raised skin cancer awareness by stripping down for the "Protect the Skin You're In" campaign.
()
PETA members bare all
Dennis Rodman, Pamela Anderson, Cindy Crawford, Christy Turlington, and Naomi Campbell have all stripped down for PETA's ad campaigns.
(AFP)
I'd rather go naked than wear fur … or anything else
Holly Madison, Hugh Hefner's girlfriend and one of the stars of "The Girls Next Door," followed in the steps of other Hollywood heavyweights when she took it off for PETA.
The ad read, "I'd rather go naked than wear fur" – yeah, but one gets the sense she'd rather go naked, period.
(Peta)
Apolo Ohno's naked truth
When it came time to pose for GAP's (RED) campaign, which supports women and children affected by HIV/AIDS in Africa, celebrities came out in droves.
None, however, were quite as enthusiastic as speed skater Apolo Ohno, who was shirtless in a (RED) bandana in his ad.
(Gap)
Feminism or objectification?
Demi Moore made waves when she stripped down for the cover of Vanity Fair. Sure, she was seven months pregnant, but she was still sexy, and she wanted the world to know it.
Fans saw the photo as a feminist statement – critics, however, saw it as objectification.
(Vanity Fair)
Denise in the buff
Why clutter things up with such trifles as clothes when you've got a body like Denise Richards? After showing off her goods in Playboy, she decided to show them off for a worthy cause: the Clothes Off Our Back Foundation, which benefited children's charities.
(Associated Press)
Naked for free speech
When the Dixie Chicks got grilled for dissing President Bush in Texas, they did the only logical thing: got naked.
The Chicks posed nude on the cover of Entertainment Weekly with the words of both their fans and detractors scrawled over their bodies. "Traitors, hero, boycott," etc.
(Associated Press)
Naked for PETA … again
Alicia Silverstone has been out of the public eye for years, but she shot back into the picture this month with a PETA ad. The ad features her emerging from a pool, nude. "I'm Alicia Silverstone, and I'm a vegetarian," says the voiceover.
(Associated Press)