11 Images
New Year's Eve TV tips
"Dick Clark's New Year's Rockin' Eve"
New Year's Eve would be nothing without Dick Clark, a jam-packed Times Square and a rockin' lineup of artists to entertain. We're thankful Clark has recovered from a stroke in 2004 and will appear tonight with co-host (and Dick Clark 2.0?) Ryan Seacrest, Carrie Underwood and the Jonas Brothers. Fergie hosts from Hollywood with performances by Akon, Taylor Swift, Will.I.Am and others.
10 p.m. PST (ABC)
(Craig Sjodin / ABC)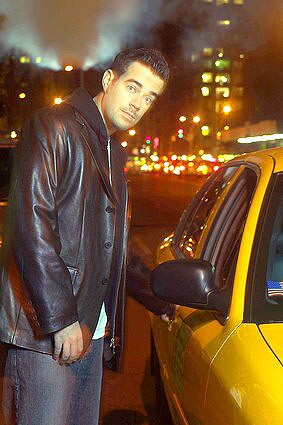 "NBC's New Year's Eve With Carson Daly"
The eternal VJ-turned-talk-show-host is called upon once again to count down in Times Square. The program features performances by Lenny Kravitz and Alicia Keys.
11:35 p.m. PST (NBC)
(NBC)
"Live From Lincoln Center"
Violinist Joshua Bell will be featured as Lorin Maazel conducts a program of romantic violin pieces for the New York Philharmonic, which celebrates New Year's Eve on "Live From Lincoln Center."
8 p.m. PST (KCET)
(Lawrence K. Ho / Los Angeles Times)
"New Year's Eve Live"
Cat Deeley, host of "So You Think You Can Dance," brings her emcee talents to the countdown in Times Square, where Spike Feresten will report from the street. "American Idol" winner Jordin Sparks and runner-up Blake Lewis will perform.
11 p.m. PST (Fox)
(Fox)
"106 & Party: New Year's Eve Special"
BET changes up its ever-popular "106 & Park" format to "106 & Party" for the countdown, with hosts Terrence and Rocsi in the company of Soulja Boy, Swizz Beatz, Bow Wow, Omarion, Lil' Boosie, Webbie & Fox, Hurricane Chris and Mims.
11 p.m. PST (BET)
(AP)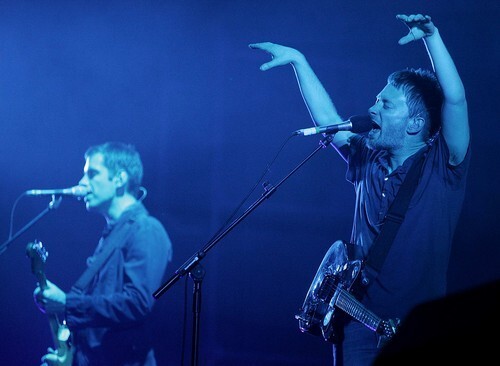 Radiohead
On Jan. 1, "In Rainbows," the album you already downloaded at the price you set yourself, will be available for sale in that popular format of yesteryear, the compact disc. Tonight the band performs the album in its entirety in a prerecorded concert on Current TV (
www.current.com
), beginning at 9 p.m. PST. The concert will also air multiple times throughout the day Tuesday.
9 p.m. PST (Current TV,
www.current.com
)
(Associated Press)
"Tila Tequila's New Year's Eve Masquerade 2008"
Before she's relegated to a 2007 flashback special on VH1, MTV will let MySpace star Tila Tequila ring in the new year. Costumes are promised, as are performances and-or appearances by Mary J. Blige, Kid Rock and Paramore, among others. Providing celebrity interviews and predictions for the upcoming year will be gossip blogger Perez Hilton.
11 p.m. PST (MTV)
(Isaac Brekken / AP)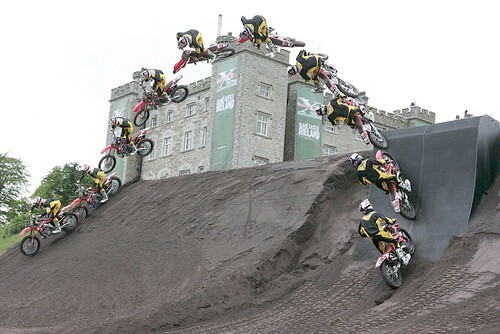 "New Year, No Limits"
If you get your kicks from the possibility of a hospital visit, this ESPN show is the perfect thrill for your New Year's Eve. Australian motorcyclist Robbie "Maddo" Maddison will try to clear the entire length of a football field. Don't worry about missing the excitement of watching the ball drop in Times Square -- ESPN will provide a split screen. Immediately follows the Chick-fil-A Bowl.
Approximately 8:15 p.m. PST (ESPN)
(Joerg Mitter / EPA)
"New Year's Eve With Anderson Cooper"
Join the CNN host, who revved up the ratings for the news channel, as he reports from Times Square and checks in on celebrations around the world. Make space in your living room for a few other correspondents and special guest Kathy Griffin.
8 p.m. PST (CNN)
(Peter Kramer / AP)
"South Park"
Comedy Central's mini-"South Park" marathon (five episodes in 2 1/2 hours) is an alternative to New Year's Eve countdown programming and "World of Warcraft." The fun begins with Cartman going to fat camp and ends with the first season's "Weight Gain 4000," in which Cartman gets fatter. Yes, Comedy Central airs "South Park" reruns all the time, but it may be best to start 2008 on a sure thing.
9:30 p.m. PST (Comedy Central)
(Comedy Central)
Fred and Ginger
Call it a return to top hats, black ties, ball gowns and bubbly as Turner Classic Movies airs its Fred Astaire-Ginger Rogers marathon. The network has lined up "The Gay Divorcee" (8 p.m. PST), "Shall We Dance" (10 p.m.), "Top Hat" (12 a.m.), "Swing Time" (1:45 a.m.), "Carefree" (3:30 a.m.) and "Follow the Fleet" (5 a.m.).
8 p.m. - 6:55 a.m. PST (TCM)
("The Gay Divorcee" / RKO)