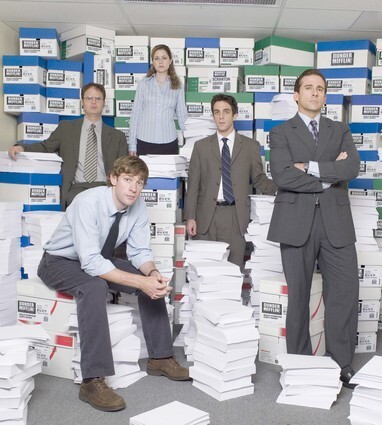 8 Images
'The Office:' Don't quit your day job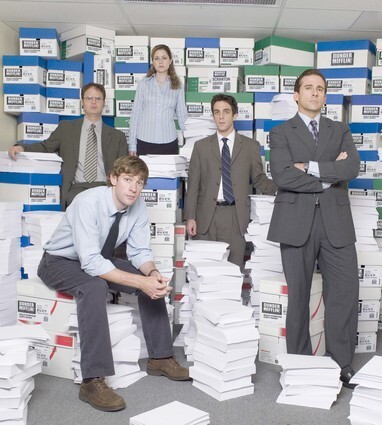 By Todd Martens, Deborah Netburn, Los Angeles Times Staff Writers
For those missing the cast of NBC's "The Office," the past few strike-riddled months weren't completely painful. Or were they?
If ever there was an urgent call for John Krasinski to get back to the cubicle and resume the role of Jim Halpert, it was the disappointing "Leatherheads." Jenna Fischer, meanwhile, looked to have a film career off and running with a prime gig in Judd Apatow's "Walk Hard: The Dewey Cox Story," but the rock 'n' roll parody didn't connect with audiences.
Not that anyone should be complaining.
No offense meant, but the staff of "The Office" is fine just where it is. Granted, that sort of selfish appreciation of the Scranton, Penn.-set show may not be good for the cast's career advancement, but there's no shame in being a company man.
So while Steve Carell was clearly joking in
this video
on the show's official Web site, it captures a kind of corporate dedication that's becoming all too rare in this era of disappearing pensions and minuscule merit raises. "I've been doing this show by myself for 100 days," Carell declares. "No camera crews. No other actors. And some of the episodes I turned out were fantastic."
Here here! But just in case any of those in the Dunder-Mifflin camp are readying their resumes, here's a look at how some of those who have spent some time in the paper factory have fared on their own. Don't quit your day job just yet.
-Continue
Related:
- "The Office" refresher
(Mitchell Haaseth / NBC Universal)
Steve Carell
Resume:
"Bewitched," "The 40 Year-Old Virgin," "Evan Almighty," "Dan in Real Life," "Get Smart" (upcoming).
Ready for a promotion:
While "Dan in Real Life" showed Carell could tackle an adult role, it didn't quite make up for the cinematic sin that was "Even Almighty." And yes, we chuckled when we saw the "Get Smart" trailer, but we've seen Carell play the charming buffoon before – as Michael Scott on "The Office." Until Carell starts to stretch outside his comfort zone more often, his home is in Scranton.
Performance review:
Carell has advanced well beyond his branch-leading role on "The Office," and if "Get Smart" takes off, a sitcom may not, in fact, be the best use of his talents. In this instance, perhaps the strongest career advice comes from Scott himself: "You expect to get screwed by your company, but you never expect to get screwed by your girlfriend.
(Ron Tom / NBC Universal)
Rainn Wilson
Resume:
"Six Feet Under," "My Super Ex-Girlfriend," "The Last Mimzy," "Juno," "The Rocker" (Upcoming)
Ready for a promotion:
He better hope so. This summer Wilson is slated to carry a film: "The Rocker," in which he plays an aging heavy metal drummer who gets a second shot at fame by joining his nephew's high school rock band. Wilson has been showing up in films for years now, but he's usually tapped as a goofy side character (witness his convenience store clerk turn in "Juno").
Performance review:
This season, Wilson's Dwight Schrute has shown he can run a B&B as well as sell paper (check
Tripadvisor
). But Wilson's brown-nosing Schrute has shown ambitions beyond sales before, and an attempt to overthrow his boss last season backfired. Schrute's a ruthless go-getter, but sometimes lacks perspective. And Wilson would be wise to remember these Schrute words: "Whenever I'm about to do something, I think, 'Would an idiot do that?' And if they would, I do not do that thing."
(Mitchell Haaseth / NBC Universal)
Rashida Jones
Resume:
"The Ten," "Unhitched" (TV), "Chilled in Miami" (upcoming, with
Renee Zellweger
)
Ready for a promotion:
"The Office" romance between Jim and Pam may be a crowd favorite, but there's no denying Jones' "Call of Duty" — playing Karen Filippelli brought a spark to the series as Jim's season three co-worker/girlfriend. In fact, her dashing one-season stint on "The Office" already won Jones a sitcom of her own, Fox's "Unhitched." Yet the poorly received series may indicate that Jones and "The Office" split too soon.
Performance review:
Though not a regular on the series anymore, when Jones did a guest shot this season as the regional manager of Dunder-Mifflin's Utica, N.Y., branch, it was clear
Scranton
lost a gem. Jones made it all look so effortless. "Turns out it's a pretty easy gig when your boss isn't an idiot and your boyfriend's not in love with somebody else," said her Filippelli. Is there even a remote chance that Jones is involved in "The Office" spinoff?
(NBC Universal)
John Krasinski
Resume:
"Leatherheads," "License to Wed," "Shrek the Third," "Brief Interviews with Hideous Men" (upcoming, directing debut)
Ready for a promotion:
Getting a gig alongside George Clooney is proof that Krasinski has turned many a head in Hollywood – and deservedly so. His Jim Halpert doesn't have to say a word, as his wonderfully bemused facial expressions in response to the antics of Michael Scott are enough to elicit laughs. But let's be clear here, "Leatherheads" was no "Michael Clayton," and after the dismissible "License to Wed," an above-average follow-up would have been nice.
Performance review:
Like Halpert, aka Big Tuna (or Big Haircut), Krasinski has the skills to graduate from Scranton. But there appears to be no reason to worry, as he hasn't taken full advantage of his time on hiatus from "The Office." For now, there's a comfort level in "The Office" that seems to bring out the best in Krasinski. Whether wanting to admit it or not, there's just something holding him back. As his Halpert noticed after a few months away from Scranton and Dwight Schrute, "I miss Dwight. Congratulations, universe. You win."
(Justin Lubin / NBC Universal)
Jenna Fischer
Resume:
"Walk Hard: The Dewey Cox Story," "Blades of Glory," "Brothers Solomon"
Ready for a promotion:
Fischer has appeared ready for stardom. Her Pam Beesley, often confined to the reception desk, has only hinted at her full comedic potential. The underappreciated "Walk Hard" gave her a chance to stretch out, taking a character through multiple decades, but let's hope the film's disappointing reception doesn't stunt her career growth.
Performance review:
Since last season's finale, Fischer's Beesley has been a star of "The Office." In fact, her episode-closing speech ranks among the series' best moments, when after walking across hot coals, Beesley confesses her love for Jim Halpert, and completely breaks out of her shell. She even takes a jab at her boss, who refused to walk the coals himself (this all made sense in the episode): "Michael, you couldn't even do that. Maybe I should be your boss?" While not yet ready for the corner office, she won't be a receptionist for long.
(Justin Lubin / NBC Universal)
Melora Hardin
Resume (a small sampling):
"Thank You for Smoking," "Monk," "The Comebacks," "27 Dresses," "Me, Mom, Dad and Her" (upcoming, Lifetime made-for-TV movie), "Seventeen Again" (upcoming, with Zac Effron)
Ready for a promotion:
Already an acting vet by the time she graced "The Office," Hardin's role as the fallen executive Jan Levinson went from a bit part in the first two seasons to a near full-time gig in 2007. She's proven to be a fast-rising star in "The Office," and her decade-plus career of random parts has appeared to have found some stability. Credit Levinson's hard-to-argue with leadership skills. Bringing a recent dispute to a close, she said, "I stole your diary and gave it to my lawyer. You e-mailed a topless photo of me to everyone in our company. Let's call it even."
Performance review:
Her sudden success within "The Office" has surely played a hand in netting Hardin a role in the romantic comedy hit "27 Dresses." More film roles are on the horizon, and now that Hardin's currently out-of-work Levinson has relocated from New York to Scranton, she's brought added dimension to deal with character's sudden job debacle. Yet it's advised she's soon given more to do than hang in Michael Scott's condo.
(Mitchell Haaseth / NBC Universal)
Angela Kinsey
Resume:
A sampling: "License to Wed," "King of the Hill," "Monk"
Ready for a promotion:
Since Kinsey's Angela Martin dumped Rainn Wilson's Dwight Schrute, she's had an even greater presence in "The Office." Kinsey has stepped up, making the world forget she ever had a role in "License to Wed" (until just now).
Performance review:
Playing the conservative and driven Martin, Kinsey portrays her tough-as-nails cat lady straight. The cold demeanor only hints at the weirdness beneath the surface (on how to break up with someone: "You send them a notarized letter, right?"). Yet for now, she remains best-suited as one of the team players in "The Office." (See also Mindy Kaling's Kelly Kapoor and Creed Bratton's Creed).
(Justin Lubin / NBC Universal)