16 Images
The mysterious powers of the all-powerful Oprah Winfrey
Oprah Winfrey
Oprah Winfrey is a Chicago-based TV talk show host?
Wrong!
Oprah Winfrey is a multimillionaire media mogul with publishing, broadcast, Internet, theater and screen productions to her name?
Wrong!
Oprah Winfrey is the single most powerful organic entity on our planet? Now we're getting somewhere.
With news that the daytime talk queen is leaving her syndicated show to run her new network, OWN (Oprah Winfrey Network), we can only imagine what lies ahead. She has slowly evolved into a force of nature so powerful, her Neo-like ability can mold and shape reality around her. If Oprah says it, it is real. If Oprah wishes it, it exists. If Oprah is angry, woe to those who stand in the face of her terrible fury. In short, Oprah is all-powerful. Don't believe us? Check out these examples of her might.
(Kevork Djansezian / Getty Images)
Oprah can turn your low-budget indie movie into an Oscar contender
Oh sure, Oprah came on board to executive produce
"Precious"
after the small film, based on the true story of an obese, abused teen living in the ghetto, was already completed and subsequently raved about at the Sundance Film Festival. But there's no doubt that attaching her name will translate into bigger box office for the heart-wrenching film (which stars Gabourey Sidibe, pictured) that most might not otherwise hear about -- especially now that she's making headlines for
ditching her daytime show
.
-- Denise Martin, latimes.com
(Anne Marie Fox / Lionsgate)
Oprah Winfrey is the center of power
This photo was taken at the Madame Tussauds' in
New York
, where they celebrated
President Obama's
birthday in early August. It shows the wax figures of three United States presidents, a former secretary of state and chairman of the joint chiefs of staff. And who's that lady right in the middle? That's right: Oprah. Even at Obama's fake wax birthday celebration, the O commands the center stage.
If new denominations are ever added to U.S. currency, want to take bets on whether Oprah will join the ranks of Benjamin Franklin and Alexander Hamilton as non-presidents who get their faces on the bills? We'll bet a million dollars (soon to be known as the Oprah).
-- Patrick Kevin Day, latimes.com
(Andrew H. Walker / Getty Images)
Oprah can make you read
Since she introduced Oprah's Book Club in 1996, Winfrey has helped create bestselling authors just by mentioning their books on the air. In a nation of supposed near-illiterates, she's made reading into something to be discussed at parties again. Shortly after Oprah chose Cormac McCarthy's "The Road" as her March 2007 selection, it was selected to win the Pulitzer Prize in fiction.
Here's
the Oprah version of the book.
Here's
the Pulitzer version of the book. What's the difference anymore?
-- Patrick Kevin Day, latimes.com
(George Burns / Associated Press)
Oprah can make annoying people popular
Without the Oprah seal of approval, the arrogant and wacky ways of Dr. Phil and the over-the-top perkiness of Rachael Ray would never have made it to the mainstream. However, once Oprah took both under her wing, their frequent visits to "The Oprah Winfrey Show" combined with the inescapable advertising campaigns for their spin-off projects transformed both personalities into household names overnight.
-- Kate Stanhope,
latimes.com
(Frazer Harrison / Getty Images)
Oprah can make you clean your house
Nothing puts the fear of God in Oprah fans like a knock on the door from her organization guru Peter Walsh. The former "Clean Sweep" host traveled from coast to coast invading neighborhoods looking for fans willing to open their cluttered homes for Oprah and the rest of America to see.
-- Emily Christianson,
latimes.com
(Free Press)
Oprah can control people's eating habits
In early 2009, Oprah caused a finger-licking stir when she gave away coupons for a free two-piece grilled chicken meal from KFC to viewers across the country. Within days, the coupon's website crashed and the restaurant suffered from its longest lines since ... well, ever. In 1996, Oprah was famously sued by a group of Texas cattlemen who claimed she had caused a decline in beef sales after she questioned the safety of meat on her show. The cattlemen lost the case but the power of Oprah became stronger than ever.
-- Kate Stanhope,
latimes.com
(Brian Bohannon / Associated Press)
She can rob a singer of her voice
As Oprah herself might say, er, sing:
Whitney Houston
is baaaaaaaaaaaaaaaaaack!
Unfortunately, Oprah chatted her up for so long that Houston was hoarse the next morning while performing on "Good Morning America." And the singer knew it. "I'm so sorry,"
Houston told the crowds
. "I did Oprah. I've been talking for so long…I talked so much my voice…I shouldn't be talking, I should be singing." Jeez! Good going, Oprah!
-- Denise Martin,
latimes.com
(George Burns / Associated Press)
She can tell you what to drive
Who could forget the day the heavens parted and Oprah, in a fabulous red dress, descended for the premiere of her 19th season. She bestowed boxes with bows to the audience and told them only one had a key to a shiny new Pontiac G6. But -- surprise! -- they all had keys!
And thus, the
You Get a Car Remix"
was born.
-- Denise Martin,
latimes.com
(Bob Davis / Associated Press)
Oprah can elect a president
Her "O-ness" dubbed Barack Obama "The One" and with that title, he became just that: the first African American president of the United States. She saw him do the 2004 speech at the Democratic National Convention and something came over her. She just knew in 2005 and was on his bandwagon since then. "His candidacy was a series of providences," she said on her website. She was with him on the campaign trail and in the crowd during his acceptance speech in Millennium Park in Chicago, misting up just like the rest of America. And it's a new way of being in the world, a new level of consciousness...can you feel it?
-- Darcel Rockett,
Zap2It.com
(Wire Image)
Oprah can shut down a city
Oprah single-handedly shut down Chicago's storied main thoroughfare, Michigan Avenue, for her 24th season premiere. The outdoor taping was held Sept. 8 as a block party, but said block party took three days and closed Michigan Avenue between Wacker Drive and Ohio Street. (
And to think Angelina Jolie was slated as more powerful than the O this year.
) The event featured guests like the Black Eyed Peas, and was a feather in the cap for the city in terms of showcasing Chicago's glamour.
-- Darcel Rockett, Zap2It.com
(Wire Image)
Oprah can help you get your finances in order
Oprah has devoted countless segments to addressing viewers' money problems. Year after year, she enlists the help of personal finance expert Suze Orman to give audience members "money makeovers" so they can get back on financial track. Oprah offered a free download of
"Suze Orman's 2009 Action Plan"
to help people manage their money. Got a problem staying in the black? Oprah's
"debt diet"
might just do the trick.
-- Lora Victorio,
latimes.com
(YouTube)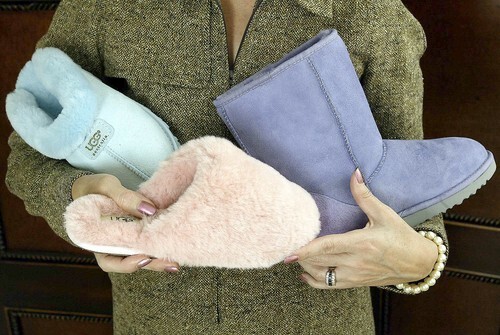 Oprah can make you buy things you don't need
From Kindles to Ugg boots, Oprah puts her stamp of approval on an assortment of items during her annual
"Oprah's favorite things" special.
Even though it might not seem necessary to own hand-blown crystal Champagne glasses or an HGTV refrigerator, it seems like a great idea because Oprah says so. Of course she stresses that money can't buy happiness, but these items sure seem to help.
-- Lora Victorio,
latimes.com
(Ricardo DeAratanha / Los Angeles Times)
Oprah causes the stars to break down
Oprah has the ability to crack the tough celebrity exterior of stars we love. There have often been tears shed on Oprah's couch, even by stars like
Chris Rock
,
Jennifer Aniston
, Montel Williams and
Will Smith
. Maybe the most talked-about breakdown didn't involve tears as
Tom Cruise
seemed to become possessed by a happy demon as he jumped up and down on Oprah's couch, proclaiming his love for Katie Holmes.
-- Jevon Phillips,
Latimes.com
(TVgasm.com)
Oprah can shame you into going to the doctor
The talk show queen has had a long relationship with Dr. Oz, her medical advice guru. Despite
a Newsweek claim
that Oprah's show is not always the best resource for advice, Dr. Oz's words of wisdom have become gospel. From weight loss to heart health to the correct size and consistency of human waste, it's all chronicled by the cardiac surgeon and doled out on Oprah's stage.
-- Jevon Phillips,
Latimes.com
(George Burns, Associated Press)
More entertainment photos from latimes.com