Spellbound in a Radiohead prism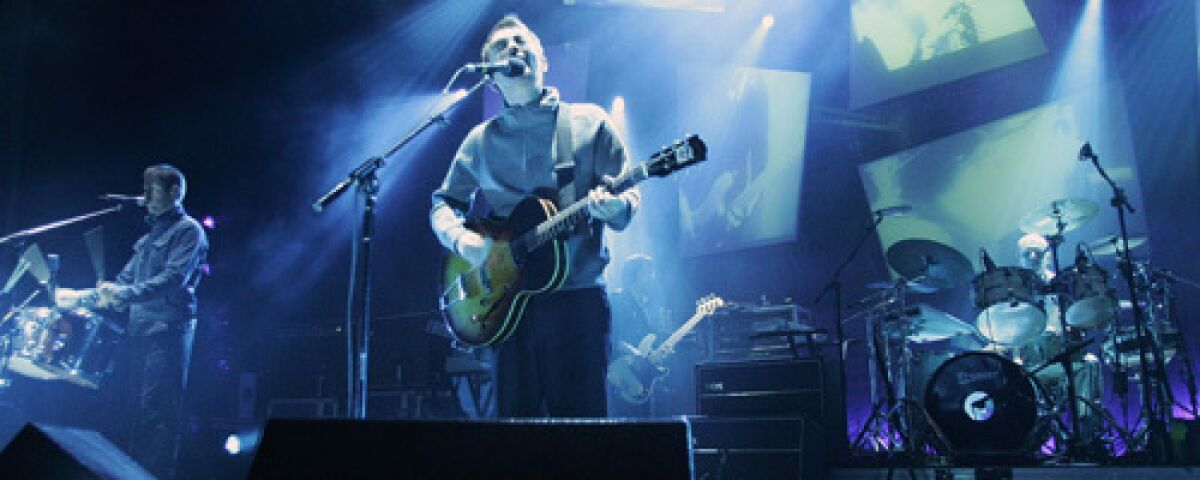 Los Angeles Times Staff Writer
The first time I listened to Radiohead's "In Rainbows," I loved it, no holds barred. Joy warmed my ears as the album's 10 songs poured forth from a freshly unzipped download; this music was as intricate and challenging as one would expect from rock's most risk-taking band, but it had soul and a kind of sweetness that made its complexities accessible. That last quality made me grateful too. Like all those other online scribes who apologized for only listening once or twice before jumping into this unprecedented moment of collective listener response, I had an easier time because Radiohead had gone pop this time.
When I listened again, it was just for myself. The urge to begin fitting "In Rainbows" into my personal pantheon had me making connections to U2, Prince and Elliott Smith. One track (the explosive "Bodysnatchers") even made me shout, "Pearl Jam!" The third time, I was taking a walk, and my feet focused on drummer Phil Selway's skittish rhythms, interlacing programmed beats.
Next, I started pondering singer Thom Yorke's lyrics, feeling gossipy about the references to sex, a topic he hasn't often explored. Fifth and sixth listens had me back at my computer, checking out what others were starting to say. That bummed me out. I started second-guessing myself. So I put my headphones on, lay on the floor, and listened again.
A day and a half into my life with "In Rainbows," I offer this self-absorbed account to make a point about what else Radiohead gave its fans by distributing the album in a mass download. I'm still processing this album, and I'm not alone. Instead of being able to present a solidified opinion before the album became widely available, critics like myself have had to show our doubts, our impulsive judgments and our willingness to admit that we might change our minds.
And that's not the only way the communal reception of "In Rainbows" challenges the way popular assessments form around pop albums. With no videos, personality-driven magazine spreads or even sanctioned cover art available to help determine this album's meaning, "In Rainbows" has turned listeners back toward merely listening -- a skill that's fairly imperiled in this age of multimedia super-hype.
Devotees did know, in part, what "In Rainbows" would bring. A track listing surfaced when the band announced the album, and it was full of titles familiar from recent bootleg live recordings. It may be more correct to call "In Rainbows" an edition, rather than a definitive album; these studio versions sometimes differ significantly from their earlier counterparts, and it's possible that Radiohead will redraw these maps another time. There's really no guarantee, in fact, that the album won't change by the time it becomes a physical CD release next year.
Whether we hear a different "In Rainbows in the future, the one available now occupies an important spot in Radiohead's development. It heals a rift, that may not have needed mending, between the band's emotive rock pronouncement and its heady art-music experiments. There's no reason Radiohead couldn't have continued straddling both paths, alternative soaring ballads with electronics-heavy sonic abstractions. Instead, the songs on "In Rainbows" incorporate both approaches: they're tuneful, with satisfying hooks, but the instrumentation is very deep and subtle, with each listen revealing new layers of sound and implied meaning.
It's possible to view "In Rainbows" as an album that's actually about listening: about what stories we buy into when we give in to the allure of a pop song. The music's welcoming quality, the pleasure its thick beauty provides, becomes more enigmatic once Yorke's lyrics start revealing themselves. Evoking the moment of death or the moment of seduction, his drifting narratives lead down dangerous paths. Guitarist-effects man Jonny Greenwood's trademark sonic tweaks, along with Selway's dynamic percussion, complicate the arrangements; "In Rainbows" is almost always pretty, but it's never vacant.
Yorke uses the music's come-hither qualities to get more personal than usual. He's always been fascinated with the loneliness of the alienated soul; now that soul has a human body, and it's often in trouble.
The easy groove that carries forward "House of Cards" imitates the drift into sexual betrayal that the lyrics describe; the song that follows, "Jigsaw Falling Into Place," captures a more frenetic flirtation -- the experience of taking Ecstasy, maybe, or just giving in to the bright pull of a risky night on the town. "Reckoner," which is a new version of an older, more violent song, turns mortality itself into a siren, as Yorke's disco-soul falsetto draws listeners into "the ripples on a black shore."
And then there's "Videotape," a live favorite in which Yorke, at the piano, gently describes his own death and the personal legacy he hopes his loved ones can preserve. On "In Rainbows," the song unfolds without elaboration, until a clattering rhythm begins to invade it, as if to suggest that every elegy is a fiction, fighting off the noisy, ugly facts of a normal life.
These songs aren't epics; they don't aim for the sky. They engage with the beats, grooves and hooks of conventional rock and soul, gently expanding or complicating these building blocks until they become prismatic. (Thus the title -- hate to be obvious, but the metaphor works.) By making pop that seems to shift its meaning with every playing, Radiohead asks that we take listening in general more seriously. It's a cause worth taking up.
---
Get our L.A. Goes Out newsletter, with the week's best events, to help you explore and experience our city.
You may occasionally receive promotional content from the Los Angeles Times.