18 Images
Red Carpet Rewind: Mariah Carey: How to dress like a diva
By Elizabeth Snead, The Envelope
Fed up with not having men eagerly fling open car doors for you? So over constantly being asked to 'go dutch?'
Then, girl, it's high time you started acting like the goddess you really are. But before you bring out your Inner Diva, you must learn to dress the part.
From the moment
Mariah Carey
broke out in 1990, young Mimi searched for a lasting superstar style. It wasn't long before she firmed up her eternal image that we still see today, an overtly sexual way of dress that's all body-hugging mini-dresses, low-cut glitzy gowns, stiletto heels, lots of skin, big hair and a really big smile.
While Madonna tirelessly reinvents herself with every album, Mariah has kept her iconic image constant. And that's, in part, why we love her. She's our dependable, unfaltering, eternal goddess.
Click through our How To Dress Like a Diva gallery
to see what's worked on Mariah for almost two decades.
Related:
"E=MC2" reviewed.
Extended Play: The Mariah Carey blitz is on
(Daniel Deme / EPA)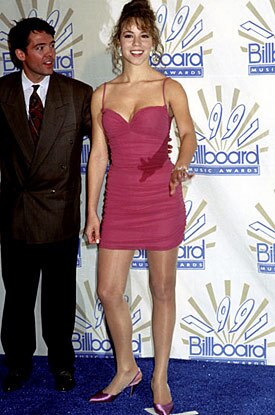 Young blood
Even at the 1991 Second Annual Billboard Music Awards, a young and coltish diva-in-the-making named Mariah Carey had already found the look that would last her a lifetime; a raspberry tart minidress and satin heels. Same as it ever was.
(WireImage.com)
Ab-solutely fabulous
At the MTV Video Music Awards in 1997, Mariah reveals impressive abs with a black bandeau top and a slit skirt. How'd she get that six pack? It's a gift from the gods, Silly. Divas don't work out and they never sweat.
(WireImage.com)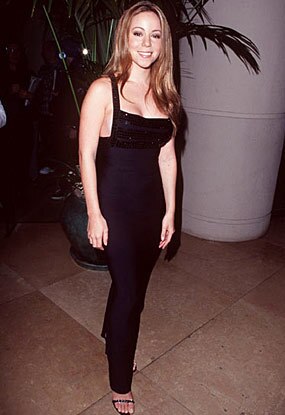 Over-achiever
Mariah's achievement at the 1998 Annual Achievement in Arts Awards? Looking casually elegant in a simple black shelf bra top and long skirt. A true Diva makes this stuff look easy.
(WireImage.com)
Christmas rap
Again, divas instinctively know how to wave a red flag in front of the bulls. Hence, Mariah Carey's bright, shiny red mini-dress and red ribbon ankle strap heels at the Z100 Jingle Ball in 2001. Don't shake the Christmas package, it's really expensive and one-of-a-kind.
(WireImage.com)
Color scheme
Diva Style Secret # 1. Rarely change the fit of your figure-flattering frocks. Just vary the color of the gowns. Why? Because men never notice that Mariah Carey wears the same dress over and over. All they see is bare flesh and color. Hey, don't go all feminist on me. It's a male reptilian core issue.
(WireImage.com)
The Trim Woodsmen
Mariah even makes Sundance sexy! Here she is wearing a lumberjack plaid flannel slip gown and black boots at a William Morris bash at the 2002 Indie film festival. Blizzard, what blizzard?
(WireImage.com)
When push comes to shove
How does she do it? On her way to her an N.Y. recording studio in 2003, Mariah Carey even makes a baggy trench coat look slinky and seductive. Diva Style Tip #2: Push-up bra! See, this is getting easier, isn't it?
(WireImage.com)
Jeans splicing
A diva never wears loose, comfortable jeans. Mariah's jeans are so tight, she will permanently lose all sensation below the waist if she sits down for more than 58 seconds at her 2003 "Charmbracelet" party. And the perfect diva denim topper? A bra dripping with crystals, of course!
(WireImage.com)
Finale curtain
Finally, the end is near. Here's one last look at one of Mariah Carey's silvery, sparkling stage siren gowns, worn to the American Music Awards in 2005. You gotta give the girl props. She's found her diva look and, by golly, she's sticking with it!
(WireImage.com)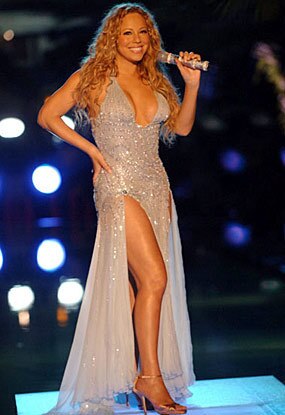 Super nova
Mariah Carey sparkles like an entire galaxy onstage at the 2005 MTV Music Video Awards in a low-cut, high slit, shimmery gown reminiscent of several other of her previous stage costumes. But who cares? Mariah, like all divas, knows that men never tire of staring at heavenly bodies.
(WireImage.com)
Tight end
Some fashion critics sniped that Mariah Carey's 2006 Golden Globes halter gown fit like a glove. A way-too-tight glove. But those critics were NOT men. Let's be honest. To a guy, there is no thing as a too-tight dress. Mariah knows this. All divas do. Now you do, too.
(WireImage.com)
Armed forces
Left hand on hip. Right hand in hair. Shoulders back. Tummy in. Show off that flattering fishtail hem purple gown. Now smile, smile, smile. By 2007, at VH1's "Save the Music" gala, Mariah totally has the Diva Drill down.
(WireImage.com)
Doggy style
Who can look glam while walking her dog in New York? Mariah Carey, of course, wearing Jimmy Choo stilettos and a yellow halter number that looks more like a long-line girdle than a dress. Diva Style Tip #3: Lycra is your best friend. It's both supportive, forgiving and controlling. Kinda like your mother.
(WireImage.com)
Tea time
Mariah made Great Britain's stiff upper lips tremble slightly in 2005 when she posed in London wearing a sexy short brown leather skirt and a snug pink cashmere sweater. I say, care for a cuppa?
(WireImage.com)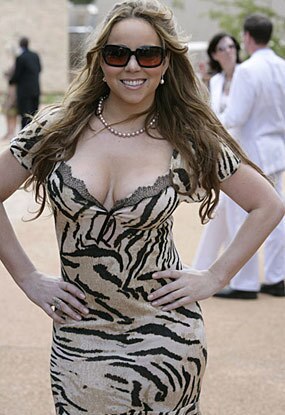 Jungle fever
Only a true diva like Mariah Carey would dare to wear a skin-tight, zebra-striped lace bodiced mini-dress to the 2007 opening of Oprah Winfrey's School for Girls in South Africa. Call me too sensitive, but this may have been stretching it.
(WireImage.com)
Summer's eve
Yet another incredibly tight strapless mini-dress, this time worn to the 2007 New Year's Eve bash at Tao in Las Vegas. Where does Mariah find all these eerily similar dresses? Divaduds.com?
(WireImage.com)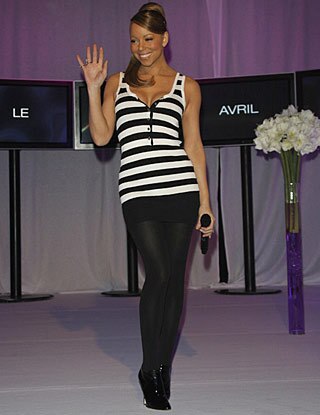 Fit to be tied
Our Lady of Perpetual Gowns takes a glamour break to hawk her new album, 'Touch My Body.' But note the va-va-voom sporty separates - tight black mini, black tights, patent leather boots, a striped T, and, ah yes, the quintessential goddess push-bra. Don't leave the limo without it.
(WireImage.com)