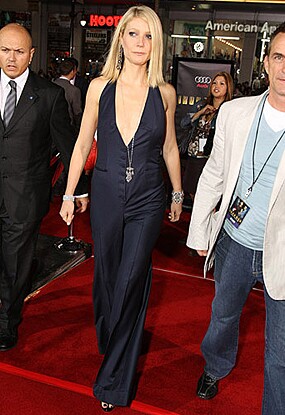 23 Images
Red Carpet Rewind: Gwyneth Paltrow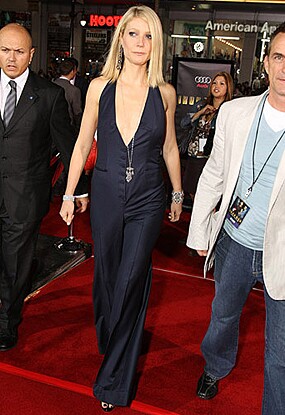 By Elizabeth Snead
Los Angeles Times Staff Writer
Gwyneth Paltrow
is back and with a fashion fury, jetting around the world for the "
Iron Man
" premiere. And over the last few weeks, Gwyneth has assumed her rightful ruling spot on the international red carpet.
One of People's 50 most beautiful people in 1998, Gwynnie officially became Hollywood's fairy tale princess and was an overnight fashion force. But after her very public romances (and heartbreaks), she disappeared from the pap lenses, moved to London, hung out with pals like Madonna and Stella McCartney, married British musician Chris Martin of Coldplay in 2003 and had two children.
Gone are those lumpy-frumpy British tweedies and that shapeless mommy gear. Now she's all long legs and tousled shoulder-length blond hair, wearing everything from sexy miniskirts, designer dresses and elegant gowns to an edgy, wide-legged halter jumpsuit at the L.A. "Iron Man" prem this week.
Welcome back, Gwynnie. We've missed you!
Let's take a look back at Gwyneth's fashion transformation — from a young Hollywood babe to a stay-at-home mother of two (who just happens to be married to a rock star) to a mature, classy and confident actress, once again hitting her stride.
(WireImage.com)
Holy smoke!
Very few women can wear a black doily without looking as if they need bail money. Luckily, Gwyneth makes this peek-a-boo frock look sexy, not sleazy.
(WireImage.com)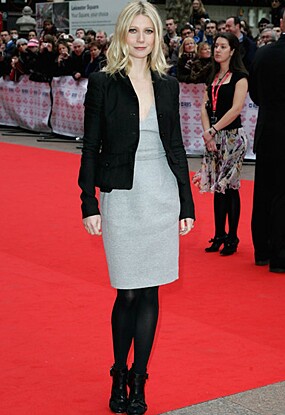 Royal flush
Gwyneth is suitably sweet and chic — black tights, black sweater jacket over a gray sheath — for the Prince's Trust and RBS Celebrate Success Awards in London this year. Well, what would you wear to meet a prince?
(WireImage.com)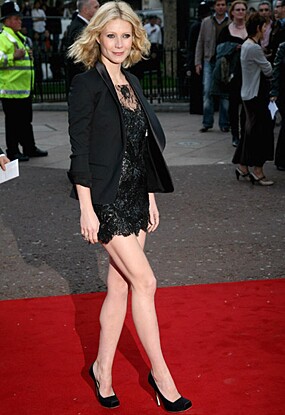 Haute mama
This is unquestionably the sexiest Gwyneth Paltrow has ever looked, in a short, sparkly lace slip dress, bare legs and a cropped tuxedo jacket. Seconds, please.
(WireImage.com)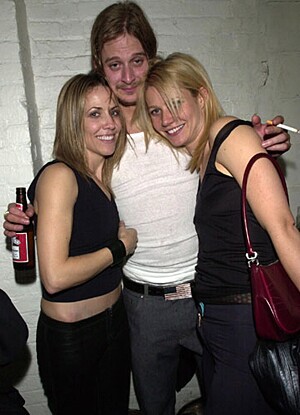 Rock on!
File this under Pictures We Never Thought We'd See: Gwyneth Paltrow dresses down and parties like a groupie with a pre-glam Sheryl Crow and Kid Rock in 2001. Burp. Hey, can one of you babes bring me another brewski?
(WireImage.com)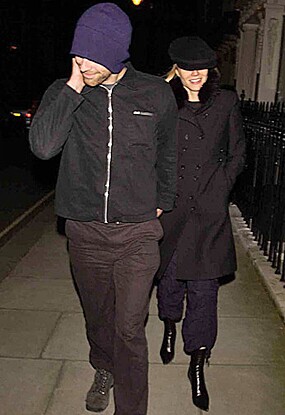 Duck and cover
Gwyneth Paltrow and her British musician husband, Coldplay's Chris Martin, fly so far under the radar that this is one of about six photos of them together on WireImage.com. That's pretty impressive.
Britney Spears and Lindsay Lohan should take a class in "Pap-Proofing Your Real Life" from this reclusive couple.
(WireImage.com)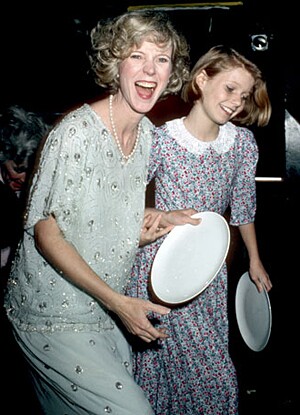 Mother's daze
Blythe Danner took her daughter to a "Cabaret" charity event in New York in 1985. Clearly, little Gwynnie — already looking like a Breck Girl model — was in her early Laura Ashley phase.
(WireImage.com)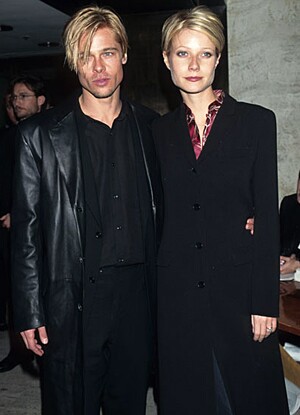 Twinsies
OK, this is just creepy. Text to Gwyneth: GRL, IF UR BF CPYS UR DO, R-U-N! Making out with Brad Pitt in 1997 must have been like kissing a mirror! Euuuwww.
(WireImage.com)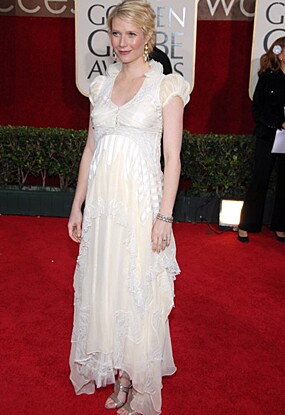 Yodel much?
Gwyneth Paltrow's puffed-sleeve silk chiffon Golden Globes gown was a real fashion winner, although some style critics likened the frock to Swiss Miss couture.
(WireImage.com)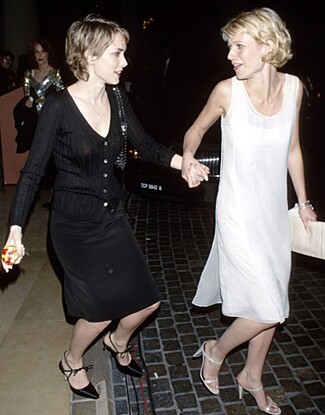 Sisters, doing it for themselves
"You wear the black Calvin and I'll wear white Ralph, 'kay?" Remember when Winona Ryder and Gwyneth Paltrow were BFFs like Paris and Nicole?
Those girls may have the musical Madden brothers, but Winnie and Gwynnie had Oscar-winning screenwriters and brothers-under-the-skin Matt Damon and Ben Affleck. But that was before G reportedly swiped the "Shakespeare in Love" screenplay from Winnie's mail. Sooo "Hollywood Gossip Girl," right?
(WireImage.com)
Frump stage
OK, now this is what we mean about Gwyneth Paltrow's frumpety-dumpty phase. I'm sure she's wearing layers of Stella McCartney for her fashion friend's H&M launch in 2005. But this is bad, really, really bad. And would some mascara have been too much to ask?
(WireImage.com)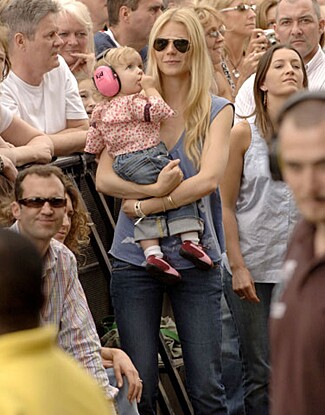 Woodstock nation
With her aviator shades, jeans, center-parted long blond hair, Gwyneth looks like she could be at Woodstock, not the Live 8 concert in London in 2005. Check out the protective headphones and matching sneaks on little Apple! CuteOverload.com!
(WireImage.com)
Introducing G.Pal!
Now for one of Gwyneth Paltrow's most embarrassing fashion moments.
Looks as if she's pulling a J.Lo at the 2004 MTV Video Music Awards. The teased hair, chandelier earrings, the vest, push-up bra, the cropped pants and heels. You don't go, girl!
(WireImage.com)
Babies in black
Gwyneth Paltrow wears the mode of the moment — a black turtleneck — at a 1994 National Board of Review event. But check out her party pal, an incredibly scrawny Leonardo DiCaprio, with a bowl cut. What was he then, 12?
(WireImage.com)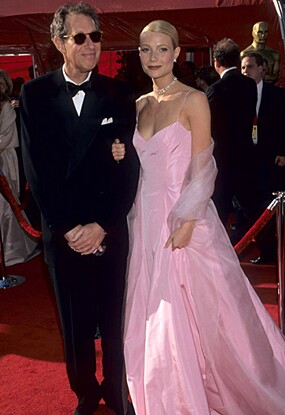 Oil slick
Gwyneth Paltrow was escorted by her proud pop, Bruce Paltrow, to the Oscars in 1999 when she won best actress for her gender-bending lead role in "Shakespeare in Love." But the night may have been marred by the horrendous headache her skin-tight hairdo must have caused. All that gorgeous blond hair, and a hairstylist slathers her head in pomade? Why?
(WireImage.com)
Best in show
Gwyneth Paltrow is probably wondering why Ben Affleck is acting like he scored a touchdown at the 1999 Screen Actors Guild Awards. Everyone in "Shakespeare in Love" won for outstanding performance by a cast. Little did Ben know that his winning streak was over. This would be the last major acting award Ben would receive for seven years. Unless you count his Razzies for "Pearl Harbor," "Armageddon," "Gigli," "Daredevil" and "Jersey Girl."
(WireImage.com)