Selma Blair opens up about multiple sclerosis in poignant new interview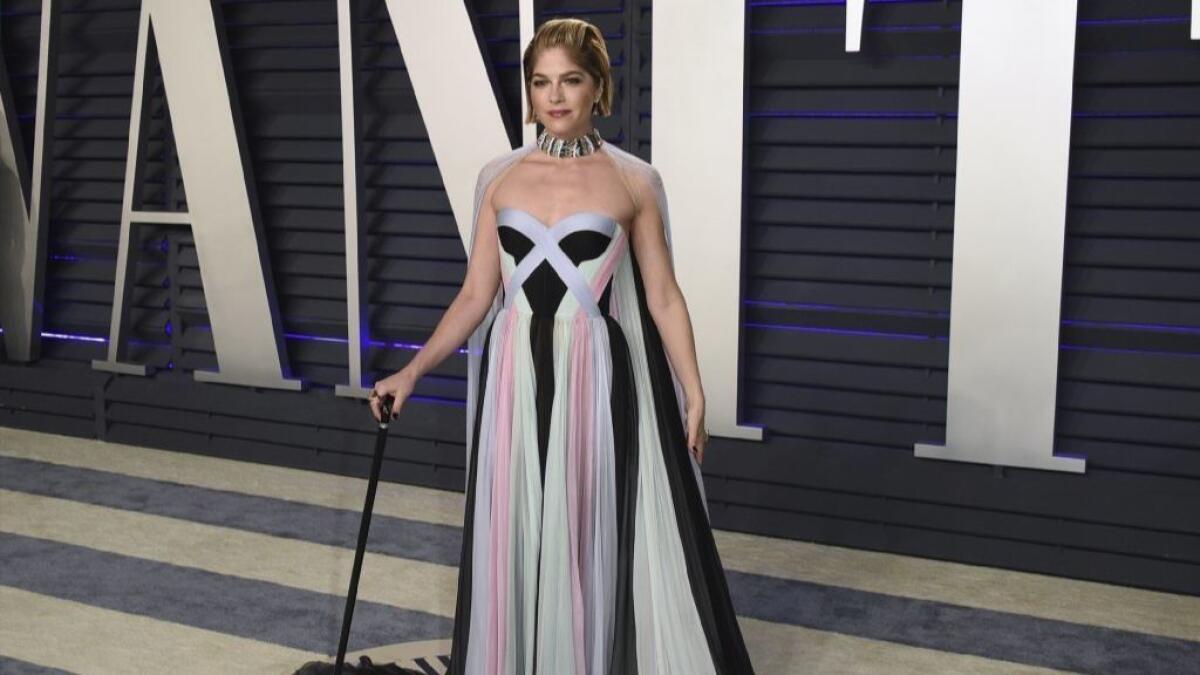 Selma Blair has opened up about her multiple sclerosis in her first interview since announcing her diagnosis in October.
The 46-year-old actress spoke with ABC News' Robin Roberts days before making her first red-carpet appearance at Vanity Fair's Oscars party on Sunday, with a personalized patent leather cane in tow.
"I am doing very well," Blair told Roberts in the interview, which aired Tuesday on "Good Morning America." . "I am very happy to see you, being able to just put out what being in the middle of an aggressive form of multiple sclerosis is like."
Multiple sclerosis is a disease of the central nervous system that sparks the immune system to attack the protective myelin sheath covering the nerves. The resultant damage disrupts the body's ability to communicate with itself.
Throughout the interview, Blair's voice shook due to spasmodic dysphonia, a symptom of the chronic disease caused by involuntary muscle movements of the voice box.
"It is interesting to put it out there, to be here, to say, 'This is what my particular case looks like right now,'" she said.
Blair added that she cried with relief when she was diagnosed in August.
"They weren't tears of panic. They were tears of knowing I now had to give in to a body that had loss of control," she recalled. "There was some relief in that, because ever since my son was born, I was in an MS flareup and didn't know. And I was doing everything to seem normal.
"I was self-medicating when he wasn't with me. I was drinking, I was in pain. I wasn't always drinking, but there were times when I couldn't take it, and I was really struggling with, 'How am I gonna get by in life?'"
Blair expressed her frustration that she was "not taken seriously by doctors," as she was simply deemed a "single mother" who's "exhausted" with "financial burdens."
She got to a point where she had trouble staying awake, she said, and felt "ashamed" when she pulled over to take a nap after dropping her son off at school a mile away. "I was doing the best I could, and I was a great mother, but it was killing me," she said.
Sharing the news of her diagnosis with her 7-year-old son, Arthur Saint Bleick, was an easier task. "He almost cried and said, 'Will it kill you?' And I said, 'No. I mean, we never know what kills us, Arthur. But this is not the doctor telling me I'm dying.' And he was like, 'Oh, OK.'"
The actress received comfort and advice from fellow actor Michael J. Fox, who has lived with Parkinson's disease for almost 30 years.
"I don't know who to tell, but I'm dropping things, I'm doing strange things," she said. "He got in touch with me and we began conversations. He really helped me.
"Plus, I was like, 'I have Michael J. Fox's email now!" she added with a laugh. "Like, I'm pretty cool! I'm cooler than I thought. But really, he gives me hope."
When Blair is having a particularly rough day, "I get in bed and I don't move," she said. "It's fine to feel really crappy. And my son gets it, and now I've learned not to feel guilty."
Blair has been told by her doctor that, within a year, she could have 90% of her abilities back. Though she was somewhat hesitant to talk on camera, "My neurologist told me, 'No, this will bring a lot of awareness because no one has the energy to talk when they're in a flareup,'" she said.
She then threw back her hair and smiled, saying, "But I do, because I love a camera."
Twitter: @cashleelee
Get our L.A. Goes Out newsletter, with the week's best events, to help you explore and experience our city.
You may occasionally receive promotional content from the Los Angeles Times.