10 Images
Smart List: Pop culture talking points
Wii Fit
We all will be talking about:
Wii Fit. Who knows? Your little brother might soon be asking you how to master downward facing dog. With the arrival of Wii Fit, Nintendo's hotly anticipated exercise video game, gamers can now squeeze in aerobics, muscle toning and yoga between rounds of Mario Kart. But this should all be old news to you by now. Amazon.com is already backed up with pre-orders. Hope you thought ahead! (Wednesday)
-Denise Martin
(Nintendo / Associated Press)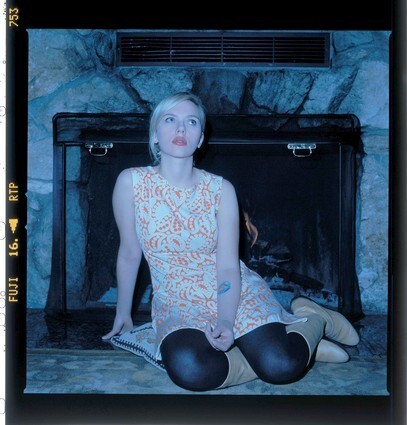 Scarlett Johansson
You might be talking about:
Scarlett Johansson
. Her debut CD, "Anywhere I Lay My Head." is an album-long ode to Tom Waits -- which is why we're not dismissing it as the latest from yet another young actress who has pop-star aspirations. David Bowie turns up on the album, and we especially like her whimsical dance-floor-ready rendition of "I Don't Wanna Grow Up." Almost as good as our favorite version by the Ramones. (Tuesday)
-DM
Related: Scarlett & singing film stars: Is this just an act?
(Brea Souders / Rhino Records)
Reaper Season Finale
Maybe it's time to see what everyone else is talking about:
"Reaper." The "Gossip Girl" season finale will get plenty of buzz, but there's another CW show that's
actually averaged more viewers
, and yet almost did not get renewed for a second season. That show is "Reaper," a "Buffy the Vampire Slayer"-influenced dramedy that seems to have hit its stride as the season draws to a close. Bret Harrison plays Sam, a young adult stuck in retail hell. Or at least he thought he was until he found out his pops had sold his soul to the devil. Suddenly, helping mortals purchase flat-screen TVs doesn't seem so bad after all. (Tuesday)
-Todd Martens
(The CW)
The Ting Tings
You might not even know you've been talking about:
U.K. duo the Ting Tings. The act will release its debut album, "We Started Nothing," digitally on Tuesday (good old-fashioned CDs to follow in a couple of weeks). The Tings' current single overseas, "That's Not My Name," is part cheerleading anthem, part glorious kiss-off, an effervescent mix of peppy guitars and new wave sounds. The Tings' current U.S. single, "Shut Up and Let Me Go," is a slinky punk-dance number, with spiky, Clash-like guitars. It's also rising up the charts, thanks to being featured in the latest iPod commercial. (Tuesday, digital and vinyl only)
-TM
(Jack Plunkett / Associated Press)
Square Pegs
Please talk about:
"Square Pegs." Before Judd Apatow gave us the all-too-painfully-true coming-of-age comedies "Freaks and Geeks" and "Undeclared," there was "Square Pegs," starring a very pre-"Sex and the City"
Sarah Jessica Parker
as a bespectacled high school teen trying to become popular. The season-long series, now on DVD, lets you reminisce about growing up in the early '80s without actually reliving it. (Tuesday)
-DM
(Unknown)
Julianne Hough
You might be talking about:
Julianne Hough. Scarlett Johansson is not the only blond screen star releasing a music album this week. And the country debut from Hough, better known as a two-time "Dancing With the Stars" champ, may even outsell her movie star counterpart; her single "That Song in My Head" is rapidly climbing the country Billboard chart and iTunes music video lists. (Tuesday)
-DM
(Stephen Lovekin / Getty Images)
Indiana Jones and the Kingdom of the Crystal Skull
Stella, Sarah Chalke, How I Met Your Mother
You could be talking about:
The mother on CBS' "How I Met Your Mother." We've got a pretty good hunch who the mom will turn out to be — Stella (Sarah Chalke, far right). Believe it or not, there have been several "Lost"-style visual clues — you can find evidence online in the form of screen captures — linking the tattoo-removal doctor to Ted's kids in the year 2030. Plus, well, Stella shows up in this week's season finale. (Monday)
-DM
(CBS)
Chuck Palahniuk
Perhaps you're too busy reading to talk about:
The latest Chuck Palahniuk novel, "Snuff." Due in stores May 20, the "Fight Club" author returns to tell the story of Cassie Wright, an aging porn star with designs on setting the record for sex with the most number of men in one day (that'd be 600, apparently). But it's not as down and dirty as it sounds, as Palahniuk is just as interested in looking at the men who are awaiting their number to be called. (Tuesday)
-TM
(Bruce Ely / For the Times)
Uwe Boll
You should not be talking about:
"Postal." The latest film from German director Uwe Boll is a terrorism satire that, we kid you not, features actors playing Osama bin Laden and George W. Bush. (Friday)
-DM
(Rick Loomis / Los Angeles Times)