Review: 'Spy Kids: All the Time in the World in 4D'
In honor of Julia Child's 100th birthday, we take a look back at several olfactory films that we wouldn't mind taking a whiff of ... and some that we'd like to keep our noses away from.
The
Aroma-Scope card
from 2011's "Spykids: All the Time in the World in 4D" offers a unique scent to be scratched on cue during the movie.
So how does it work? When you enter the theater and collect your 3-D glasses, you also get a postcard embedded with 8 squares that are numbered. When a digit flashes on screen, it's time to scratch the square with that number and inhale. Read on for other movies that should (or should not have) offered the olfactory experience.
(Dimension Films / Weinstein Co.)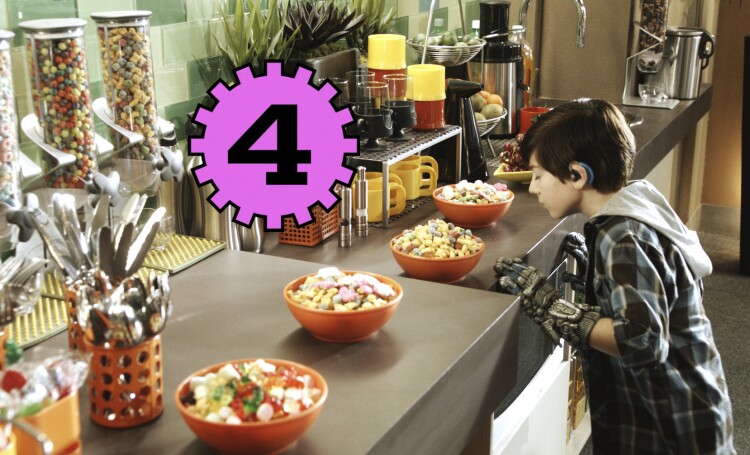 "
Spy Kids 4
" director
Robert Rodriguez
is promising to throw audiences "nose first into the fourth dimension" and to make the movie more interactive. Rodriguez said he was inspired to add scent to his film after catching a whiff of the diaper of star
Jessica Alba
's baby. Which should serve as a warning that not all of the odors in "Aroma-Scope" are of the sweet sort.
(Weinstein Co.)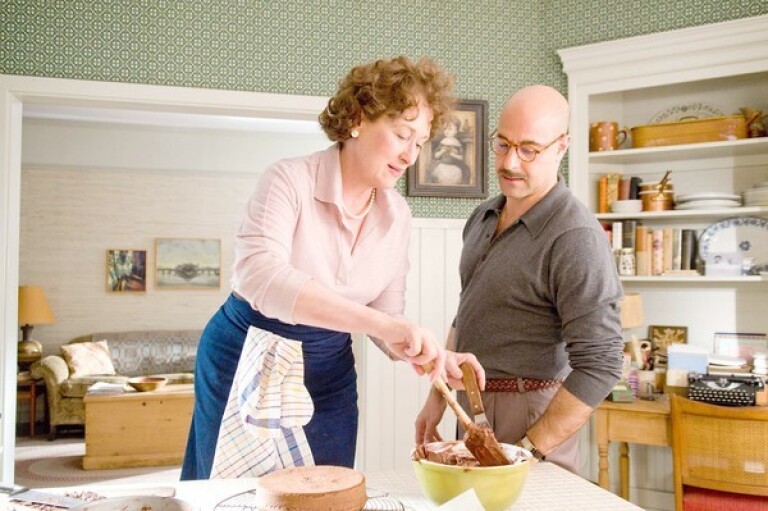 Chocolate cream pie. Bruschetta. Boeuf Bourguignon. Enough said.
(Jonathan Wenk / Columbia Pictures)
There isn't a moviegoer out there who didn't cringe a little bit when
Kristen Wiig
and her friends began defecating in the bridal-gown shop. But did watching it offer enough of a visceral kick? A strategically deployed scratch-and-sniff card would certainly turn the trick.
(Suzanne Hanover / Universal Studios)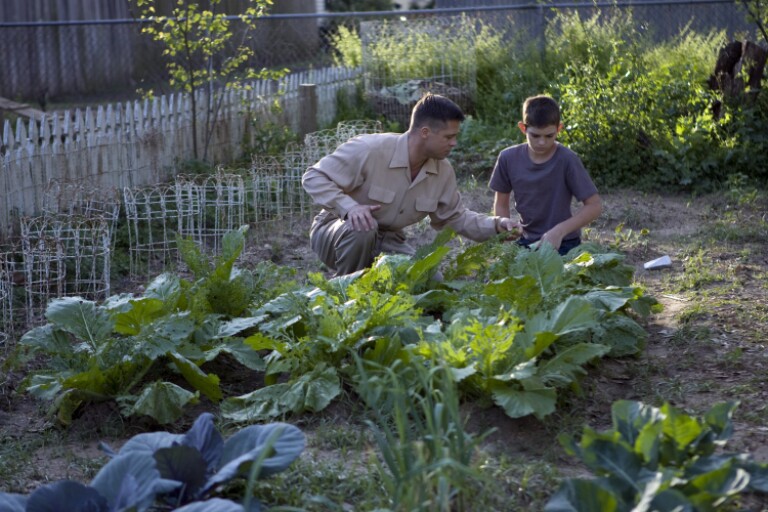 Sure
Terrence Malick
's movie contemplates the meaning of life, God, earthly existence, all of that. But it could take Aroma-scope to truly elevate the moviegoing experience. Without it, can you really sense the cut grass, the seashore, the DDT or, for that matter, the dinosaur?
(Merie Wallace / Fox Searchlight)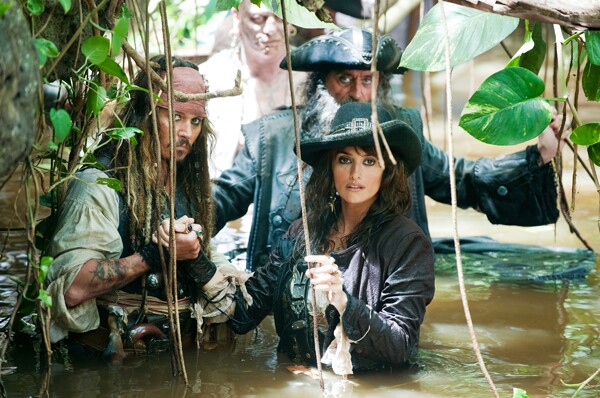 Some would say this fourquel already ran the risk of giving us sensory overload. But there are so many great pirate smells that could help plunge us into that world. There's rum, for instance, or the tip of a recently deployed sword blade, or even the wafting odors of the Fountain of Youth. Most of all, there's
Keith Richards
.
(Peter Mountain / Disney)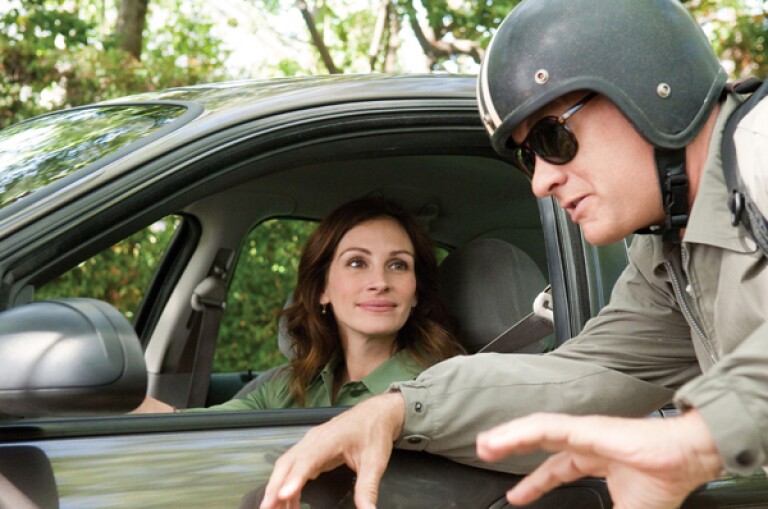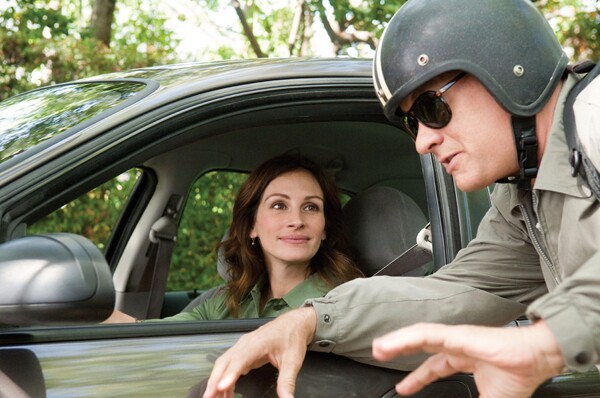 We don't care if it's Swiss, Limburger or Colby, just bring on the cheese.
(Bruce Talamon / Universal Pictures / MCT)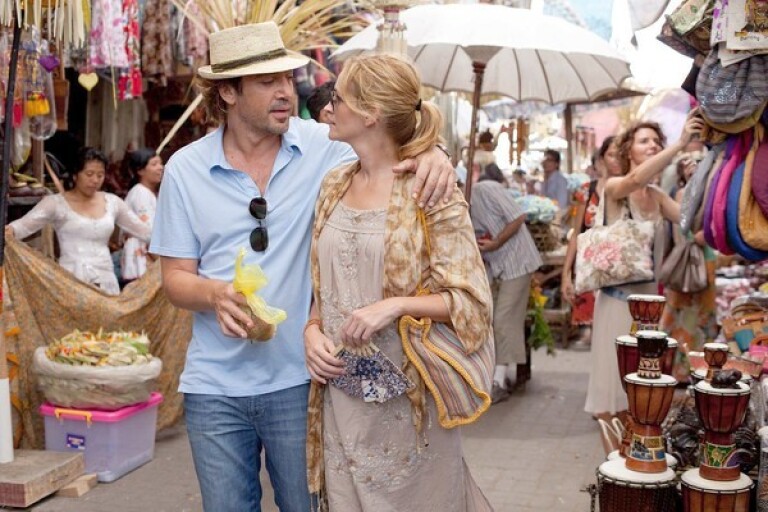 "Eat, Pray, Love" ... smell? Elizabeth Gilbert's globetrotting memoir-turned-movie is filled with international aromas. From the Spaghetti Alla Carbonara and Naples pizza in Italy to the patchouli and jasmine incense of India to the beach, sandalwood and tropical flowers of Bali.
(François Duhamel / Columbia Pictures)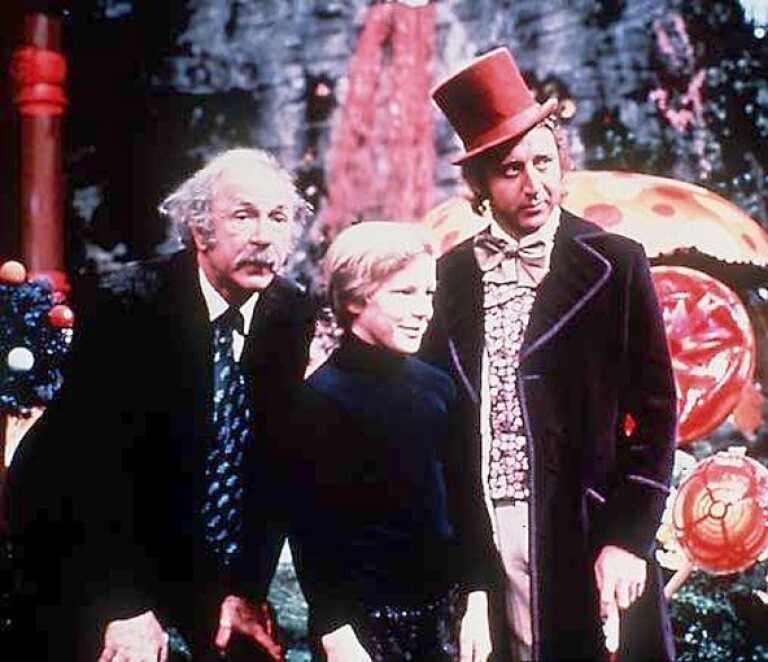 From chocolate rivers to bubble-gum that tastes like a three-course dinner to the everlasting gobstopper, Willa Wonka's eclectic candy factory provides a smorgasbord of olfactory delights.
(Felicity Dahl / Warner Bros.)
Say no to banning immorality and
oui, oui
to the confections of a French chocolaterie whose magical desserts awaken the passions and prime the townspeople into feasting on various Lent-banned delicacies.
(David Appleby / Miramax)
Though the titular French comfort food brought an acidic food critic to his knees, scents from the heroic mouse's eatery aren't the only olfactory offerings this animated film dishes out. Remy the rat's family is big on eating garbage and traveling through sewers, which offer up worthy foils to the delicious aromas the five-star Parisian restaurant serves up.
(Disney Enterprises / Pixar)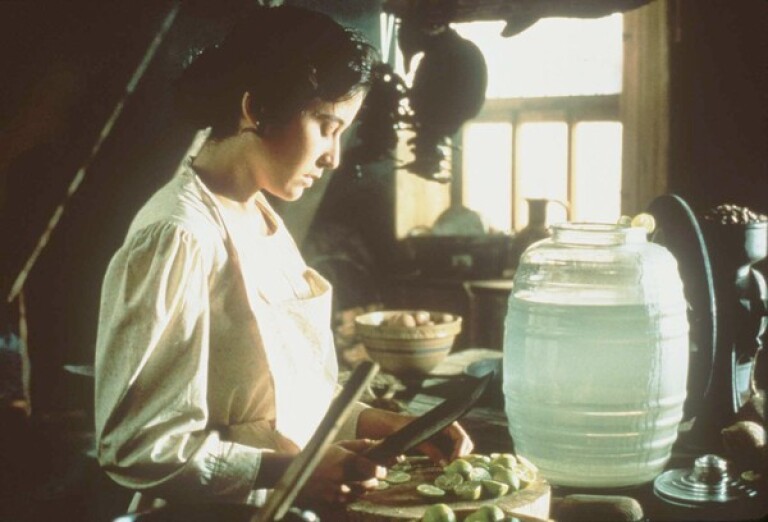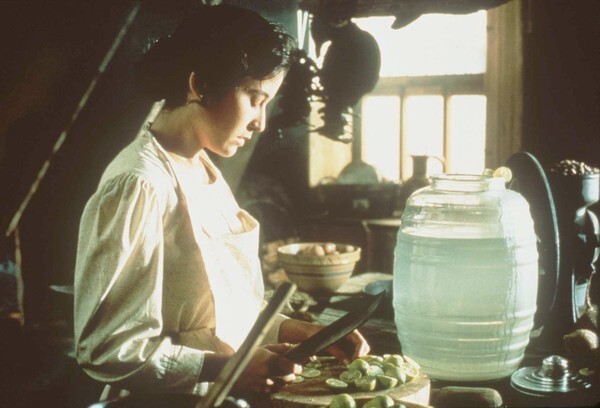 For Tita, played by Lumi Cavazos, food is more than just food in "Like Water for Chocolate." Tita's emotions get mixed up in the ingredients, and she discovers that her cooking can cast spells on those who eat it. The movie's already a feast for the eyes and the heart; why not add the nose?
(Miramax Films)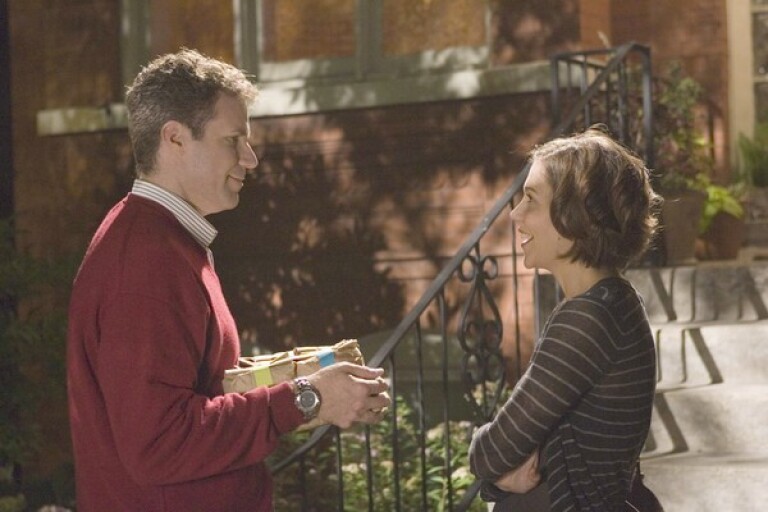 Maggie Gyllenhaal
's character in this film is a baker with a heart of gold, and her concoctions already make our mouths water. Smell-worthy edibles include Bavarian sugar cookie and the "bouquet of flours" from
Will Ferrell
's character.
(Ralph Nelson / Columbia Pictures)
It's no coincidence that the
New York
bakery that unites
Kate Beckinsale
and
John Cusack
in Peter Chelsom's
romantic
comedy works wonders on the senses. Who can say no to love among the sweet smell of fresh baked cupcakes?
(Davie Lee / Miramax Films)
"Love Happens"
could have been more than just a tear-jerker if the movie had come with a handy scratch and sniff card. That's because Burke Ryan (Aaron Eckhart), the young widower and self-help guru, finds love with a florist named Eloise (
Jennifer Aniston
). Going about her work at Eloise's Garden, she spends one scene creating a beautiful bouquet filled with both fragrant and showy blossoms and plants like hydrangea, lilies, orchids, viburnum, eucalyptus, ivy and more.
(Universal Pictures)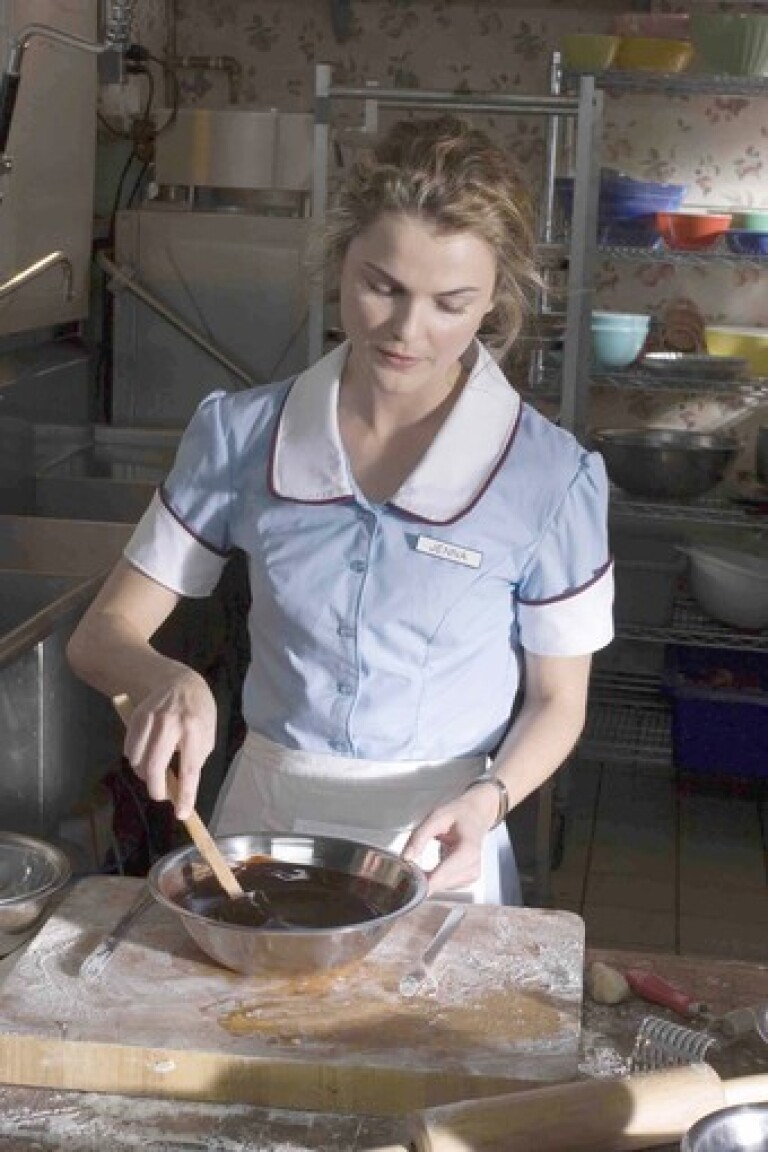 Making pies is an emotional experience for Jenna (
Keri Russell
), and making the perfect pie can often be a cure for whatever ails her -- and others she comes into contact with as a waitress. A big part of getting the pie right is getting the smells right. The names of her pies may not be as enticing since she names them after experiences -- I-Don't-Want-Earl's-Baby pie; I-Hate-My-Husband pie, and even the Falling-in-Love pie -- but we'd still like to be there when a hot one is brought out of the oven.
(Alan Markfield / Night & Day Pictures)
Firewhiskey-filled chocolate cauldrons, love potion exuding the intoxicating smell of your one true love, luck-laced Felix Felicis and other potions brewed and stewed in "The Half-Blood Prince" are tantalizing enough for the characters, but an audience member sniffing the same items adds a depth to the fantasy film that's embedded in the real world. Butterbeer and mead wouldn't hurt either.
(Warner Bros. Pictures)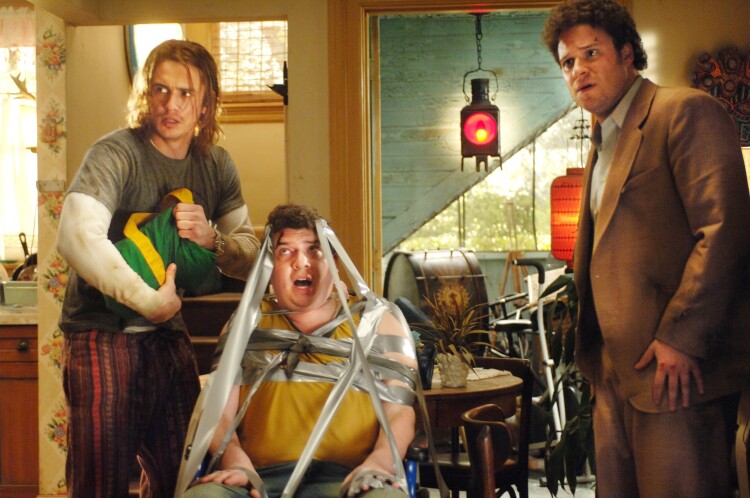 The yen for the ultimate cannabis high drives the protagonists of
"Pineapple Express"
and their famed intoxicant of choice is the ultimate joint that can be traced back to its smoker. The scent of
James Franco
as a hippie-tressed couch potato with a taste for pickles and "Godspell" striped pants, however, could be a worthy rival to the rare drug.
(Dale Robinette / Columbia Pictures)
A circus in the 1930s probably smells similar to one in the present day. But it's the people (and their Depression-era hygiene) who could make the movie-going experience that much more poignant.
(David James / 20th Century Fox)
The Oscar-winning underdog should have a smell of success following its run, but, well, it was set in a slum. Early on, sweaty children bathed in community pools fed by rivers with trash floating in them where laundry was also being done, though that's not the most memorable scent the film left audiences with. Sorry to rehash this smelly memory, but maybe it's better taken in pieces. A persistent child. A soccer star's arrival. A locked door on a busy outhouse. A plunge into a pool of feces. A smell that no one should ever have to endure.
(Ishika Mohan / 20th Century Fox)
A tour in the neuroses of many, the foodie and wine-y crowd no doubt drooled over the prospect of being immersed in the scents of woodsy merlots, fruity zinfandels and robust cabarnets like the assemblage in "Sideways." On a taste tour from winery to winery, the different liquid grapes imbibed were enjoyable, stimulating and even a bit cathartic for the film's stars. Of course, neuroses and alcohol may not be the best mix, but the tastebuds were probably satiated, brought to life with an initial, deep inhale.
(Merie W. Wallace / Fox Searchilght)
"Soul Food's" visuals whet the viewer's appetite, but sitting around the dinner table that unites Mama Joe's family could be even more appealing if the scent of fishcakes, fried chicken and slow-cooked veggies was part of the experience.
(Chuck Hodes / 20th Century Fox)
What's more visceral than intestines and brains? The rotting, flesh-eating horde may not carry the most pleasant of scents, but smell-o-vision would certainly add a new dimension of fear and yuck to the zombie comedy.
(Glen Wilson / Columbia Pictures)
With all the talk this summer of reboots and prequels, is there a term for a tenuously related but basically the same sequel?
In "Spy Kids: All the Time in the World in 4D," Rowan Blanchard and Mason Cook play a new sister-and-brother pair of young-uns initiated into a world of high-tech gadgetry and crime-fighting when they find out their stepmother (Jessica Alba) is a former secret agent.
Not even her husband (Joel McHale) knows about her former occupation until she is redrafted into service to capture a pair of mad scientists known as the Timekeeper and Tick Tock (both played by Jeremy Piven), who are literally stealing time.
Robert Rodriguez's previous "Spy Kids" film, from way back in 2003, was instrumental in kicking off the recent resurgence in 3-D. (So if you're looking for someone to blame…) This time he adds "Aroma-Scope," a fourth dimension of smell. Yes, audience members are given scratch-and-sniff cards while entering the theater (along with 3-D glasses for theaters so equipped), and as the film plays, numbers periodically appear on screen signaling a smell.
Rodriguez never gets too adventurous with the concept — food and bodily functions are the staples — and even seems to eventually give up on it, throwing three of the eight smells into a single moment.
There is something playful about seeing Alba in spy-style cat suit — reminiscent of her early role on TV's "Dark Angel" — with first a baby bump and later an infant strapped to her chest. The film is also peppered with wise reminders for kids to be accepting of step-parents and for parents to set aside work to make time for their kids.
Rodriguez apparently believes the formula for kid-friendly filmmaking is to toss in some whizzing, clanging something or other whenever the storytelling seems to sag in order to amuse the kids and wake a dozing parent. Even genuine juveniles may eventually tire of his reliance on poop and goop as a source of humor.
While Rodriguez has achieved a level of self-sufficient self-sustainability with his Austin, Texas, production facilities that might make him the envy of many other onetime Sundance whiz-kids, his level of freedom has often revealed the limits of his imagination.
This fourth "Spy Kids" picture isn't so much bad as it is just boring, lacking the buzz and brio of even some of the earlier entries in the series. It feels like someone is now just marking time.
---
'Spy Kids: All the Time in the World in 4D'
MPAA rating: PG for mild action and rude humor
Running time: 1 hour, 29 minutes
Playing: In general release
---
The complete guide to home viewing
Get Screen Gab for weekly recommendations, analysis, interviews and irreverent discussion of the TV and streaming movies everyone's talking about.
You may occasionally receive promotional content from the Los Angeles Times.