From the Archives: 'It's important to keep working': Don Rickles in one of his last interviews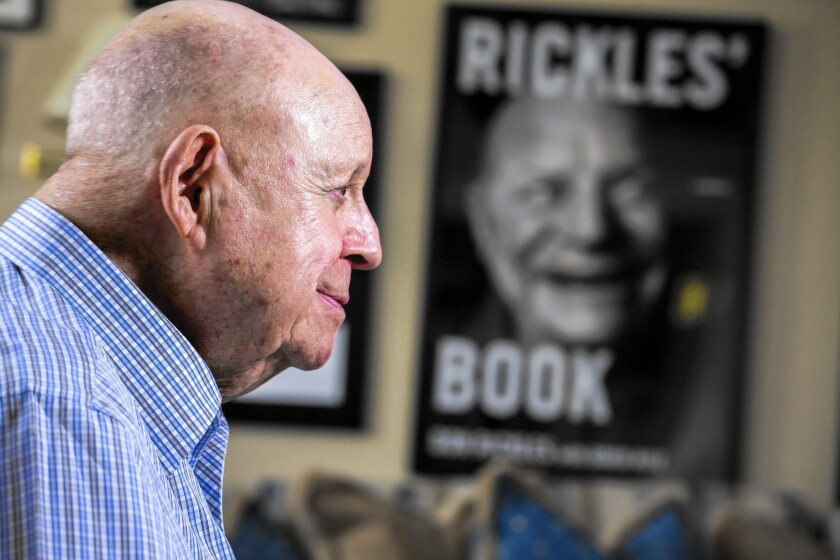 Los Angeles Times Staff Writer
Comedian Don Rickles passed away Thursday at his home in Los Angeles. This was one of his last interviews. He was promoting a retrospective DVD set and upcoming concert appearances.
Don Rickles, comedy's "Merchant of Venom," is taking a seat to do his stand-up routine.
Just shy of his 90th birthday and coping with physical afflictions that have limited his mobility, Rickles, who turned the act of insult into a high art and a celebrated career spanning more than a half-century, no longer prowls the stage during performances hunting for victims in the audience. He now zeros in on his prey with a cane while seated center stage.
But just because he's slowed a step or two doesn't mean "Mr. Warmth" is cooling off. In fact, Rickles appears to be as hot as ever, continuing to perform in large venues and being fawned over by younger entertainers who first connected with him through his outrageous appearances on Johnny Carson's "Tonight Show" and now are dazzled by his longevity and continuing relevance. The adoration has given him renewed energy.
SIGN UP for the free Classic Hollywood newsletter >>
"For my age, I'm feeling pretty good," said Rickles in his Century City home, sitting in a room filled with memorabilia. Framed photos of Frank Sinatra, Robert De Niro, Martin Scorsese, Billy Crystal and other stars line the walls.
"It's important to keep working," he continued. "You know, at my age, if you sit around, you start to lose it. Thank God I've been working pretty heavy." As he spoke, Rickles was unfailingly polite and gracious — no one in the room was called a "hockey puck" or "dummy."
His small-screen legacy is being saluted in a new DVD box set from Time Life: "Mr. Warmth! Don Rickles: The Ultimate TV Collection". The eight-disc set features four TV specials starring Rickles, both seasons of his '70s sitcom "CPO Sharkey," and a collection of outtakes and other footage showing Rickles in comic combat with Sinatra, Don Adams, John Wayne, Robert Goulet, Michael Caine and others.
The collection is a time capsule of a simpler time when comedians headlined specials composed of skits, kooky and movie spoofs and glittery production numbers. But Rickles didn't fit easily fit into conventional TV vehicles, as evidenced by "CPO Sharkey" and his other '90s sitcom, Fox's "Daddy Dearest" with Richard Lewis. His spontaneity and his edgy brand of humor — poking fun at race, religion and personalities — was too big for mainstream series. Guest shots on Carson and other talk shows where he could let loose were his wheelhouse.
The Time Life set has numerous highlights of Rickles showing off his mischievous side as well as offbeat moments. One special, "The Many Sides of Don Rickles," broadcast in 1970 and directed by the late Bud Yorkin, was structured like a backstage party, with Rickles informally sparring with Adams and Harvey Korman while the crew and extras milled around.
Rickles filmed new brief introductions for the set. "I went back and watched some of it," he said. "But to be honest, I'm not that guy that likes to go back. In fact, I don't like to watch comedy shows unless I'm watching for someone who is a personal friend, When you do something like I do for 60 years, you see comedy so much that I don't have to watch it. I like to watch detective shows, the Dodgers."
In an age of political correctness, Rickles, as he has for his whole career, has always remained above the fray of controversy, despite his reliance on humor that leans heavily on racial, ethnic and religious material. He said the key to his effectiveness is not the joke, it's the delivery.
Said Rickles, "I did the Ronald Reagan inauguration with Frank Sinatra. Now who says to the president of the United States, 'Ronnie, do you understand what I'm talking about?' It's the way you say it, it's almost like saying 'I love you.' My goal is never to be hurtful. A couple of months ago, there was a black lady sitting in the second row at my show. I said, 'If Obama was to run again, you'd be in the first row.' People just busted out laughing.
"It's like you're at a huge party and you're putting everybody on," he said. "I can't say that the whole world loves me. But I can say, at this stage of my life, the respect that I'm getting from our industry and from the public has been wonderful."
Rickles is a treasure trove of showbiz stories — hanging out with Sinatra, making fun of De Niro on the set of "Casino," recalling the fun on the set of "Kelly's Heroes" with Clint Eastwood, one of his dearest friends.
But even as the anecdotes pour out, it's evident that Rickles is firmly locked on his present. He has remained a welcome presence on the late-night talk show circuit — he received a rousing ovation during one of the final installments of "Late Show With David Letterman," and even the usually contrary Howard Stern, a guest on the same show, seemed humbled in his presence ("When I was a kid, I would watch talk shows with my mother, and I would wait for Don Rickles to come on — sitting next to him is the greatest gift he could give me").
His show last January at the Saban Theatre in Beverly Hills — his first local performance in 25 years — was a sellout, attracting a starry crowd that included Ryan Gosling, Eva Mendes and Mindy Kaling. He's scheduled to return to the venue Jan. 30. The comedian recently completed an engagement at the Orleans Hotel & Casino in Las Vegas and has signed a contract for shows stretching into next year. He was featured in the season premiere of Fox's "Grandfathered" starring John Stamos.
The onslaught of activity has grown despite Rickles' physical difficulties.
Retirement doesn't seem to be close on his horizon: "To be honest, all my hobbies are gone. I can't play golf anymore. I can't play tennis anymore because of my legs. Plus performing is something that gives me a lot of energy and pep. As long as they keep showing up, I will show up."
---
Your essential guide to the arts in L.A.
Get Carolina A. Miranda's weekly newsletter for what's happening, plus openings, critics' picks and more.
You may occasionally receive promotional content from the Los Angeles Times.