Appreciation: Why Florence Henderson's passing feels like a death in the family
She was my mom. She was everybody's mom. Florence Henderson didn't just play a role, she portrayed an idealized parent few of us had but everybody wanted. Sure, her kids were a handful, but otherwise nearly perfect. She was perfect. Even that big ugly house was perfect.
Talk about setting some impossible standards.
From producer Sherwood Schwartz, who gave America "Gilligan's Island," came the "Brady Bunch" on ABC. For the mother, he cast an actress with musical theater chops, someone who moved like a dancer, was always "on" and relentlessly cheerful, someone who handled mundane domestic challenges with optimism and aplomb. She represented California sun.
As Carol Ann Brady, Henderson made parenthood cool, transcending archetypes and sitcom cliches to such a degree, and with so much success, that she became one herself.
Her Mrs. Brady was sexy and sensible -- even funny, as per this scene when the family was preparing to go off to a dude ranch:
Carol Brady: What are you going to wear, Mike?
Mike Brady: Oh I don't know... my cowboy boots.
Carol: [John Wayne impression] Well, ya better wear somethin' else, or you're gonna get arrested!
Mike: Not to mention sunburn!
That Henderson died on Thanksgiving night, on what is the biggest family feast of the year, seems a little ironic, a little just. She rallied baby boomers, became their mullet-wearing Madonna, at a time when fractured families needed reassurance that they'd get a second chance.
Look, I don't know if Henderson invented the mullet. But she certainly rocked it, just as she rocked motherhood.
For five years starting in 1969, Henderson raised six children in gentle-tough, no-nonsense style. "Kids need rules" was the message. And they need attention. Otherwise they feel bad for constantly disappointing you. That's a simple message, and a timeless one.
Granted, her character had a lot going for her. A handsome architect husband who was always around. A full-time housekeeper. Gorgeous kids, as well as gorgeous stepkids. No Ritalin. No Wi-Fi.
Not in movies, not in literature, has the nation ever seen the American dream captured quite like this. The show didn't have producers and writers so much as it had stylists. The clothes, the hair, the mod tonal palette. The Bradys' lifestyle was more Midcentury Modern, and relevant, than anything John Lautner ever conjured.
Top row: Christopher Knight (Peter), Barry Williams (Greg), Ann B. Davis (Alice); middle row: Eve Plumb (Jan), Florence Henderson (Carol), Robert Reed (Mike), Maureen McCormick (Marcia); bottom row: Susan Olsen (Cindy), Mike Lookinland (Bobby).
(ABC Photo Archives / Getty Images)
Florence Henderson played Carol on the TV show "The Brady Bunch."
(ABC Photo Archives / Getty Images)
Actress Florence Henderson, shown at an event in 2012.
(Kirk McKoy / Los Angeles Times)
Actress Florence Henderson of "The Brady Bunch," photographed in 2010.
(Jay L. Clendenin / Los Angeles Times)
Alex Trebek, left, and Florence Henderson arrive at the 2015 Daytime Creative Arts Emmy Awards at the Universal Hilton in Universal City, Calif.
(Rich Fury / Associated Press)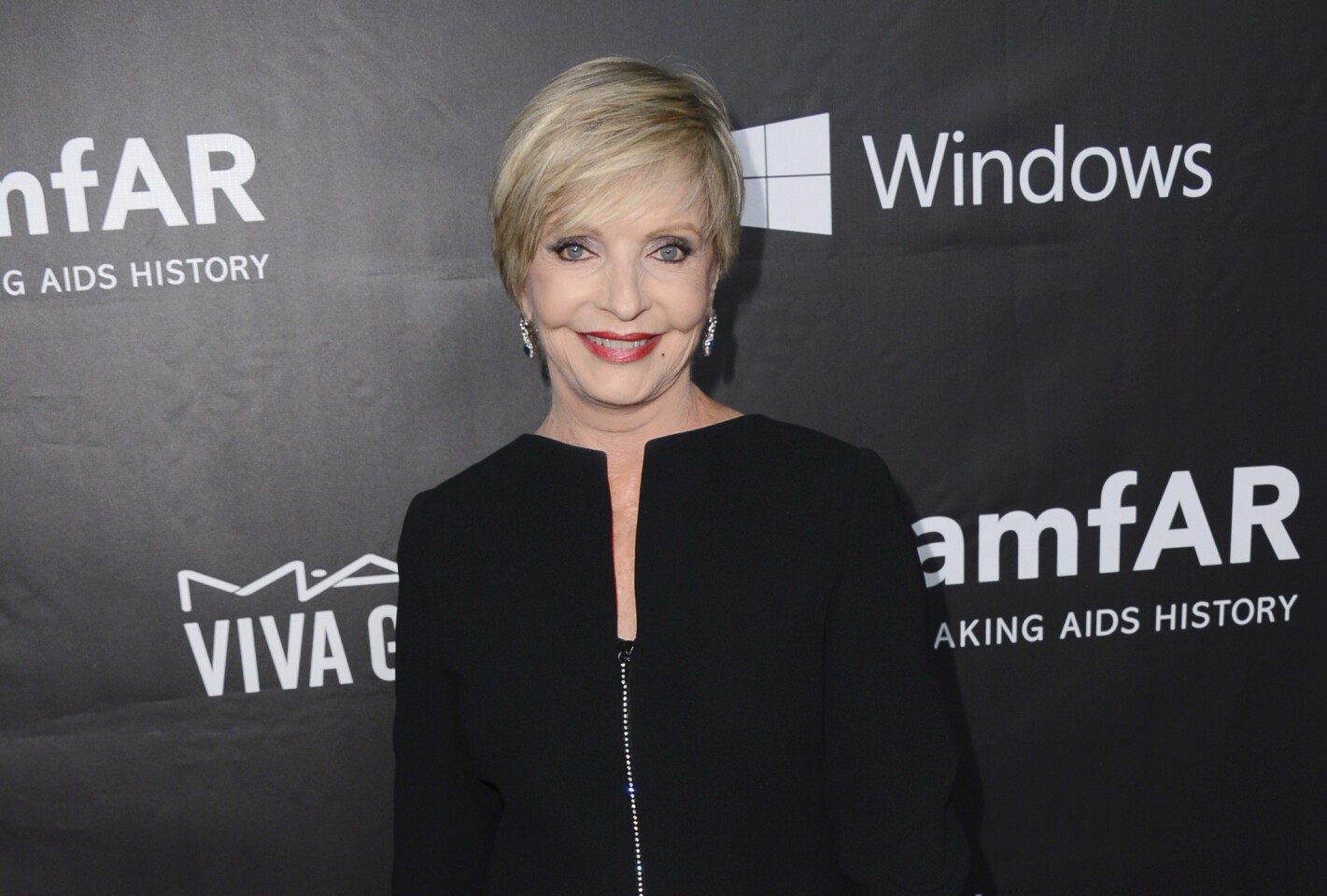 Florence Henderson arrives at the 2014 amfAR Inspiration Gala at Milk Studios in Los Angeles.
(Jordan Strauss / Associated Press)
Florence Henderson arrives for a dinner hosted by Secretary of State John F. Kerry in Washington, D.C., in 2013.
(Ron Sachs / EPA)
Asha Blake, center, juggles plums to the amusement of Jodi Applegate, left, and Florence Henderson during a 1999 photo session.
(Martin Lederhandler / Associated Press)
Notice how it never rained on the Bradys? The seasons didn't even change. The only way you could tell that time was advancing was that Mike Brady's hair got longer and curlier, and the kids were getting taller.
That checkerboard opening quickly defined the show. On one side, the sons. On the other, the daughters. Let the games begin.
It wasn't schmaltz, but it sure danced the line. Along with the weather, sibling rivalry was a constant:
"All day long at school, I hear how great Marcia is at this or how wonderful Marcia did that. Marcia, Marcia, Marcia!"
With a snippet of dialogue, the show captured childhood frustrations that could shape a life. "Marcia-Marcia-Marcia" became a pop-culture battle cry for every silly, overwrought sibling rebuff.
Slyly, there was more to the show than first seemed. You could easily argue that the "Brady Bunch" marked the moment -- the tipping point -- when the nation became more obsessed with children than with adults.
She rallied baby boomers, became their mullet-wearing Madonna, at a time when fractured families needed reassurance.
Certainly, it sprang to life in the late '60s, when the nation was recalibrating, unsteady and angry at the status quo. When children started making important cultural and political calls, along came the "Brady Bunch," in what seemed like a remnant of something Doris Day would do.
As a rule, sitcoms were bigger concepts back then. Mothers were witches, and horses talked. Martians moved in next door.
In the face of that, all Henderson had to offer was common sense. That's what she gave us in perhaps TV's most-iconic role – a good mother in turbulent times. Sound familiar?
Her show was all very familiar, even if it seemed overly aspirational and too chirpy by half. The sitcom ran just five years, but we've seen it forever in reruns, and in our mind's-eye of what home life can be.
That's why Henderson's passing late Thursday, at age 82, seemed like a death in the family. Because it was.
Twitter: @erskinetimes
ALSO
'Brady Bunch' co-stars and many more in Hollywood react to the death of Florence Henderson
Paul Sylbert, Oscar-winning production designer for 'Heaven Can Wait,' dies at 88
Soul singer Sharon Jones, whose work with the Dap Kings sparked a renaissance, has died
---
Inside the business of entertainment
The Wide Shot brings you news, analysis and insights on everything from streaming wars to production — and what it all means for the future.
You may occasionally receive promotional content from the Los Angeles Times.