Soul singer Sharon Jones, whose work with the Dap Kings sparked a renaissance, has died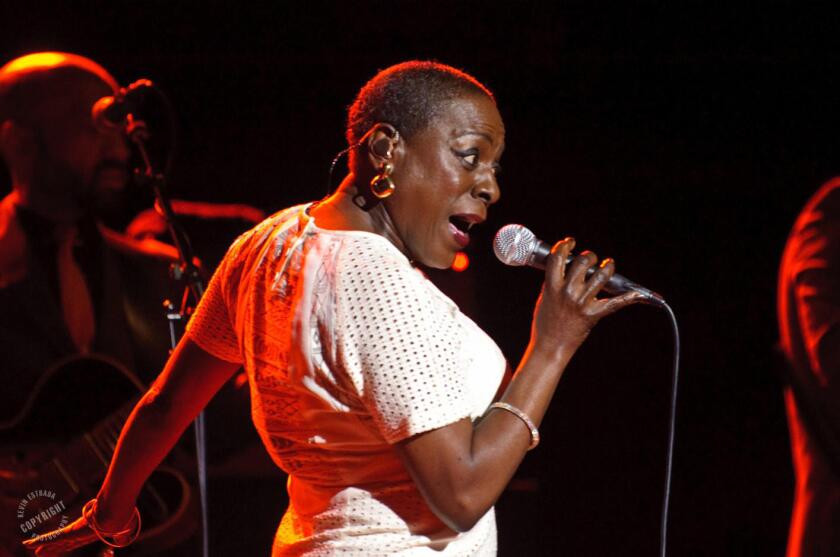 Sharon Jones, the incendiary soul singer who was propelled to stardom at an age when most musicians had either hit the big time or accepted the club circuit, has died.
The artist's albums with her backing band the Dap-Kings paved the way for a soul renaissance that influenced singers including Amy Winehouse and Adele.
Jones died Friday after a long battle with pancreatic cancer, according to her longtime publicist, Judy Miller Silverman. She died at a Cooperstown, N.Y., hospital surrounded by the Dap-Kings. She was 60.
Her bout with cancer was documented in the recent film "Miss Sharon Jones!," which also traced her singular rise. Jones released her first studio recordings with the Dap-Kings when she was in her mid-40s and went on to issue seven studio albums and perform hundreds of concerts around the world.
Jones' 2014 album "Give the People What They Want" was nominated for a Grammy in the R&B album category. Her searing performance of "This Land Is Your Land" went viral due to the sheer force of her conviction.
"I started late, and I suppose I only got a few more years. So I want to get it in while I can, before I go away from here," she told The Times' Steven Zeitchik in August while promoting "Miss Sharon Jones!"
At the time, the singer was suffering from the effects of chemotherapy, but retained a sense of mission: "I really would like to sell millions of records. I don't know why I haven't," she said.
She's not alone.
Sharon Lafaye Jones was born in Augusta, Ga. on May 4, 1956, one of six siblings to mother Ella Mae Price Jones and father Charlie Jones. Moving to Brooklyn with her family when she was a girl, Jones learned to sing at church and through listening to fellow Augusta native James Brown, whose hit single "Please, Please, Please" was released the year Jones was born.
After graduating from Thomas Jefferson High School, she took classes at Brooklyn College while working on a singing career during the rise of funk and disco.
When that pursuit didn't catch fire, Jones spent much of her adult years singing at church and in wedding bands, while also working as a corrections officer and security guard.
She first met the musicians who would become the Dap-Kings during a recording session with Southern soul singer Lee Fields. Assigned to sing backing vocals, Jones followed the gig with a studio session of her own, and released "Got a Thing on My Mind" as a single in 2001.
In 2002, she and the band released their debut album, "Dap Dippin' With Sharon Jones and the Dap-Kings" on the independent label Daptone, co-founded by band members Gabriel Roth and Neal Sugarman. Though not obvious at the time, the album helped set the tone for a new century of soul music.
With 11 electric R&B songs that might have been recorded during the late 1960s, Jones and her band tapped something timeless and primal, refined during nearly 20 years on the road together.
"It started in little clubs and restaurants that would have us," said Roth of the first years with Jones, "in bars and house parties —playing in lofts and garages, little greasy places."
With a voice recognizable by a caught-in-the-moment spirt that seemed to revel in whatever emotion she was conveying, Jones delivered dusty rhythm & blues that drew from electrified, sanctified soul and was fueled by the young-gun energy of the Dap-Kings. That outfit would go on to back a young Amy Winehouse on her breakout 2006 album, "Back to Black."
Slowly, Jones' energy, coupled with the Dap-Kings' tightly wound soul, took hold. They played their first Hollywood Bowl set in 2008 on a bill with Canadian singer-songwriter Feist, and by 2010 they were selling out theaters.
Ultimately, Jones and the band played every major American music festival, including Coachella, Lollapalooza and Bonnaroo, and toured around the world. When she performed, crowds were awestruck by her moves.
"There's nothing you can compare it to," said Roth of Jones onstage. "She had so much energy and so much soul. She would get sweating and dancing and work up the whole crowd into a frenzy."
Added Barbara Kopple, the director of "Miss Sharon Jones!": "The power of her voice and her dance and her perseverance just takes you out there. You can't sit still when you're watching her,"
By 2010 when Jones and the group recorded their fourth studio album, "I Learned the Hard Way," Jones and band had become bonafide stars. The album debuted at No. 15 on the Billboard Top 200., and peaked at No. 6 on the hip-hop/R&B album chart. That's no small feat considering that most of the competition was half her age.
Offstage, her energy manifested itself as kindness, added Kopple, who spent a year filming Jones after she learned of her cancer in 2013.
"Through her courage and through strength, she let me feel that I could do anything in this world even if the news was bad, to persevere," said Kopple. "She was so bright, such a shining light."
Those who experienced her voice weren't surprised. She seemed to demand musical attention.
Roth, who along with his bandmates and her family was with Jones when she died, said that her vocal cords remained active even after a series of strokes. The first, which happened last Nov. 8 on election night,rendered her unable to speak. She jokingly blamed President-elect Donald Trump.
When the stroke happened, Roth called the band and they traveled to her hospital room in Cooperstown. They brought their instruments. Roth remembered Dap-Kings' Binky Griptite strumming on his guitar and Jones starting to moan.
"Then she was moaning in tune," said Roth, "and then she started following chord changes and pretty soon she was she was humming 'His Eyes on the Sparrow.'" Over the next few days they kept playing music with her until she was again able to move her lips and sing lyrics.
"She just wanted to sing these gospel songs," said Roth. "Every time we stopped, she just kept singing — 'Amazing Grace' and 'Go Tell It on the Mountain,' 'This Little Light of Mine.' We just stayed with her and sang with her and played music with her."
It was both sad and beautiful, he added. "She was the strongest person any of us had ever known and she just kept singing. She didn't want to stop singing."
On Twitter, a range of artists lined up to pay their respects, confirming the depth of her influence.
"My deepest condolences 2 the family of @sharonjones. She was the real deal in this industry. 2016 you've been awful," wrote Chaka Khan.
Singer and guitarist Annie Clark, who records as St. Vincent, wrote, "Sharon Jones. Thank you for everything."
And singer Haley Williams of the rock band Paramour wrote, "My heart is broken. This year is so sad. Sharon Jones, thx for inspiring me for so long. Your voice/energy will echo in my heart forever."
The rising soul singer Leon Bridges wrote, simply, "Rest in peace to the beautiful Black Queen Sharon Jones."
Jones never married and had no children.
There's a lot of terrible music out there. For tips on the stuff that's not, follow Randall Roberts on Twitter: @liledit
ALSO
Author Dave Eggers organizes musicians for a Trump-free America
Why Donald Trump keeps celebrating victories with a grim Rolling Stones song
As an artist, Ava DuVernay raises cry against racism with the documentary '13th'
Now that Trump will be president, Martin Shkreli may actually share that 'secret' Wu-Tang Clan album
---
UPDATES:
2 p.m., Nov. 19: This article was updated with additional details about Jones' recording and performing career and reaction from fellow artists.
This article was originally published at 9:10 p.m., Nov. 18.
---
The complete guide to home viewing
Get Screen Gab for weekly recommendations, analysis, interviews and irreverent discussion of the TV and streaming movies everyone's talking about.
You may occasionally receive promotional content from the Los Angeles Times.