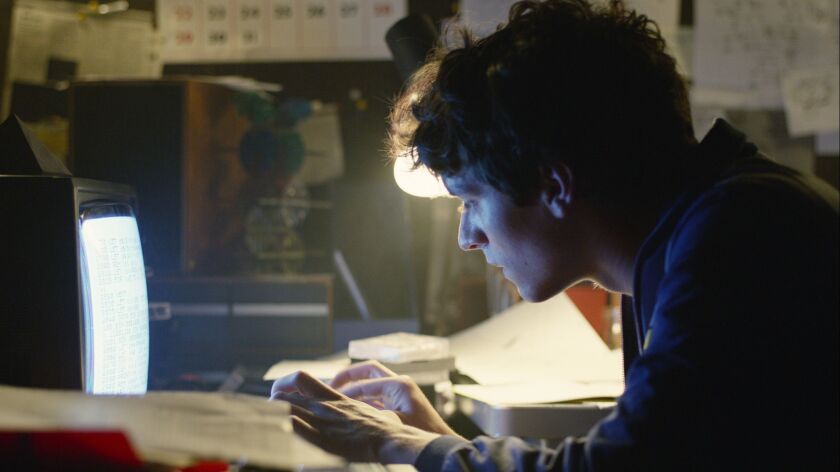 If your New Year's goal was to cut down on your screen time, Netflix and "Black Mirror" are here to keep you glued to the endless scroll.
The streaming content provider just dropped the trailer for the upcoming film "Black Mirror: Bandersnatch," which debuts Friday, and it's just as beautifully unsettling as you expect.
In the film, set in 1984, "a young programmer begins to question reality as he adapts a sprawling fantasy novel into a video game and soon faces a mind-mangling challenge," according to the Netflix synopsis, all of which bears out in the trailer itself.
With shades of the 1980s perfection captured in the "Black Mirror" episode "San Junipero," a similar throwback aesthetic appears in "Bandersnatch," but with an added layer of foreboding.
Dunkirk's Fionn Whitehead seeks out a job with a company aiming to be "like Motown, but for computer games" and is immediately tasked with adapting a fantasy novel — titled "Bandersnatch," naturally — written by a brilliant author who just happened to go mad and cut off his wife's head.
Which is to say nothing of the word "bandersnatch" itself, which originated in Lewis Carroll's "Through the Looking Glass" and is a mysterious and dangerous creature that may or may not live beyond the looking glass.
This trailer is trippy, y'all.
And it ends with what some are speculating is a clue that this "Black Mirror event" might be the promised choose-your-own adventure that Netflix has discussed. A woman appears in a vintage TV and declares, "You are not in control."
Check it out below and prepare yourself for the brain-melting horror of "Black Mirror: Bandersnatch" when it starts streaming Dec. 28.
MORE ON BLACK MIRROR:
Netflix is reportedly making a Choose-Your-Own-Adventure 'Black Mirror'
Jodie Foster's 'Black Mirror' episode might make you rethink the ways you parent
'Black Mirror's' rare glimpse of technology as a means to joy earns an Emmy nod
Jesse Plemons boldly takes on Shatner for 'Black Mirror's' Space Fleet episode
'Black Mirror' returns with more grim looks at the future, but its brightest moments stand out
Jodie Foster had never seen 'Black Mirror' before directing an episode
'Black Mirror' finds terror inside your Twitter account
---