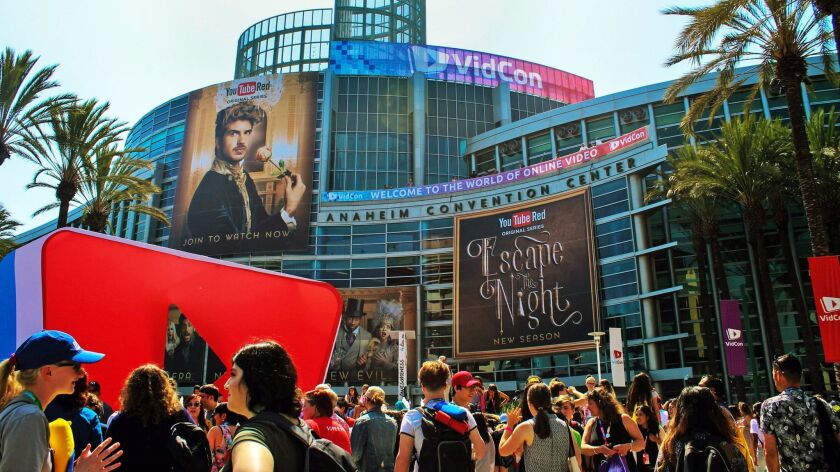 Last January, Bria Kam and her longtime girlfriend, Chrissy Chambers, were enjoying the perks of an all-expenses-paid Costa Rican getaway — one whose fairy-tale aesthetic and packed activity slate looked like something out of a destination episode of "The Bachelor" (only without the bachelor).
The fantasy vacation — complete with its extracurricular freebies — was a lofty fourth-anniversary gift (or rather, part-gift, part-business venture), courtesy of a luxury travel agency looking to tap into the LGBTQ market. As far as Kam and Chambers were concerned, the agency's stipulations were patent no-brainers: Relax, hop on a zip line, caress a jungle critter or two, make googly eyes at each other. The only caveat? They had to videotape everything. From the travel agency's perspective, their dreamy couples' vacation was the perfect marketing opportunity.
But for Kam and Chambers, chronicling the happenings of everyday life is just that: everyday life. Since 2012, the real-life couple have doubled as virtual-life colleagues. (Or is it real-life colleagues/virtual-life couple? It gets confusing.)
Looking for a means to provide some kind of support system for LGBTQ youth, particularly those living in rural, conservative areas (an experience that Chambers can personally speak to), they conceived a joint YouTube channel in which they touted themselves as the video platform's resident "Singing Lesbian Duo" — and they certainly fit the bill.
What began as a satirical music video (in which Kam and Chambers duet as Ann and Mitt Romney, respectively, to lyrics penned in response to then-vice presidential candidate Paul Ryan's remarks on rape) has snowballed into a full-blown social enterprise with more than 729,000 subscribers to their YouTube channel BriaAndChrissy, more than 145,000 followers on Instagram and nearly 78 million on Twitter.
And though Kam and Chambers still dedicate a chunk of their YouTube presence to politically and/or socially charged parody sing-alongs (as well as non-parody tracks), their hook — and what makes them so appealing to their hundreds of thousands of followers — is much more straightforward.
"Our relationship is our profession," said Chambers on Friday afternoon at VidCon, the conference for social media creators, fans and brands held at the Anaheim Convention Center.
Chambers and Kam were on a panel titled "Making It Work: LGBTQ+ Couples," which focused its discussion on the challenges associated with creating personal, intimate content with a significant other. They were joined by the couple known as Ebony and Denise, whose Team2Moms YouTube channel offers a slice-of-life perspective on the challenges they face as a lesbian couple in raising their daughter, Olivia.
At Kam's relationship comment, Chambers looked at her partner sitting beside her and nodded in return — one of at least a dozen wordless gestures of solidarity between them throughout the panel's duration. The fact that Kam and Chambers are essentially a professional couple was compounded by their marked "couple-ness" in a setting where, most of the time, mixing business with pleasure might seem like a faux pas. But these women have turned it into a career.
As it turns out, the content that their fans crave is very simple. Queer teenagers in Oklahoma want to know what it's like to come out to your mom, how to make the first move on an awkward first date, and any and every detail of Kam and Chambers' lives — relationship or otherwise. Some of the fans come to think of Kam and Chambers as friends and mentors.
The fuzziness of real life versus virtual life can get tricky: "Sometimes, fans feel entitled to information about us," both women noted. But more than anything, Kam and Chambers' fans trust them. And that's what makes them prime real estate for advertising.
This concept of "personal branding" and social media isn't new, but its growing complexities — especially as it relates to the lifestyle vlogger, who must balance "celebrity" and "life coach" roles as a kind of DIY reality star — colored several panel conversations at this year's VidCon.
From a talent perspective, the key seems to be authenticity, or else "[the fans] will see right through it," said Cammie Scott, a 26-year-old YouTube personality at VidCon on Friday. She too gained social media fame through a YouTube relationship channel with nearly as much traction as BriaAndChrissy, but broke up with girlfriend Shannon Beveridge last year, disappointing many fans when the couple went public with their split. Their YouTube video "Why We Broke Up" has been watched more than 1.9 million times.
"I have done the whole share-your-relationship thing online…. I don't regret it at all," Beveridge said on a YouTube video, from earlier this month, called "My Relationship Status," "but sharing your relationship online comes with a lot of things that I don't want to ever experience again."
Since their breakup, both have continued to maintain their social profiles — and their relationships with various brands. Scott was recently picked up by Bose as a brand influencer, which she discussed at a VidCon panel titled "Case Study: Powering Brand Stories Through IRL Experiences." (IRL stands for "in real life.")
The business-focused discussion saw executives from Bose and Superfly chronicling their experience partnering at Superfly's 2016 Bonnaroo Music and Arts Festival with influencers like Scott, who promotes Bose products on her various social media platforms (for example, she said she wears Bose headphones in her social photos so that "the fans know I really care about them").
The Superfly-Bose study, which the brands launched for a "test drive" at Bonnaroo, has become a "blueprint," Bose marketing executive Joshua Glasheen said, for an expanded campaign — one that cashes in on influencers' ability to access, understand and voice the opinions of consumers and help Bose "raise its brand profile," particularly among music fans.
To brands like Bose, a well-known personality such as Scott is almost like a living, breathing marketing campaign. (Jack Reed, chief executive of Millennial Entertainment, literally called it "a living embodiment of what you care about as a brand.") But Scott made it clear that, without her, there would not be a marketing scheme at all.
"They're here for me and they're here for my audience," Scott said of her partnership with Bose. "My audience is their audience, and they know I know them best."
Twitter: @emczachor
---