10 Images
Carrie Underwood's style evolution
The girl next door
Before Carrie Underwood won "American Idol," she was the ultimate girl next door.
Here, her worn-in jeans say, "I'm fun." Her lacy cami and ballerina wrap say, "I'm girly." This is the Carrie Underwood you want to take home to Mom.
(WireImage)
Carrie's first stab at glamour
Here, Carrie begins her transformation into a bona fide glamour-puss. She ends up looking a bit too Beyonce, but you can see where she's headed.
(WireImage)
The jokes write themselves
Carrie wore this bedazzled ensemble and spooky hair so that fashion critics everywhere would have something to mock. How sweet is that?
(WireImage)
Showin' some ankle
The new Carrie Underwood would never pass up a perfectly good opportunity to flaunt her gams! The old Carrie was a bit more modest.
(WireImage)
Country cutie
Carrie gets mileage out of her country roots here, sporting a cowboy shirt and glitzy belt.
Savor the image of Country Carrie, because once she wins "Idol," it's a straight shot to Hollywood chic.
(WireImage)
I left my wand backstage
"I'm pretty sure this outfit was a message to the producers of 'Wicked.' Psst, guys, if I lose 'Idol,' and you need an understudy for Glinda, I'm available. Hey, a girl's gotta eat.
(WireImage)
Carrie flashes her pearly whites
Even during her "Idol" days, Carrie knew one thing about fashion: The best accessory is a killer smile! Now about that dress …
Yes, it's a little Contempo Casuals, but worse still, it masks Carrie's assets and magnifies her imperfections.
(WireImage)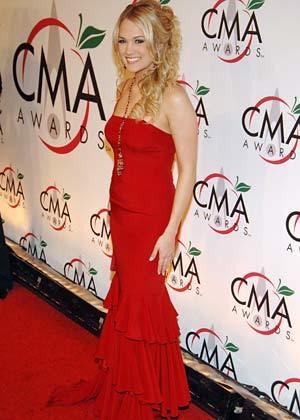 Carrie + extensions - pounds
Here, at the CMA awards, a seriously svelte-ified Carrie shows off her new extensions. Watch 'em grow like a sexy human chia pet in the coming months!
(WireImage)
Nice stems
Here, Carrie has finally realized that her legs are her best feature. She won't soon forget it.
(WireImage)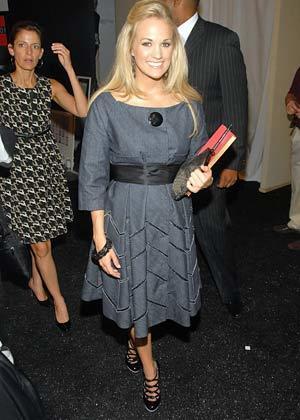 An avid pupil
A transformation of this magnitude doesn't happen by accident; it takes work. Here, Carrie approaches a show at Mercedes-Benz Fashion Week, pen and paper in hand.
The style student is ready to note any hot new trends that strut down the runway.
(WireImage)