11 Images
Hollywood's Vegas gaming guide
By Susan King, Los Angeles Times staff writer
The 1991 drama "Bugsy" explored how mobster Bugsy Siegel created Las Vegas. The harrowing 1995 drama "Leaving Las Vegas" examined the life of a failed writer (Nicolas Cage in an Oscar-winning performance) who goes to Vegas to drink himself to death. And the 1964 Elvis Presley musical "Viva Las Vegas" revolved around a car racer who could swivel his hips like nobody's business.
But most films set in Vegas focus on gambling. The latest, "The Hangover," goes all kinds of places even Elvis would fear to tread, but it does feature some gambling. In this case, it's all about comedian Zach Galifinakis' "Rain Man"-like ability to count cards and win at blackjack.
Here's a look at several other films that have played their cards right in Sin City:
(Frank Masi / Warner Bros.)
Curtis Hanson ("L.A. Confidential," "Eight Mile") co-wrote and directed "Lucky You," a 2007 romantic drama that came and went from theaters in a blink of an eye. Eric Bana plays a talented poker player fighting inner demons who wants his chance at the World Championship. Drew Barrymore plays a struggling singer in Vegas with whom he falls in love.
Game Play:
Texas Hold 'Em — the most popular poker game played in casinos. The finale finds Bana in a showdown with his estranged father in the World Series of Poker. Many of the poker players in the film are the real deal, including Sam Farha, Barry Greenstein, Ted Forrest and John Murphy.
(Merie W. Wallace / Warner Bros. Pictures)
This 1971 James Bond film — the seventh in the series and the sixth to star Sean Connery — finds 007 pretending to be a diamond smuggler in order to infiltrate a crime ring. He soon learns that his nemesis Blofeld is using diamonds in order to build giant laser satellite so he could hold the world ransom.
Game Play:
Bond ends up in Vegas at the fictional Whyte House — actually the Las Vegas Hilton — where he wins a game of craps with the assist of the nubile Plenty O'Toole (played by Natalie Wood's kid sister, Lana).
()
"Ocean's Eleven," the ultimate Rat Pack caper flick from 1960, offers Frank, Dean, Sammy, Joey and Peter at their ultra-cool peak. And the film is also a groovy time capsule of Vegas when the Sands, the Rivera and the Flamingo were king of the Strip. Most of the stars were appearing in Vegas at the time of the production, so filming was usually done before sunrise, and after they left their respective stages.
Game Play:
Danny Ocean (Sinatra) and his soldier buddies reunite years after the end of World War II to rob five Las Vegas casinos. Director Lewis Milestone captures the sights and sounds and feel of the slot machine players and the high rollers.
()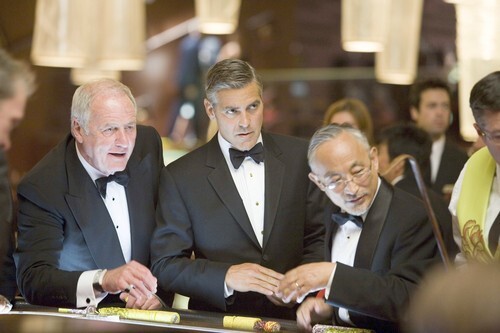 After cavorting in Europe in the dreadful "Ocean's Twelve," Danny Ocean and his gang are back in Vegas — actually the fancy casino used in the film was shot on the back lot at Warner Bros. in Burbank — seeking revenge upon a ruthless casino owner (Al Pacino) who had strong-armed their cohort (Elliott Gould), causing him to suffer a heart attack.
Game Play:
The gang rig Pacino's state-of-the-art casino so that all players will win huge amounts of money on the building's opening night — tampering with the slot machines to rigging the casino dice at the Mexican factory where they are made to even creating a faux earthquake in order to get everyone out of the casino.
(Melinda Sue Gordon / Warner Bros.)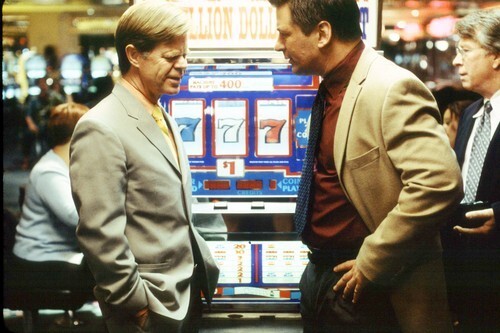 Wayne Kramer co-wrote and directed this inspired 2003 film that shows the other side of Vegas — not the glossy, Disneyland-esque resort hotels, but the small, old-fashioned and often seedy hotels and casinos in the downtown area. In the case of "The Cooler," the name of the dive is the Shangri-La, which has recently been bought by a group of investors who want to modernize it.
Game Play:
William H. Macy plays a sad sack named Bernie Lootz who works at the Shangri-La as a "cooler" — a guy who can stop a high-roller's winning streak at the craps table. But when he falls in love with a waitress (Maria Bello), he's discovers his powers for back luck are over, much to the chagrin of his boss (Alec Baldwin).
(ContentFilm / Jim Sheldon)
"Honeymoon in Vegas," a wild and crazy 1992 comedy from Andrew Bergman ("The Freshman), finds Nicolas Cage playing a man terrified of marriage who had promised his mom on her deathbed that he would never marry. But flash to the present and he's in the throes of losing his girlfriend (Sarah Jessica Parker) if he doesn't say "Will you marry me?" Cage decides they should marry in Vegas. But in the lobby of a casino, Parker catches the attention of a professional gambler (James Caan), who can't believe who much she looks like his late wife.
Game Play:
Because he wants Parker at any price, Caan gets Cage to play a game of high-stakes poker. When Cage loses, the only way he can pay off Caan is to let him have a weekend with Parker.
(Gemma LaMana / Castle Rock Entertainment)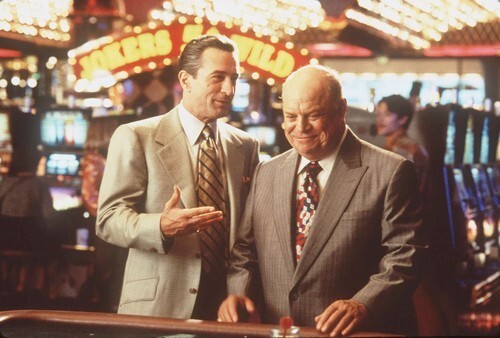 Martin Scorsese concludes his gangster trilogy, which began with 1973's "Mean Streets" and continued with 1990's "GoodFellas," with "Casino," a lengthy 1995 melodrama set in Vegas. The scenes shot outside the fictional Tangiers hotel in the movie, which stars Robert De Niro, Joe Pesci and Sharon Stone, was filmed in front of the Landmark Hotel shortly before it was imploded. The casino and offices scenes were filmed at the legendary Riviera Hotel and Casino between 1 and 4 a.m. so not to bother the real gamblers.
Game Play:
There's plenty of casino action, but most notably from the blackjack tables.
(Phillip Caruso / Universal Studios)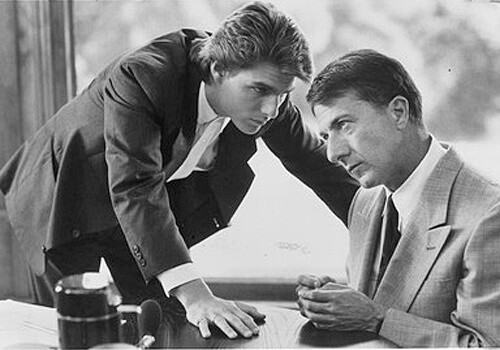 "Rain Man," a multi-Oscar-winning 1988 drama, is essentially a road movie starring Dustin Hoffman as an autistic savant named Raymond and Tom Cruise as his yuppie brother Charlie.
Game Play:
Because Raymond has an extraordinary memory, Charlie takes him to Vegas — the scenes were shot at Caesars Palace — to win money at blackjack by counting cards.
(United Artists)
One of the golden turkeys of the past 15 years, "Showgirls" is Joe Eszterhaus/Paul Verhoeven's outlandishly whacked-out story of Nomi (Elizabeth Berkley), a young woman with no past who hitchhikes a ride to Vegas and becomes a star of an erotic revue at the Stardust. Berkley spends 20 minutes of the movie entirely au natural.
Game Play:
Nomi plays slot machines at the Forum Shops/Spago in Caesars Palace.
(Murray Close / United Artists)
Doug Liman directed — and star Jon Favreau wrote — "Swingers," a breezy 1996 film about a group of friends (including Vince Vaughn and Ron Livingston) who hang out while awaiting their big break in Tinseltown. One midnight, Mike (Favreau) and Trent (Vaughn) head out to Vegas.
Game Play:
The impoverished duo end up playing blackjack without much success, though they pick up two waitresses. Favreau's grandmother, Joan, is the winner at the $5 minimum table while Vaughn's father, Vernon, is a winner at the $100 minimum table. Many of the casino scenes were shot without a permit and the actors were eventually asked to leave by a police officer, who at least allowed them to finish their scene.
(Miramax Films)