1980s actress Heather Kerr says Harvey Weinstein made her touch his genitals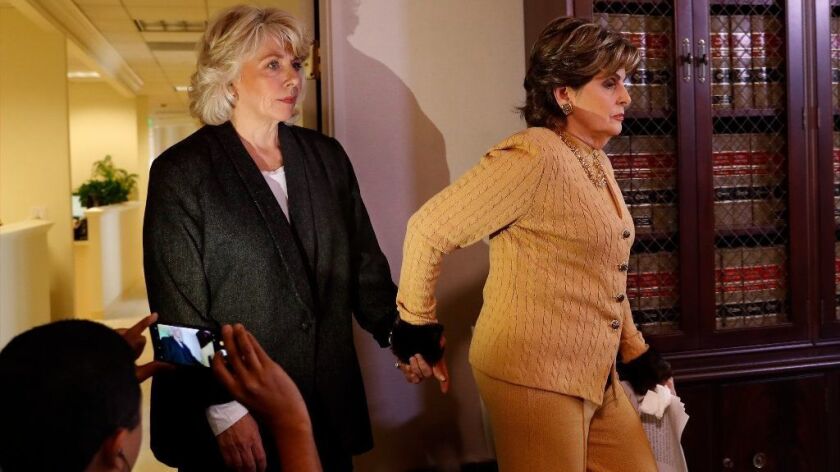 Former actress Heather Kerr said Friday that she too was a victim of Harvey Weinstein, charging that the now-disgraced film mogul sexually assaulted her during a business meeting in 1989.
Kerr, speaking during a news conference alongside her attorney, Gloria Allred, alleged that Weinstein forced her to touch his genitals and told her that she had to be good in bed, as well as sleep with him and others, if she wanted a career in Hollywood.
"What he wanted to know was whether she could satisfy him sexually in order to obtain roles in their films," Allred said. "He told her that this was 'how things worked in Hollywood and that all actresses made it that way… by sleeping their way into the jobs that they had."
FULL COVERAGE: The Harvey Weinstein scandal »
Kerr, 56, is the latest of Allred's clients to accuse the former studio mogul of assault. Allred also represents former actress Louisette Geiss, who came forward earlier this month in a similar news conference.
The high-profile civil rights attorney said Friday that numerous women have come to her with accounts of abuse and that she has retained several of them since the Weinstein scandal broke earlier this month. She also said more would be coming forward in New York next week.
Reading a prepared statement, Kerr said that she was in her 20s when she met Weinstein during a private meeting, and that he proceeded to tell her how things worked in Hollywood.
"He asked me if I was good," she said, repeating the phrase often, assuming he was asking about her professional training.
"I started to tell him about my training and acting experience, and he said, 'No, I need to know if you're good.' He said that if he was going to introduce me around town … he needed to know if I was any good," she said.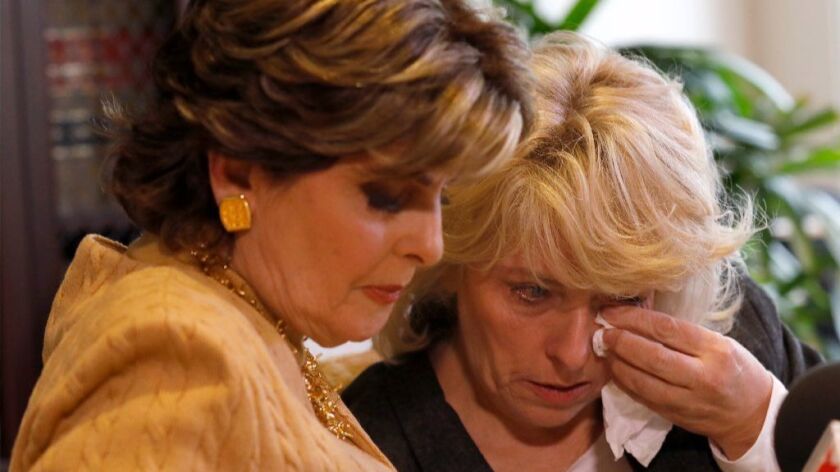 Kerr, who appeared on the TV show "The Facts of Life," described him wearing a "sly, sleazy smile" and sitting close to her on a couch.
"I started to get a sick feeling in my stomach. The next thing I knew, he had unzipped his fly and pulled out his penis," she said. "My heart started pounding. My mind started racing. How do I deal with this? How do I get out of this. Am I going to get out of this?
"He then grabbed my hand and forced my hand onto his penis and then held it there. I was frozen with fear, trying to remain calm," she added, saying there was nobody else in the office.
She said she pulled her hand away "as casually as possible."
"He told me this was how things work in Hollywood and that all the actresses that had made it had made it this way. He said, 'name anyone,'" she recalled. "He told me that first I would have sex with him and then he would take me to parties and show me who I had to sleep with after that. But first he needed to know how good I was."
Weinstein told her that she wasn't that good-looking but that he was willing to help her anyway, she said, and that he was doing her a favor. She said that she got up and backed out of the room, thanked him for his time and rushed to an elevator, calling the experience a "nightmare."
I didn't think anyone would believe me. I was nobody. Why would they?
— Heather Kerr
Kerr said she resigned from her job and quit acting not long after that. She said she continued doing theater for a while and told parts of her story to very few people.
"I felt so powerless because he is, after all, very powerful and very well known and very successful. I didn't think anyone would believe me. I was nobody. Why would they?" she said.
At that moment, she began sobbing and hugged Allred, who then took over the news conference.
"While that may be the way it was, that may not be the way it is in the future because, Harvey, you are done," Allred declared. "Women won't take it anymore. We are taking our power back, and we will never allow things to go back to the way they were. You and your kind will someday be in a museum, or worse."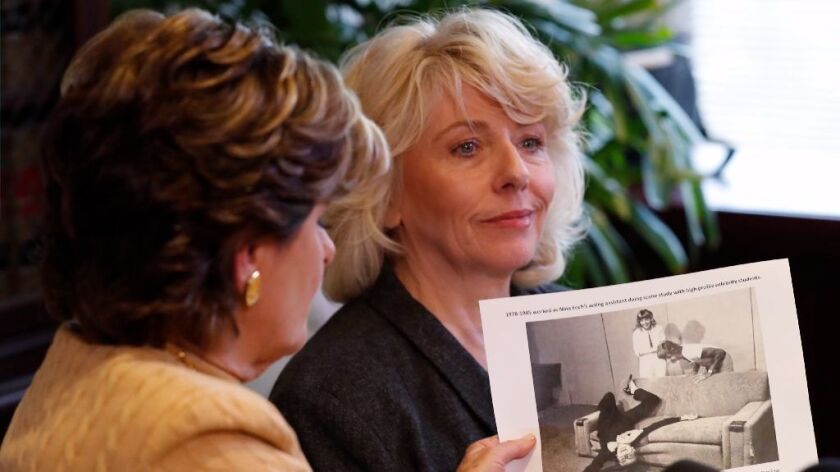 Weinstein is currently being investigated by law enforcement officials in Los Angeles, New York and London, where women have accused the "Shakespeare in Love" producer of rape. His spokesperson has said that he "unequivocally denies allegations of non-consensual sex."
Allred said that Kerr "lost her willingness to act" because "the price she had to pay as an actress was too high." She gave up on her dream, and no woman should have to do that, she said, adding that Weinstein's proposition was a quid pro quo and against the law.
"To all the women placed in this situation, I have the following advice: Go to a sexual harassment lawyer for a consultation," she said.
Allred also declared that "the balance of power has shifted in Hollywood" and said that the Academy of Motion Picture Arts ans Sciences "did the right thing" by expelling the producer from the institution.
"It's a new day. They made a strong statement and sent a message," she said. "It's no longer business as usual."
A representative for Weinstein could not immediately be reached for comment.
Follow me: @NardineSaad
ALSO
Lupita Nyong'o relates her story of inappropriate Harvey Weinstein encounters
The full list of Harvey Weinstein accusers includes fledgling actresses and Hollywood royalty
Harvey Weinstein is done. But what about Lisa Bloom?
Quentin Tarantino admits he 'knew enough to do more' about Harvey Weinstein
---
From the Oscars to the Emmys.
Get the Envelope newsletter for exclusive awards season coverage, behind-the-scenes stories from the Envelope podcast and columnist Glenn Whipp's must-read analysis.
You may occasionally receive promotional content from the Los Angeles Times.