Will 'Chihuahua' take a bite out of 'Body of Lies'?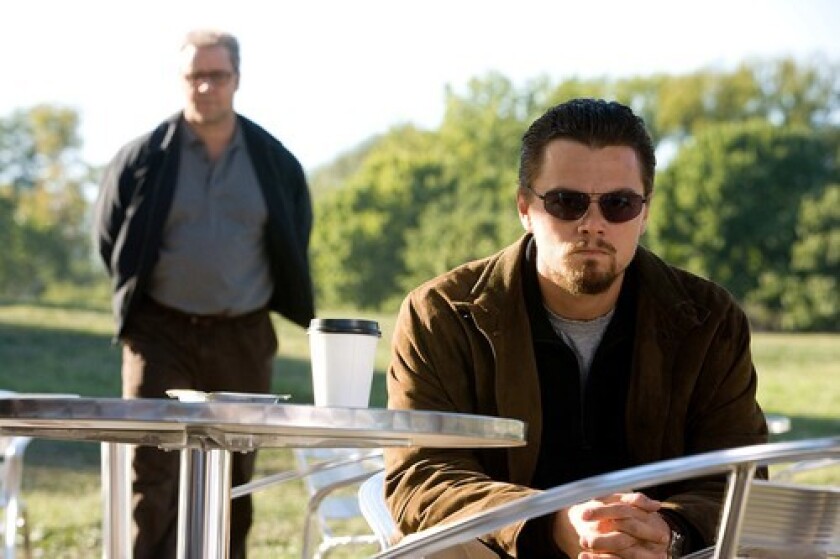 Los Angeles Times Staff Writer
IT FEATURES two of the biggest A-list stars around, Leonardo DiCaprio and Russell Crowe. Its director, Ridley Scott, was the creative force behind the blockbusters "Gladiator" and "American Gangster." And the last movie from its screenwriter, William Monahan, was "The Departed," which won four Oscars, including best picture.
So how is it possible that "Body of Lies" could lose the weekend box-office race to a week-old movie about a talking dog?
The 2008 movie season has been filled with any number of surprises, including the record-setting performance of "The Dark Knight" and the complete failure of "Speed Racer." Among fall movies, "Body of Lies" is drawing the rapt attention of rival distributors, who say they are stunned that the heavily promoted and expensive spy thriller may not open in the top slot.
Audience tracking surveys suggest the weekend battle could be incredibly close. "Beverly Hills Chihuahua," which premiered in first place a week ago with a gross of $29.3 million, has performed relatively well on weekdays; if the Disney family film slips only 35% in its second weekend of release, it could still gross about $19 million this weekend.
But that's not the only competition "Body of Lies" faces.
There are three other movies opening in wide national release, and at least two of them -- the Screen Gems genre film "Quarantine" and Universal's football biography "The Express" -- could challenge for the top spot on the charts. (Fox's actiony children's film "City of Ember" has very little momentum.)
"Body of Lies" could very well finish in first place, but the audience surveys suggest it's hardly a lock to claim the No. 1 position. Three of the surveys estimate that the DiCaprio-Crowe film will open to $13 million to $19 million. The three surveys put "Quarantine" between $7.5 million and $16 million, but genre films often exceed their tracking estimates, especially those released by the marketing wizards at Screen Gems.
Multiplication factor
Warner Bros. is hoping that "Body of Lies" will generate a high "multiple," the industry phrase for a movie's staying power, which measures the percentage of a film's total gross captured in its opening weekend.
A film with a low multiple might gross $25 million in its opening weekend but make only $50 million total in its theatrical run. Conversely, a movie with a high multiple -- often driven by positive reviews and word of mouth -- could open to $14 million but gross more than $75 million. So even if "Body of Lies" doesn't gross more than $20 million this weekend, the studio is hoping that it will remain popular in the coming weeks and end up selling as much as $100 million in tickets.
Despite Crowe and DiCaprio's usual asking fee of $20 million a movie, rival distributors note that their mere presence is no guarantee of a financial windfall.
Crowe's 2005 boxing biography, "Cinderella Man," generated some of the strongest reviews in director Ron Howard's career and even prompted a money-back guarantee at some theaters to ticket buyers. But it opened to a modest $18.3 million and ultimately sold an equally unexceptional $61.6 million in North American theaters.
Similarly, DiCaprio's precious gem political drama "Blood Diamond" premiered with a fragile $8.6 million two years ago and ended up grossing just $57.4 million domestically ("Blood Diamond," unlike "Cinderella Man," performed very well overseas, doubling its local numbers).
The last time Scott and Crowe joined forces, though, in last year's "American Gangster," the returns were spectacular: an opening weekend of $43.6 million and a total domestic take of $130.2 million. Yet that film also starred Denzel Washington, who drew millions of African American moviegoers, and "American Gangster's" story -- a modern-day "Scarface" -- held wide appeal to younger, urban moviegoers.
Interest level in doubt
Three rival distributors say that for all the advertising Warner Bros. has bought in support of "Body of Lies" -- remember the incessant spots for the film during the Summer Olympics? -- the film's awareness is unexpectedly low so close to its release. Audience interest, they further say, is concentrated among older males, who generally don't rush to the multiplex on a film's first weekend. Warner Bros. declined to comment on the film's prospects.
"Body of Lies" also does not have strong "definite interest," a sign of how many moviegoers are inclined to actually go out, buy tickets and see a specific film, and the film's early reviews have been pretty good but not glowing. Even though "Body of Lies" is not explicitly about the war in Iraq, recent movies with even a vague Middle Eastern story have labored to sell tickets. With the economy a shambles, audiences may want easy escapism over anything serious, a reason a new trailer for Adam Sandler's "Bedtime Stories" has been playing so well.
The weekend's real upset may be turned in by "Quarantine," a $12-million thriller shot in the recovered-video style of the hit "Cloverfield." Even though "Quarantine" features a cast of unknowns and is not based on a book or a comic, a Screen Gems-sponsored "Quarantine" trailer was viewed 2.2 million times in one day on YouTube late last month. Coupled with an inventive viral marketing effort launched earlier this year, "Quarantine" may end up being the new movie nipping at the heels of "Beverly Hills Chihuahua."
---
Inside the business of entertainment
The Wide Shot brings you news, analysis and insights on everything from streaming wars to production — and what it all means for the future.
You may occasionally receive promotional content from the Los Angeles Times.