12 Images
Jackie Chan vs. Jet Li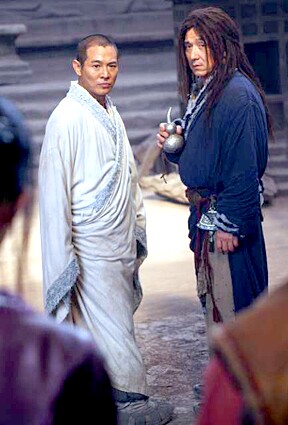 Which martial arts movie star shines brighter: Jackie Chan or Jet Li?
The two superstars, who are also buddies, team up for the first time to take on the box office this weekend in the action-adventure tale "The Forbidden Kingdom." Set in ancient China, the tale finds Chan playing a wisecracking kung fu master and Li in a dual role as the stoic kung fu master the Silent Monk and the infamous Monkey King. Before you make your decision on who is the greatest of the two, we pit Chan against Li -- just for kicks.
(Chan Kam Chuen / Lionsgate / EPA)
The bio:
Jackie Chan
Born:
April 7, 1954, in Hong Kong
Birth name:
Chang Kong Sang -- childhood nickname Pao Pao
Early years:
His parents were so poor that when he was his born, they considered putting him up for adoption because they couldn't feed him or pay their medical bill. At 6, he was indentured for a decade to the Chinese Opera Research Institute and soon joined the Seven Little Fortunes, a performance group of the school's best students. At 17, he worked as a stuntman in the Bruce Lee classics "Fist of Fury" and "Enter the Dragon" under the name of Chen Yuen Long. Became a superstar with "Drunken Master" in 1978.
(Robert Gauthier / Los Angeles Times)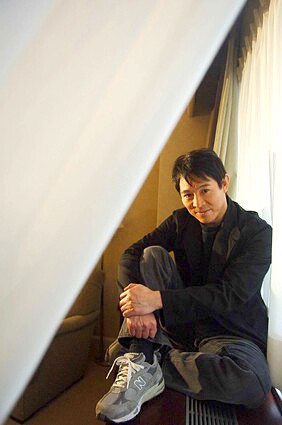 The bio:
Jet Li
Born:
April 26, 1963, in Beijing
Birth name:
Lil Lianjie
Early years
: Began training at age 8 in the martial art of
wushu
, on the Beijing wushu team during the All China games. He went on to win 15 gold medals and one silver in Chinese championships. His success led to his being named a "national treasure." His fame as a sports star led to him being cast in martial arts movies first in China and then in Hong Kong.
(Jennifer S. Altman / for the Times)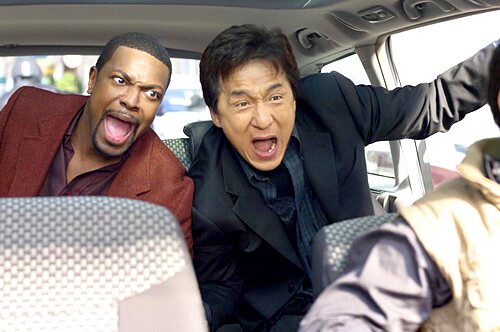 Box office
Jackie Chan
Lifetime gross total:
$838.2 million, according to
boxofficemojo.com
Jet Li
Lifetime gross total:
$439.8 million, according to
boxofficemojo.com
Winner:
Chan, by a landslide
(Glen Wilson / New Line Cinema)
American debut
Jackie Chan:
The dreadful 1980 flick "The Big Brawl," in which he plays a Chinese martial artist taking on the Mafia single-handedly in 1920s Chicago. It bombed. He played a Japanese racing car driver in the two "Cannonball Run" comedies starring Burt Reynolds. After another attempt to break into the U.S. market failed -- 1985's "The Protector" -- he decided to focus on Hong Kong films. He finally hit box-office gold in America with 1995's action-comedy "Rumble in the Bronx."
Jet Li:
"Lethal Weapon 4" in 1998. Li was electrifying in his first villain role -- in fact he was the only decent thing about this wan entry in the franchise. He agreed to do the film after producer Joel Silver promised he would give him the leading role in his next film, 2000's "Romeo Must Die." None of Li's American films has performed as well either critically or commercially since "Romeo."
Winner:
It's a tossup. It took Chan longer than Li to impress American audiences, but Chan has been far more successful stateside.
(Kharen Hill / Warner Bros.)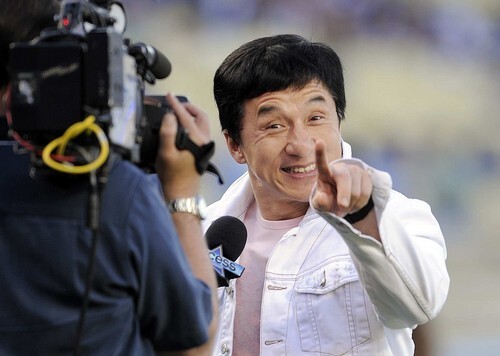 Versatility
Jackie Chan:
Besides acting, Chan has directed numerous films including "Operation Condor," "Police Story" and "Police Story II," written, produced and provided action and stunt choreography and direction for his films. He is also a popular singer who has recorded songs for his films.
Jet Li:
He's concentrated mainly on acting, though he provided the story idea for 2001's "Kiss of the Dragon" and has produced several of his films, including 2006's "Jet Li's Fearless" and 2005's "Unleashed."
Winner:
Chan has his fingers in every aspect of production.
(Mark J. Terrill / Associated Press)
Philanthropy
Jackie Chan:
Wanting to be a role model for children, Chan has never played a villain and curbs the foul language on film. He funded construction of the Jackie Chan Science Center at the Australian National University and established schools in China's poorest regions. A UNICEF goodwill ambassador, he has worked for conservation, against animal abuse and spearheaded disaster relief efforts for flood victims in mainland China and of the Indian Ocean tsunami. Two years ago, he announced that half of his assets would be donated to charity upon his death.
Jet Li:
A Tibetan Buddhist, Li has been a "philanthropic ambassador" to the Red Cross Society of China for the last two years. After his experiences in the Maldives when the tsunami hit during the 2004 Indian Ocean earthquake -- he struggled to get his young daughter to safety -- he created the nonprofit the One Foundation that supports international disaster relief efforts, as well as mental health and suicide prevention.
Winner:
Both are swells when it comes to humanitarian causes.
(Kin Cheung / Associated Press)
Personal life
Jackie Chan:
Married Taiwanese actress Lin Feng-Jao in 1982. The couple had a son, Jaycee Chan, now a singer and actor. Also has a daughter with former Miss Asia, Elaine Ng. (The two became an item while making "Gorgeous.")
Jet Li:
He married Beijing wushu team member and his "Shaolin Temple" series costar Huang Qiuyan in 1987. They had two children and divorced three years later. For the last nine years, he's been married to Hong Kong actress Nina Li Chi. They have two children. In fact, Li turned down Chow-Yun Fat's role in
Ang Lee
's 2000 hit "Crouching Tiger, Hidden Dragon" because he had promised his wife he wouldn't make any films during her pregnancy.
Winner:
Li. (We like the fact that Li gave up the role for his pregnant wife.)
(Genaro Molina / Los Angeles Times)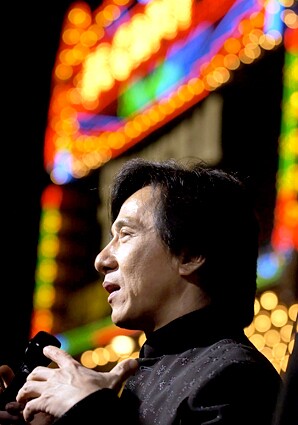 Awards
Jackie Chan:
He's won three Hong Kong Film Awards and won the Kids' Choice Awards for favorite male butt-kicker for 2002's "The Tuxedo" and for favorite male action hero for 2001's "Rush Hour 2." Chan won the MTV Movie Awards for best fight for "Rush Hour 2" and best on-screen duo with Tucker for 1998's "Rush Hour." Three years ago, the Shanghai International Film Festival honored him for his "outstanding contribution to Chinese Cinema."
Jet Li:
Won the Hong Kong Film Critics Film Society award two years ago for "Huo Yuan Jia" and this year won best actor for his role in the movie "The Warlords" at the Hong Kong Film Awards.
Winner:
Chan. (His mantle is far more crowded with awards.)
(AFP)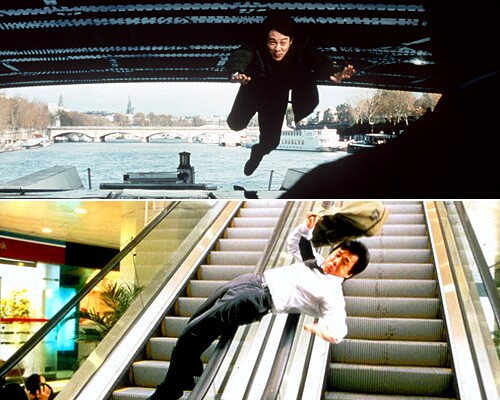 Injuries
Jackie Chan:
What part of his body hasn't he injured or broken over the last three decades? Chan's injuries are so notable that one can go to
www.jackiechankids.com
and check out the body injury map. Because of his injuries, he couldn't get insurance for his films. And after 1985's "Police Story," he had to form the Jackie Chan Stuntmen Assn. to gather up stuntmen for his films. Not only did he train them, he also paid their medical bills.
Jet Li:
Though his injuries haven't been as well-publicized as Chan's, Li's certainly had his fair share of broken bones, including two broken legs, an ankle, wrist and nose. And that was just on his first six films!
Winner:
Chan. (The body injury map is pretty fun.)
susan.king@latimes.com
(Miramax / 20th Century Fox)