Paul Rudd and Evangeline Lilly star in the trailer for Marvel Studio's "Ant-Man and the Wasp."
Ant-Man, once considered a superhero small fry next to such Marvel heavyweights as the Incredible Hulk and Thor, is poised to march atop the box office this weekend and boost an already strong summer movie season.
Disney's "Ant-Man and the Wasp," the third Marvel Studios movie to hit theaters this year, is expected to open with $70 million to $85 million in ticket sales from the U.S. and Canada from Friday through Sunday, according to people who have reviewed prerelease audience surveys.
"Ant-Man," along with the latest movie from the reliable "Purge" horror series, should provide a lift for what has been a healthy summer for multiplexes, despite the high-profile disappointment of "Solo: A Star Wars Story." A string of popular movies, including Universal Pictures' "Jurassic World: Fallen Kingdom" and Pixar's "Incredibles 2," pushed domestic ticket sales to a record $3.3 billion in the second quarter of the year, according to industry estimates.
So far this year, movies have amassed $6.2 billion in the U.S. and Canada, up 9% from the same six-month period in 2017, according to data firm ComScore. Hollywood's much-needed winning streak comes after a dismal 2017, during which admissions declined 6% from the prior year because of a multitude of flops.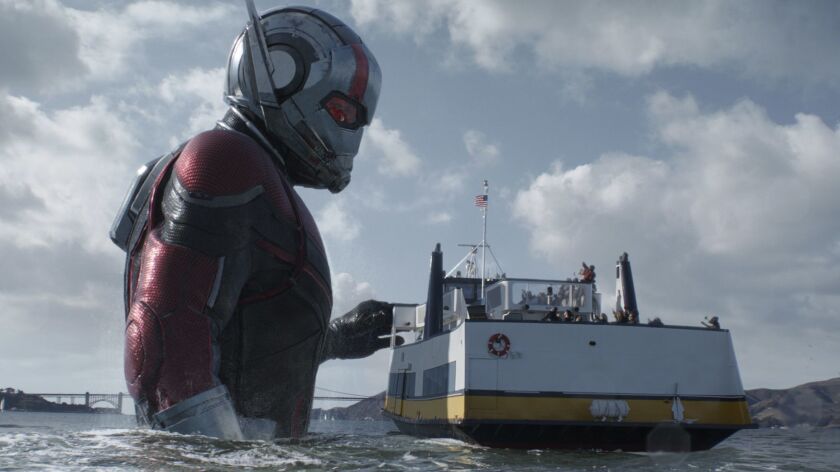 'Ant'-icipating a win
"Ant-Man and the Wasp's" opening will probably improve upon the 2015 debut of the first "Ant-Man," which grossed $57 million in its first three days in theaters and went on to collect $519 million in global receipts. The new picture should easily unseat "Jurassic World: Fallen Kingdom" as the top domestic film. The dino sequel has grossed $935 million in global ticket sales, including $265 million in North America.
The anticipated success of the new "Ant-Man" continues a stellar run for Marvel, which this year has delivered hits in the form of "Black Panther" ($1.3 billion in worldwide box-office sales) and "Avengers: Infinity War" (more than $2 billion).
"Ant-Man," starring Paul Rudd as the hero with shrinking abilities, won over many moviegoers by injecting another comedic layer into the Marvel Cinematic Universe. The new movie, which also stars Evangeline Lilly, has earned mostly favorable reviews, with an 83% "fresh" rating on Rotten Tomatoes.
Making America 'Purge' again
While "Ant-Man" provides escapist entertainment, the new "Purge" prequel is banking on political discord to stoke its commercial prospects. "The First Purge," from Universal Pictures, is the fourth film in the violent, low-budget dystopian franchise about a near-future America that makes killing and chaos legal for one night a year.
It may not do quite as well as previous "Purge" movies, though. "The First Purge," opening Wednesday, is expected to gross about $25 million through Sunday. That would mark a decline from the opening of 2016's "The Purge: Election Year," which took in $36 million during its four-day opening holiday weekend. "Purge" movies, produced by Blumhouse and Michael Bay's Platinum Dunes, have grossed $320 million so far, representing a significant profit.
To market the latest "Purge," Universal tapped into the current political climate by announcing the movie with a propaganda-style video on channels including CNN and NBC after the State of the Union address. A viral poster promoted the film by imprinting the title on a red baseball cap resembling President Trump's "Make America Great Again" presidential campaign staple.
---