Adam Yauch dies at 47; Beastie Boys' rapper MCA
Adam "Ad-Rock" Horovitz, left, Mike "Mike D" Diamond and Adam "MCA" Yauch of the Beastie Boys.
(Ron Galella, Ltd. / WireImage)
Adam "Ad-Rock" Horovitz, Adam "MCA" Yauch and Mike "Mike D" Diamond of the Beastie Boys pose on a rooftop in New York City in 1994.
(L. Busacca / WireImage)
Beastie Boys Adam "MCA" Yauch, left, Mike "Mike D" Diamond and Adam "Ad-Rock" Horovitz.
(Ron Galella / WireImage)
Beastie Boys Adam "MCA" Yauch, left, Mike "Mike D" Diamond and Adam "Ad-Rock" Horowitz perform at the Kroq Weenie Roast 2004 concert at the Verizon Wireless Amphitheater in Irvine.
(Frazer Harrison / Getty Images)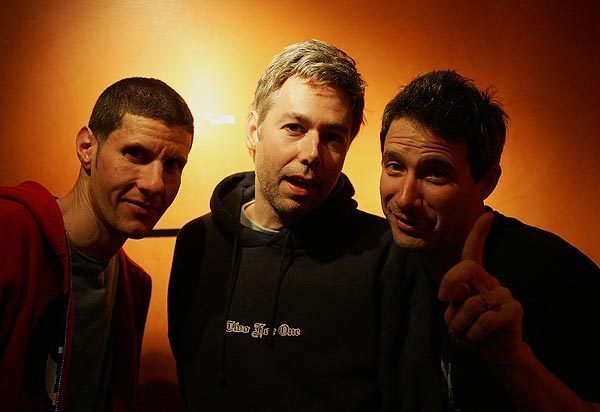 Beastie Boys Mike "Mike D" Diamond, left, Adam "MCA" Yauch and Adam "Ad-Rock" Horovitz attend a film party at the 2006 Sundance Film Festival in Park City, Utah.
(Frazer Harrison / Getty Images)
Adam "Ad-Rock" Horovitz, left, Adam "MCA" Yauch and Mike "Mike D" Diamond of the Beastie Boys are seen at the 2006 Sundance Film Festival in Park City, Utah.
(Mark Mainz / Getty Images)
Tibetan Freedom Concert co-organizer and Beastie Boy Adam "MCA" Yauch tears through a number during the Beastie Boys set in July 1996 at the Polo Fields in San Francisco's Golden Gate Park.
(Sam Morris / Associated Press)
Adam "MCA" Yauch of the Beastie Boys performs during the Live Earth London concert at Wembley Stadium in July 2007 in London.
(Dave M. Benett / Getty Images)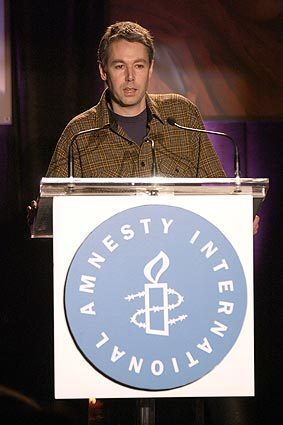 Adam "MCA" Yauch of the Beastie Boys speaks at Amnesty International USA's fifth Media Spotlight Awards in New York City.
(Kevin Mazur / WireImage)
Adam "MCA" Yauch of the Beastie Boys is pictured in June 2008 in New York.
(Mary Altaffer / Associated Press)
It had only been a few years since Adam Yauch had found fame as the in-your-face rapper and bass player MCA in the transgressive, boundary-breaking trio the Beastie Boys.
But in 1992 he was searching for something else, traveling in Nepal to snowboard and pursue a growing interest in Buddhism when he came upon a group of Tibetan refugees. The encounter intensified his interest in the teachings of the Dalai Lama, and he was soon one of the world's leading advocates for the cause of Tibetan independence.
For Yauch, who died Friday of cancer in New York at age 47, the transformation had begun shortly after the Beastie Boys released their 1989 album "Paul's Boutique."
"I really started thinking about our lyrics and how they affected people," he said in a 1999 interview. "There are a lot of lyrics on our first two albums that talk about carrying guns or being disrespectful to women.
"We looked at it as a fantasy, a cowboy movie, but I began to realize those things have a deeper effect, where people actually think that's who we are. And in some cases, you kind of become that, a caricature of yourself, your image."
That realization led to the Beastie Boys' remarkable ability to endure and evolve over the decades.
"It's obvious to anyone how big of an influence the Beastie Boys were on me and so many others," rapper Eminem said in a statement released after Yauch's death. "They are trailblazers and pioneers."
The band's main claim to fame when their debut album came out in 1986 was a stint as the opening act on Madonna's 1985 tour, where their wisecracking aggression elicited boos and tears from the pop star's audience.
"Licensed to Ill" not only made stars of Yauch, Adam "Ad-Rock" Horovitz and Michael "Mike D" Diamond, but also upended the music industry's conventional wisdom that rap music was a genre confined to a black audience.
Powered by the anthem "(You Gotta) Fight for Your Right (To Party!)," the album became the fastest-selling debut in the history of Columbia Records and ultimately sold 9 million copies.
But the group's impact went beyond numbers.
"The cultural impact they had was so massive, not just then but for years and years," Red Hot Chili Peppers bassist Flea said Friday. "It was record after record after record where they were just the coolest thing on earth. Every kid wanted to look like them, wanted to dress like them, wanted to be them....
"And you can't ignore the racial part....They were absorbing part of a culture that they weren't born into, but they approached it and channeled it in such an authentic way — they were just good. They were there from the beginning and they were really good....
"The fact that they were white brought people together. There was never any minstrelsy or weird vibe about it," Flea said. "People felt the integrity and the love in what they were doing so it transcended all these cultural boundaries and brought people together."
Yauch was born in August 1964 in Brooklyn. His father was an architect and painter, and his mother a social worker. As a teen, he played in hard-core punk groups. The Beastie Boys were initially a quartet that included Yauch and Diamond; Horovitz joined in 1983.
Drawn to the exciting new hip-hop scene, they found some underground success with the comedic single "Cooky Puss," then teamed with producer and Def Jam Records co-founder Rick Rubin, who was still running his soon-to-explode operation out of his New York University dorm room.
"Licensed to Ill" was the product of their collaboration, and the Beastie Boys lived out its image of bad-boy pranksters preoccupied by beer and pornography. Yauch was particularly inspired by the legendary excesses and hedonism of Led Zeppelin, and their tours were mayhem-spiked flurries of panicked city fathers and vice squads on alert.
But soon the act wore thin. "I think in a way, you know, it's almost like we started out kind of like goofing on it but then just sort of became it, in a way," Yauch said in a 2011 interview.
The Beasties' unexpected evolution was showcased in "Paul's Boutique," a challenging left turn that sold a fraction of "Ill's" total but came to be regarded as a landmark work.
And Yauch matured personally, acting on his passion for the Tibetan issue by co-founding the activist Milarepa Foundation in 1994 and producing a series of concerts that were pop music's largest cause-related events since Live Aid in 1985. Among the acts that appeared at the late-'90s Tibetan Freedom Concerts in San Francisco, New York, Washington and other cities were Radiohead, Dave Matthews, Pearl Jam, R.E.M. and the Beasties.
As the group became less active, Yauch also pursued his interest in film. He often oversaw the group's videos and went on to produce and direct a 2006 concert movie that was shot by 50 fans in the audience at Madison Square Garden. He also produced and directed "Gunnin' for That #1 Spot," a 2008 documentary about high school basketball stars gathering for a game at New York's Rucker Park.
His production and distribution company, Oscilloscope Laboratories, received two Oscar nominations for the 2009 drama "The Messenger" and another for the 2008 documentary "Burma VJ." The company also released the acclaimed 2010 Banksy documentary "Exit Through the Gift Shop."
Yauch was diagnosed with cancer of the salivary gland in 2009, and he was unable to attend the Beastie Boys' induction in April into the Rock and Roll Hall of Fame.
"He was just a beautiful guy," said Flea, a friend since both their groups emerged in the 1980s. "When it came to art he put his art first and when it came to his beliefs he put those first."
Yauch's survivors include his wife, Dechen; his daughter, Tenzin Losel; and his parents, Frances and Noel Yauch.
---
From the Oscars to the Emmys.
Get the Envelope newsletter for exclusive awards season coverage, behind-the-scenes stories from the Envelope podcast and columnist Glenn Whipp's must-read analysis.
You may occasionally receive promotional content from the Los Angeles Times.