Debbie Reynolds, who sang and danced to fame in 'Singin' in the Rain,' dies at 84
From 1950 to 1967, Debbie Reynolds appeared in more than 30 movie musicals and light comedies.
Debbie Reynolds' life was the stuff of movie legend, from her start as an ingenue playing opposite Gene Kelly in the classic 1952 musical "Singin' in the Rain," to her part in one of Hollywood's most notorious scandals.
And her death Wednesday at the age of 84 had the kind of tragic story line Hollywood made famous, coming only one day after her daughter, Carrie Fisher, died at the age of 60.
Reynolds' son, Todd, told media outlets that his mother was under stress over the death of her daughter and suffered a stroke at her home at about noon. Reynolds told him she missed her daughter and wanted to be with her.
On Tuesday, Reynolds had posted a statement on Facebook about the outpouring of grief about her daughter's unexpected death. Fisher, a well-known actress and author in her own right, died four days after suffering a cardiac incident on a flight from London back to Los Angeles.
"Thank you to everyone who has embraced the gifts and talents of my beloved and amazing daughter," she wrote. "I am grateful for your thoughts and prayers that are now guiding her to her next stop. Love Carries Mother."
Reynolds' singing and dancing in "Singin' in the Rain" and other musicals and frothy entertainment turned her into America's Sweetheart and a potent box office star for years. She became famous near the end of the Golden Age of Hollywood and was a link to the great studio era.
And like the stalwart heroines she played, Reynolds never quit. She continued performing for the rest of her life on screen and stage, including a one-woman revue highlighting her remarkable life on screen and off. She was also a major collector of Hollywood memorabilia.
Actress Debbie Reynolds poses for a portrait in Beverly Hills on May 21, 2013.
(Chris Pizzello / Associated Press)
A detail of the poster for Stanley Donen's "Singin' in the Rain," featuring Gene Kelly and Debbie Reynolds.
(Movie Poster Image Art / Getty Images)
Actress Debbie Reynolds posing for a portrait in New York.
(Richard Drew / Associated Press)
In this March 6, 1959, photo, actress Debbie Reynolds boards an airliner in New York en route to Spain, where she would film a new movie.
(John Rooney / Associated Press)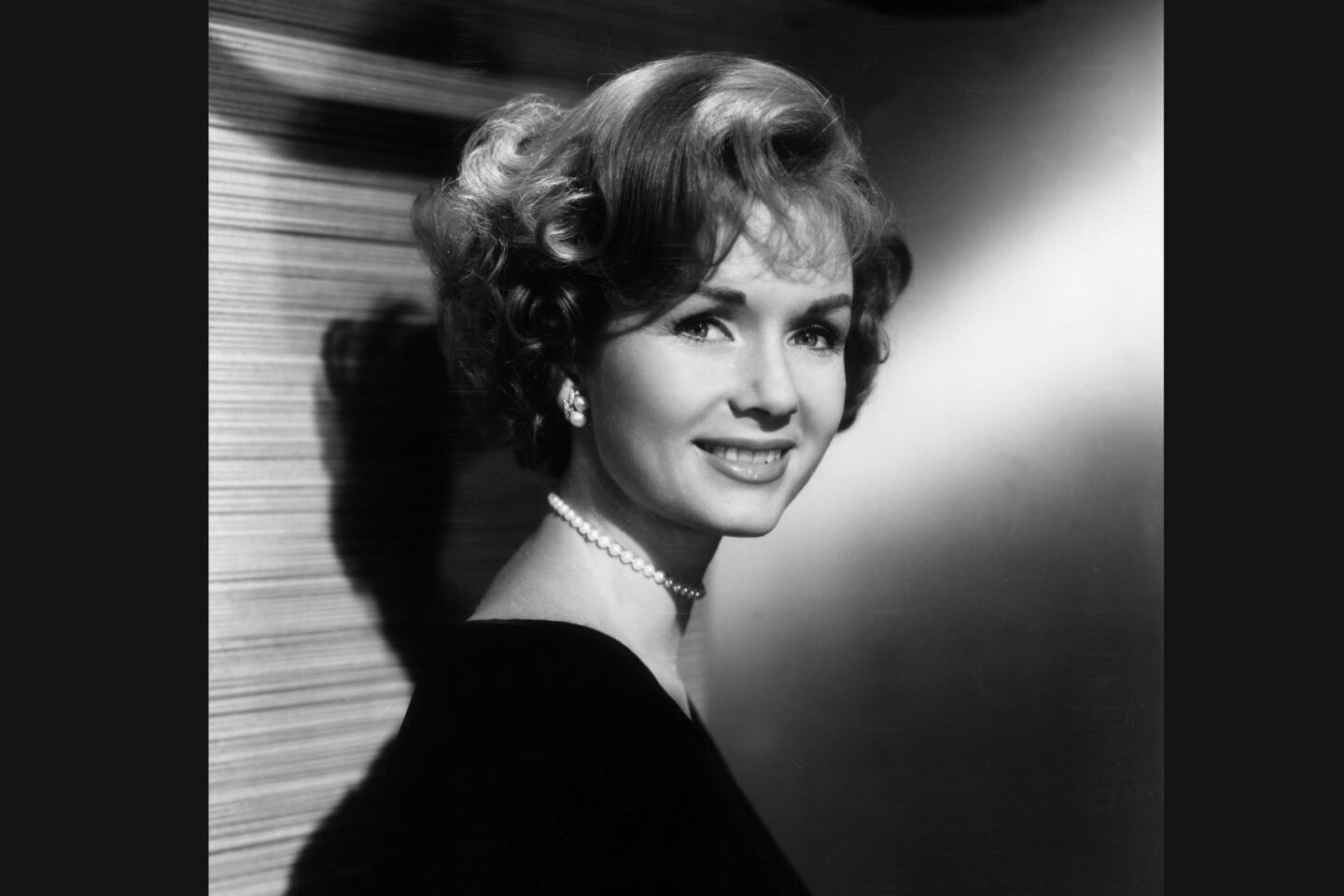 Debbie Reynolds in 1960, wearing a black sweater top and a pearl necklace.
(Hulton Archive / Getty Images)
Actress Debbie Reynolds photographed in 1959.
(HO / Los Angeles Times)
Actress Debbie Reynolds appears at Hollywood Walk of Fame ceremonies in Los Angeles.
(Wally Fong / Associated Press)
Actress Debbie Reynolds shows $13,900 in U.S. bonds given to her by acting County Clerk W. G. Sharp. in 1953.
(Larry Sharkey / Los Angeles Times)
Carrie, 3, gives mother Debbie Reynolds a hug after her afternoon nap in their West Los Angeles home.
(Ray Graham / Los Angeles Times)
Debbie Reynolds in one of the storage rooms where clothes from 41 years in show business were kept in 1988.
(Robert Durell / Los Angeles Times)
Debbie Reynolds' star along the 7000 block of Hollywood Boulevard.
(Gary Coronado / Los Angeles Times)
Debbie Reynolds appears on the red carpet before the 21st Annual Screen Actors Guild Awards, where she received a Lifetime Achievement Award, at the Shrine Auditorium in Los Angeles on January 25, 2015.
(Al Seib / Los Angeles Times)
Debbie Reynolds placing her hand prints in the wet cement at Grauman's Chinese Theatre in Hollywood in 1965.
(Bruce H. Cox / Los Angeles Times)
Debbie Reynolds, who will receive the Screen Actors Guild's Life Achievement Award, is seen photographed at her Los Angeles home in 2012.
(Brian van der Brug / Los Angeles Times)
Carrie Fisher, right, presents her mother, Debbie Reynolds, with the Life Achievement Award at the 21st Screen Actors Guild Awards at the Shrine Auditorium in Los Angeles on Jan. 25, 2015.
(Robert Gauthier / Los Angeles Times)
From 1950 to 1967, she appeared in more than 30 movie musicals and light comedies, receiving her lone Oscar nomination for playing the title character in 1964's "The Unsinkable Molly Brown." Many critics considered it her most memorable early role, and it was a favorite — Reynolds related to a woman with tremendous zest for life.
Off-screen, she starred in the real-life role of the wronged woman in a love triangle that many in the late 1950s considered at the time the Hollywood scandal of the century. Her first husband, pop singer Eddie Fisher, left Reynolds — perceived by moviegoers as the girl next door — for sultry actress Elizabeth Taylor.
Standing alone in her front yard in 1958, the abandoned Reynolds met the press. Fastened to her blouse was a diaper pin, a reminder of the couple's two young children inside. The "nuclear-like split," as a Times article from that era described it, proved disastrous to Fisher's career.
The outpouring of public sympathy for Reynolds only served to increase her fame — the comedy "The Mating Game" that she co-starred in with Tony Randall was one of four movies she appeared in the next year.
But as the lighthearted films she was known for went out of style in the late 1960s in favor of message movies, Reynolds turned to the stage. She earned a Tony Award nomination for playing the title role in a Broadway revival of "Irene" in the early 1970s, then gave birth in Las Vegas to the nightclub act that she would perform for decades.
In 1996, she returned to the big screen for her first major part in years, playing the title role in the well-reviewed Albert Brooks comedy "Mother." The role allowed her "to bare a steely edge beneath her famously perky exterior," People magazine said in 1997. It also earned her some of the best reviews of her career.
She was just 18 when she was cast in "Singin' in the Rain" despite her lack of experience as a dancer. Decades later, Reynolds said she could still recall the pain from three months of dance rehearsals that made her feet bleed.
" 'Singin' in the Rain' and childbirth were the hardest things I ever had to do in my life," Reynolds wrote in her 1988 autobiography "Debbie."
The movie about Hollywood's transition to talkies was a box-office hit, and her portrayal of an up-and-coming spunky actress turned Reynolds into a star. It is widely considered one of the greatest movie musicals.
One of the keys to "Singin' in the Rain's" success was its "tremendous amount of energy," dancer Donald O'Connor, who also starred in the film, told NBC in 2002. "Everybody liked each other" and Reynolds came off "as a great trouper" in the film, he said.
Reynolds earned early notice as an outspoken teenager in "Two Weeks With Love" (1950) and for starring in "Tammy and the Bachelor" (1957), the first in a series of popular teen films.
Her other films included "The Affairs of Dobie Gillis" (1953) with Bobby Van, "The Rat Race" (1960) with Tony Curtis, "How the West Was Won" (1962) with many stars of the era, and "Divorce American Style" (1967) with Dick Van Dyke.
In 1969, she launched "The Debbie Reynolds Show," a TV sitcom with "I Love Lucy" overtones about the unpredictable wife of a newspaper columnist. When NBC aired a cigarette commercial during its debut, she threatened to quit. Instead, the sponsor pulled out and the series was off the air within a year.
Contemporary TV audiences knew her from her recurring Emmy-nominated role as Grace's eccentric actress mother on the NBC show "Will & Grace." She also gained notice in the late 1990s for her supporting role as Kevin Kline's mother in the satirical film "In & Out."
Her last role was Liberace's mother in the 2013 HBO movie "Behind the Candelabra." She received the 2014 Screen Actors Guild life achievement award.
Work was a necessity for the thrice-divorced Reynolds, whose public image was far more rosy than her private life.
After Reynolds married Fisher in 1955, they had two children, Carrie and Todd. Their daughter became an actress best known for playing Princess Leia in the "Star Wars" movies and, later, a successful writer. Their son was named for Fisher's best friend, producer Mike Todd.
When Mike Todd died in a plane crash, Fisher consoled his widow, Taylor — a friend of Reynolds' from their days as teenage contract players at Warner Bros. Fisher soon left Reynolds, whom he had met in a publicist's office.
"I always thought their whole courtship was a sort of press release," Carrie Fisher told People magazine in 1988. "They were riding the wave of being a media couple. ... And I think the burn-off on the infatuation was very quick."
Reynolds' second and third husbands left her in financial ruin, she often said.
Husband No. 2, Harry Karl, was a shoe magnate who lost his millions and hers through gambling and bad investments, according to her autobiography. He left her with her two children and his three to raise when they divorced in 1973 after 14 years of marriage.
It took her 10 years to pay off Karl's debts, "and I've never forgiven him for that," Reynolds told The Times in 1997. He died in 1985.
In 1997, the Las Vegas hotel and casino she opened in the early '90s went belly up and she filed for bankruptcy. Reynolds blamed her third husband, real estate developer Richard Hamlett, for mismanaging the property. They divorced in 1996 after more than a decade together.
"My life has just spun along, sort of like a wheel on a car that somebody else is driving," Reynolds told The Times some years ago. "I've just gone with it."
She was born Mary Frances Reynolds on April 1, 1932, in El Paso, Texas, to Ray and Maxine Reynolds. After her father got a job as a carpenter for the railroad in the late 1930s, the family built a house in Burbank near Warner Bros.
Growing up, Reynolds was a natural mimic, often performing for classmates at John Burroughs High School to compensate for the embarrassment she felt over her spare wardrobe.
"Instead of cashmere, I wore a comic routine," Reynolds wrote in her book.
She had planned to be a gym teacher but at 16 won the Miss Burbank beauty contest doing an imitation of her idol Betty Hutton performing. Reynolds had entered for the free blouse and scarf promised each entrant.
The contest judges — studio talent scouts — were so impressed with her naturalness that they flipped a coin to see who got to interview Reynolds first. Warner Bros. won, and she rode her bike to the screen test.
Soon, she was under contract for $65 a week and was given a new first name by the studio chief who deemed "Mary Frances" too old-fashioned.
"I didn't want to be called Debbie, but that's the name Jack Warner gave me," she later said.
The studio did not seem to know how to use Reynolds — she mainly wandered the lot and took dance and drama lessons. When MGM, home of the movie musical, expressed interest 18 months into her contract, Warner Bros. gave her up. She remained an MGM contract player for about a decade.
In the 1950s, she had hit singles with songs from two of her movies — "Aba Daba Honeymoon" from "Two Weeks With Love" and the theme song "Tammy" from "Tammy and the Bachelor."
On Broadway, she performed the original revue "Debbie" over two weeks in 1976 and starred in "Woman of the Year" in the early 1980s.
In 2001, Reynolds made the television movie "These Old Broads." Written by her daughter, it included a part for Taylor and sent up their scandal-ridden past.
Reynolds and Taylor had repaired their friendship in 1964. Taylor, then married to actor Richard Burton, told Reynolds she "always regretted" having hurt her, Reynolds told The Times in 2001.
By then, their shared past was just another piece of Hollywood history, much like the "Cleopatra" headdress that Taylor wore in the movie — and which became part of Reynolds' extensive collection of movie memorabilia.
When MGM decided to liquidate its storage room of costumes, props and furniture in 1970, Reynolds tried to buy it for $5 million but the studio decided to auction it piece by piece.
Beginning with the auction — "when my hand never went down," she often said — she built a 4,000-piece collection. Her strategy was to buy whole sets from Oscar-winning films and costumes worn by actors she was certain would go down in history.
"I felt I knew what a fan wanted to see," Reynolds told The Times in 2011. "They wanted to touch costumes."
While she had displayed some pieces in a museum at her Las Vegas hotel, she gave up on her longtime dream of opening a museum dedicated to Hollywood memorabilia and auctioned many of her treasures in 2011. They brought in more than $25 million.
Monroe's white dress that billowed in "The Seven Year Itch" went for $4.6 million, Judy Garland's blue gingham dress from "The Wizard of Oz" drew more than $1 million and a guitar played by Julie Andrews in "The Sound of Music" sold for $140,000.
"I haven't had a lot of time until I decided to auction off my memorabilia," Reynolds told The Times in 2012. "I still have a lot of my things, but I decided to become rich, and I had all of this that I'd invested my money in, millions over the years. ... I decided to pull some money out so that Carrie and Todd and I could do whatever we wanted to do."
In addition to her son, Reynolds is survived by a granddaughter, actress Billie Lourd.
Nelson is a former Times staff writer.
ALSO
The new documentary 'Bright Lights' peels back the curtain on Carrie Fisher's legendary Hollywood family
Remembering Carrie Fisher: Empowering wit, strong words and leaving the universe forever changed
From the archives: Debbie Reynolds and Carrie Fisher discuss Hollywood families, not-so-fictional novels and more
---
UPDATES:
6:59 p.m.: This article was updated with new first paragraphs and additional details about Debbie Reynolds' death.
Get our L.A. Goes Out newsletter, with the week's best events, to help you explore and experience our city.
You may occasionally receive promotional content from the Los Angeles Times.