Stephen Hillenburg, creator of 'SpongeBob SquarePants,' dies at 57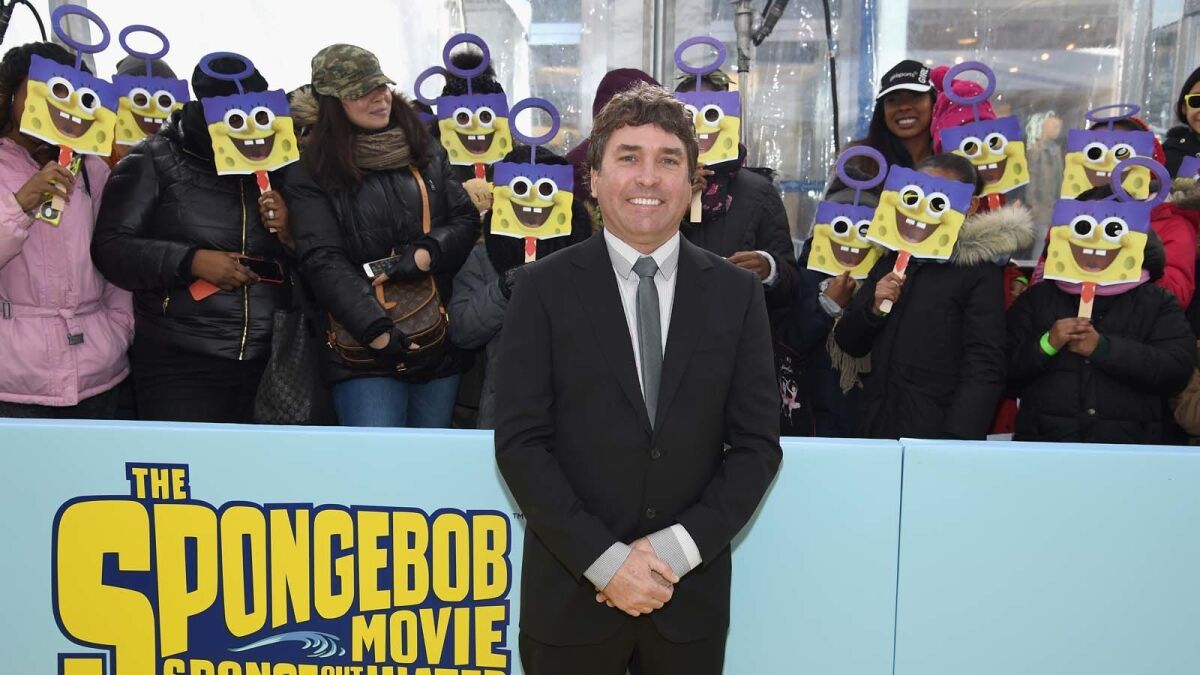 Stephen Hillenburg, the creator of the hit animated Nickelodeon series "SpongeBob SquarePants," died Monday after battling amyotrophic lateral sclerosis, also known as Lou Gehrig's disease. He was 57.
"He was a beloved friend and longtime creative partner to everyone at Nickelodeon, and our hearts go out to his entire family," the cartoon network said in a statement Tuesday confirming his death.
"Steve imbued 'SpongeBob SquarePants' with a unique sense of humor and innocence that has brought joy to generations of kids and families everywhere," the statement added. "His utterly original characters and the world of Bikini Bottom will long stand as a reminder of the value of optimism, friendship and the limitless power of imagination."
SpongeBob, Patrick, Squidward, Mr. Krabs, Sandy Cheeks, Plankton, Pearl Krabs, Mrs. Puff, Larry the Lobster and the rest of the world of Bikini Bottom premiered in May 1999 and began a full run that July, capturing the imagination of kids young and old off the bat. While youngsters watched with their families, college students went their own way with Saturday-night viewing parties.
Tom Kenny, the actor who voices the show's titular character, paid tribute to Hillenburg in an acceptance speech at this year's Daytime Creative Arts Emmy Awards in April.
"SpongeBob's vocal cords might be mine, but SpongeBob's playful spirit of gentle anarchy, his humor and the joy he takes in his vibrant, colorful, music-filled world come directly — directly — 100% from my buddy, Mr. Stephen Hillenburg," Kenny said as Hillenburg stepped onstage to accept the award for outstanding children's animated program.
The phenomenal success of the show created a huge merchandising opportunity worldwide. But come 2002, after 60 episodes, Hillenburg decided against renewing his Nickelodeon deal.
"I definitely need a break," Hillenburg told The Times that year, when he was 40 and said he wanted to try something new.
"I think the network wants to make a 'SpongeBob' movie," he said. It was something he wanted as well, but he didn't want to do it at the same time he was running the TV show. It wasn't unusual, he said, for an animated series to end around 60 episodes.
The show has gone further than that: It's now in its 12th season. It has won Emmys in the U.S. and Britain and been translated into more than 60 languages.
"The SpongeBob SquarePants Movie" — written, directed and produced by Hillenburg — came out in 2004, and he wrote and directed SpongeBob video games and shorts. He was also the executive producer of the 2015 sequel, "The SpongeBob Movie: Sponge Out of Water." Another film is planned for a 2020 release.
Hillenburg didn't start out pursuing a creative career in cartooning, though early on he'd been attending animation festivals in the U.S. and Canada.
Born to Kelly and Nancy Hillenburg on Aug. 21, 1961, at an Army base in Oklahoma, he graduated from Humboldt State University in 1984 with a degree that emphasized marine resources, and he taught marine biology at the Orange County Marine Institute in Dana Point, now known as the Ocean Institute.
There, he created colorful teaching tools that showed off his love of all things oceanic, writing and illustrating stories that birthed the future residents of Bikini Bottom. He soon found himself pursuing a degree in experimental animation at the California Institute of the Arts in Valencia, earning an MFA in 1992.
Hillenburg shortly thereafter found himself working as a writer and director on Nickelodeon's "Rocko's Modern Life" before moving on full-time to produce and direct the animated series that would become "SpongeBob SquarePants."
Hillenburg is survived by his wife of 20 years, Karen Hillenburg, son Clay, mother Nancy Hillenburg (neé Dufour) and brother Brian Kelly Hillenburg.
@theCDZ on Twitter and Instagram
---
Get our daily Entertainment newsletter
Get the day's top stories on Hollywood, film, television, music, arts, culture and more.
You may occasionally receive promotional content from the Los Angeles Times.