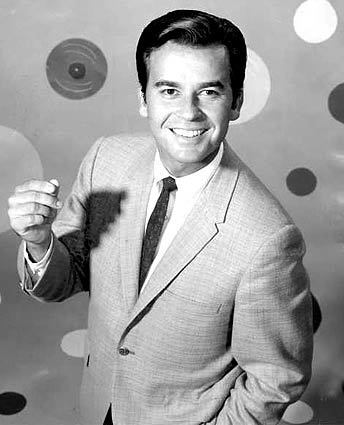 11 Images
Clark Trek: The Next Generation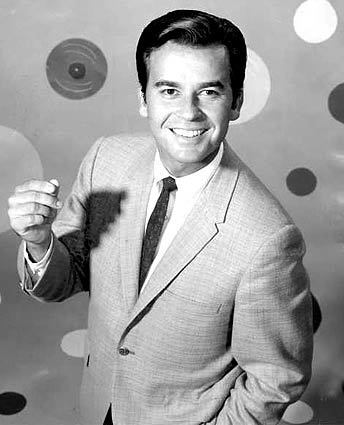 By Deborah Netburn and Patrick Day, Los Angeles Times staff writers
Younger readers will have noticed that slowly but surely the faces that act as a vicarious vessel for us to talk to, laugh with, and question our beloved movie stars are starting to grow younger. They become less like our parents (even our grandparents) and more like us. Aging Dick Clark is no longer the only game in town.
Here are the 10 helping to usher in this new era of youthful host-ness.
(ABC)
Ryan Seacrest: The one true heir
His credentials:
Seacrest has had incredible career focus since he was just a little tyke. He got into radio at 15, had a show on KYSR-FM in L.A. during driving hours when he was in his early 20s, and started hosting "American Idol" when he was 29.
His style:
Smooth and conversational, funny but definitely not edgy.
Will he stick around:
He hosts the biggest show on television and makes it look like a breeze, and he's cohosted Dick Clark's New Year's Eve special since 2005. Seacrest has already become an institution.
(Bob D'Amico / ABC)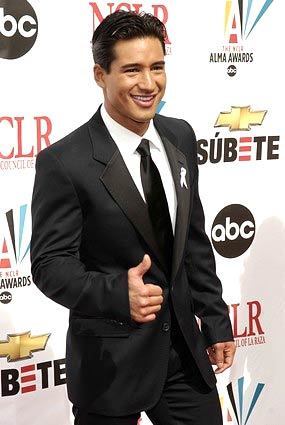 Mario Lopez: Who would have guessed?
His credentials:
A former child actor best known for his role as A.C. Slater on "Saved By the Bell," Lopez's hosting career began in 1993 with the game show "Name Your Adventure." He has since hosted several beauty pageants for NBC, done hosting stints on "Live With Regis and Kelly," the defunct "ESPN Hollywood," and now has a permanent gig working for "Extra."
His style:
Sugar-sweet, and chipper.
Will he stick around:
Drew Carey beat him out as host for "The Price is Right" and he didn't win "Dancing With the Stars" either, but do you know what any other cast members of "Saved By the Bell" have been up to lately?
(Chris Pizzello / AP)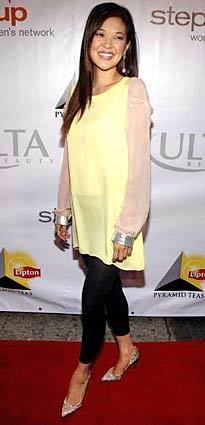 SuChin Pak: The career woman
Her credentials:
Pak began honing her hosting abilities in high school when a station manager saw her interviewed on TV and tapped her to host a teen show called "Straight Talk 'N Teens." In college, she was the youngest host of the PBS science program "Newton's Apple," then went on to host a show called "Internet Tonight." She briefly hosted Oxygen network's "Trackers" before landing the gig on MTV.
Her style:
Pak is not afraid of the newscaster cadence and she brings a hard news gravitas to her work, even if it's Christina Aguilera she's interviewing.
Will she stick around:
She's a smart lady, so she'll do OK. But will she ever leave MTV?
(Andrew H. Walker / Getty Images)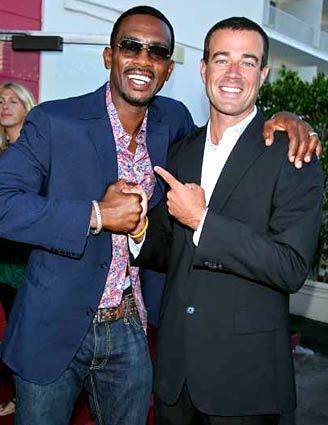 Carson Daly: The vet
His credentials:
After working as a radio intern for Jimmy Kimmel, Daly became a DJ on KROQ-FM in Los Angeles in 1996. He was only 24 when MTV brought him to New York to host "Total Request Live." Daly turned the show into a must-do publicity stop for the bubble gum pop stars of the late '90s. Since then, he has hosted New Year's Eve specials on NBC and his late-night talk show "Last Call With Carson Daly" has been on the air for five years.
His style:
Amiable frat boy.
Will he stick around:
Maybe he will. "Last Call With Carson Daly" hasn't been canceled yet!
(Kevin Winter / Getty Images)
Joey Fatone: The newcomer
His credentials:
After supergroup N'Sync disbanded, Fatone did a couple of Broadway musical stints, most notably in "Little Shop of Horrors" and "Rent." This summer marks the beginning of his hosting career. He was the host of NBC's game show hit "The Singing Bee" and will be replacing Joan and Melissa Rivers as one of TV Guide's red carpet hosts.
His style:
Excitable and high, high energy.
Will he stick around:
Definitely too soon to tell. But we hope so!
(Nick Ut / AP)
Mark McGrath: The big switcheroo
His credentials:
Once upon a time, McGrath was the handsome, highlighted lead singer of the alterna-pop band Sugar Ray. Less than a decade later, he was all suited up and hosting the celebrity show "Extra."
His style:
A little cocky, a little smirking, but fundamentally smooth.
Will he stick around:
McGrath has been on the pop culture radar for over 10 years now and doesn't seem to be going anywhere.
(Anne Cusack / LAT)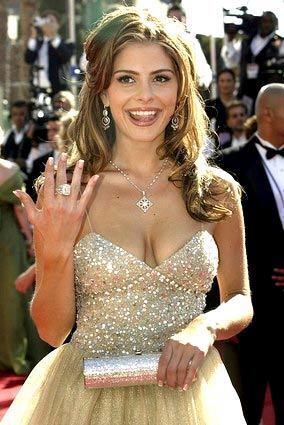 Maria Menounos: The beauty
Her credentials:
After years competing in beauty pageants, she started off as a reporter for the student news source Channel One News. After graduation she worked on Entertainment Tonight for three years, left to pursue an acting career, got a job on "Access Hollywood," and cohosted a few episodes of "The Today Show."
Her style:
She's comfortable on camera, but she's not especially smart or funny. The stunning good looks make up for it.
Will she stick around:
We're not counting on it.
(Anne Cusack / LAT)
Billy Bush: The prankster
His credentials:
Gained attention through his morning radio show in the Washington, D.C., area, "Billy Bush and the Bush League Morning Show," which he hosted until 2001 when he was fired for making inappropriate comments on the air. Moved in to vacate Pat O'Brien's cohost spot on "Access Hollywood" in 2004. He's also first cousin to President George W. Bush.
His style:
He loves to pull pranks on his interviewees. Whether they love it or not is a matter of debate.
Will he stick around:
He's been called "the most annoying man on TV" by comedian Billy Crystal, so of course he'll be around forever.
(Jeffrey Mayer / WireImage.com)
Jason Kennedy: The kid
His credentials:
He was a national TV host before he could vote -- his first gig on the special "Too Hot For Ice" came when he was just 17 years old. He used to produce a mock-news show out of his bedroom as a child and won journalism awards in college. Now he's a national celebrity correspondent for E!
His style:
Upbeat, fun and wholesome. He's like a mini-Seacrest -- or a cheaper Seacrest, if you're a network exec.
Will he stick around:
He's only 25. He's got a long career ahead of him as long as he doesn't burn out.
(Chris Weeks / WireImage.com)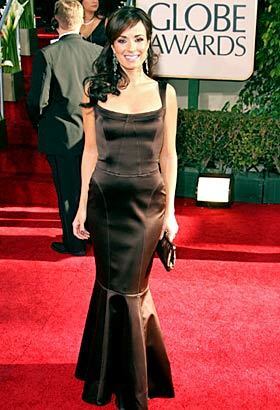 Catt Sadler: Hometown girl makes good
Her credentials:
She got a degree in journalism from Indiana University and got her start as a local TV reporter for the Fox affiliate in Indianapolis. From there, she's been the official emcee of the Indiana Pacers and hosted the state's "Hoosier Millionaire" game show. Now she's "out there" in California as cohost of E!'s "Daily 10" show.
Her style:
Her Midwestern charm and down-to-earth attitude make people feel like it's one of their own rubbing shoulders with the stars.
Will she stick around:
The future is uncertain. For every Mary Hart, there's a million Debbie Matenopouloses, wandering from hosting gig to hosting gig like restless spirits without a home.
(Steve Granitz / WireImage.com)