12 Images
Summer movie heroes
Summer heroes
By Jevon Phillips, Los Angeles Times Staff Writer
Archaeologists, pandas, fashionistas ... oh my! From a guy decked out in a super shiny suit of armor to a squabbling pair of FBI agents, this summer's big box office offerings are full of heroes. Warriors, bumbling spys and rickety robots are also on the schedule for a seasonal session that could bring in a record haul.
Here are some of the films that could save the day this summer:
Film:
"Iron Man" (May 2)
Hero:
Iron Man
Powers:
Technologically advanced suit of armor
Movie:
Iron Man was never one of the
out-front characters for Marvel Comics
, though he's been integral lately. Robert Downey Jr.'s portrayal of the billionaire playboy-turned-superhero has drawn great reviews from fans. Add Gwyneth Paltrow and Terrence Howard to the mix, and
this could be a blockbuster
.
(Zade Rosenthal / Marvel)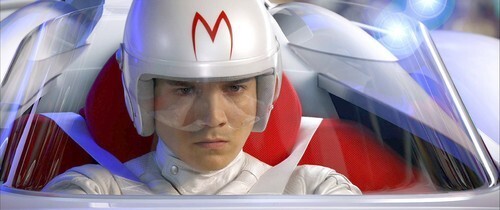 Film:
"Speed Racer" (May 9)
Hero:
Speed, himself
Powers:
Drives a superfast car (the Mach 5) like Jeff Gordon on Red Bull with extra guarana. Occasionally talks to monkeys.
Movie:
"Speed Racer" has been a cartoon favorite and cultural icon for years. In what was one the earliest anime offerings, Speed was always in a race, in danger from some diabolical driver or agency -- but he's been out of the spotlight for a while. Fresh off "Into the Wild," Emile Hirsch takes the driver's seat, and early looks at the car show a souped-up racer ready to hit the screens.
(Warner Bros. Pictures)
Film:
"The Chronicles of Narnia: Prince Caspian" (May 16)
Hero(es):
Prince Caspian and the Pevensie kids
Powers:
Humans with warrior hearts and a bit of magic
Movie:
C.S. Lewis' fantasy world comes back to life, 1,000 years since the last time the Pevensie kids visited Narnia in the previous movie. The land has been conquered by an evil king, and the siblings join with Prince Caspian, the heir to the throne, to right the wrongs and restore rule. The popularity of the book helped the film reach nearly $750 million worldwide, and the sequel could be even more lucrative.
(Murray Close / Walt Disney Pictures)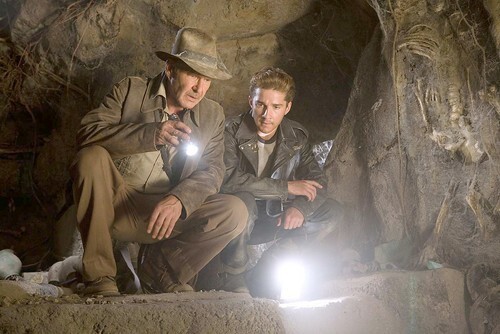 Film:
"Indiana Jones and the Kingdom of the Crystal Skull" (May 22)
Hero(es):
Indiana Jones (and maybe his son)
Powers:
Great with a whip, translates forgotten languages and keeps up with his fedora admirably.
Movie:
He's back, and he's old. Er. Older. We're not yet sure if Shia LeBouf is ready to (or can) take over the mantle that Harrison Ford, Steven Spielberg, et al. have crafted over the 20-plus-year life of the "Indiana Jones" franchise. But we are sure that the film will involve action, a mysterious artifact or two, at least one GREAT chase scene, a couple of bad guys, and a lot of hype.
(David James / Paramount Pictures)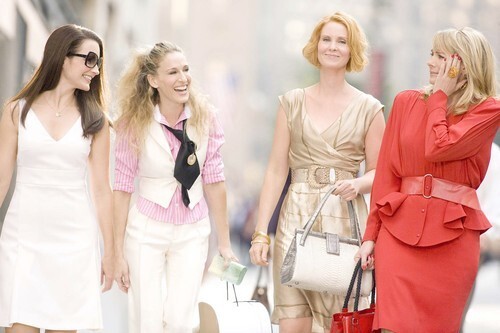 Film:
"Sex and the City" (May 30)
Hero(es):
Carrie, Samantha, Charlotte and Miranda
Powers:
Quippy dialogue and trend-setting tastes in men and fashion
Movie:
The quartet is back. Manhattan's finest females pick up where they left off, but four years later. More diner chats about career, men and life in general as stars Sarah Jessica Parker, Kim Cattrall, Kristin Davis and Cynthia Nixon are joined by Jennifer Hudson and a cast of past (present/future?) loves, friends and family.
(Craig Blankenhorn / New Line Cinema)
Film:
"Kung-Fu Panda" (June 6)
Hero(es):
Po the panda
Powers:
Martial-arts expertise, ultimate slackerness
Movie:
A lazy panda is prophesized as "the Chosen One," and the animal kingdom's martial-arts experts must whip him into shape to save their world. Jack Black, Angelina Jolie, Lucy Liu, Dustin Hoffman and Jackie Chan are among those lending their voices to this animated kung-fu film. Early screenings indicate this could be THE animated hit of the year.
(DreamWorks Animation L.L.C.)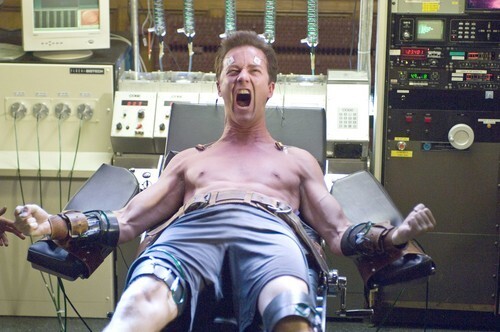 Film:
"The Incredible Hulk" (June 13)
Hero:
Bruce Banner / The Hulk
Powers:
Banner is a world-renowned geneticist and smart guy, and the gamma-irradiated Hulk is super strong.
Movie:
Sometimes it's hard to think of the Hulk as a hero. He's mindless destruction most of the time. But in Edward Norton's "visionary tale," it seems that's the leap he, and Banner, must try to make if they want to stop the Abomination. Ang Lee's "visionary tale" didn't inspire many thoughts of a sequel, so we'll see if this do-over makes a difference.
(Michael Gibson / Universal Pictures)
Film:
"Get Smart" (June 20)
Hero(es):
Maxwell Smart and Agent 99
Powers:
None, except enthusiasm, well-trained precision and loads of high-tech spy gadgetry.
Movie:
Steve Carell looks to fill Don Adams' big shoes as Maxwell Smart, the "inexperienced" (in this movie) CONTROL agent who often saves the world with his competent sidekick Agent 99 (Anne Hathaway) at his side. Comedy, action AND cool gadgets? What more do you need?
(Tony Rivetti Jr. / Warner Bros. Pictures)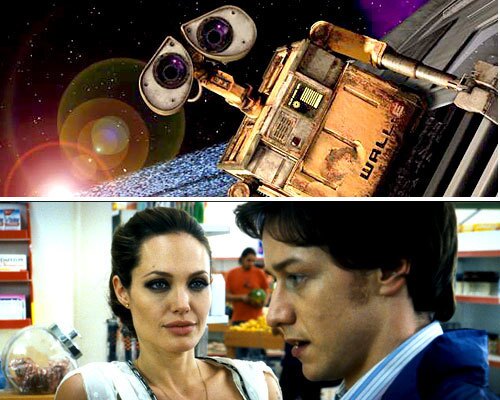 Films:
"WALL*E" / "Wanted" (June 27)
Hero(es):
Wall*E the robot / Wes, Fox, and other members of the Fraternity
Powers:
Robotic comedy chops / Nearly inhuman flexibility and inerring accuracy with weapons, general disregard of physics
Movies:
Pitting a cute robot against deadly assassins doesn't seem right, but it's Hollywood. All's fair. Pixar's "WALL*E" (Waste Allocation Load Lifter Earth-Class) is an animated adventure that seems to have taken audiences along for a ride. And "Wanted," a graphically graphic novel, stars James McAvoy and Angelina Jolie as reality-bending assassins. A big weekend matchup, but with kids forcing family outings, Wall*E might have the edge.
(Pixar / Universal)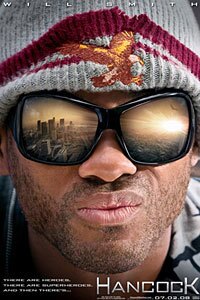 Film:
"Hancock " (July 2)
Hero:
Hancock
Powers:
Strength, flight (?) and more
Movie:
Will Smith is back at his usual July 4th perch with "Hancock," the L.A. superhero who unwittingly destroys much of what he's trying to save. Seems the City of Angels might be tired of it, and Hancock has to figure out how to change. It's Will's world!
(Sony Pictures)
Film:
"The Dark Knight" (July 18)
Hero:
Batman
Powers:
Nothing but a utility belt and detective smarts
Movie:
The tragedy of Heath Ledger's death will definitely weigh on the film as most sit and watch it, but the performances have been hailed as some of the best in the franchise. A darker, deadlier Joker along with Harvey "Two-Face" Dent against Christian Bale's Batman. Fireworks.
(Stephen Vaughan / Warner Bros.)
Film:
"The X-Files 2" (July 25)
Heroes:
Mulder and Scully
Powers:
Crazy deductive reasoning, FBI access, legions of fans (these powers may have dimmed)
Movie:
David Duchovny and Gillian Anderson are back in the roles that made them household names. Mulder and Scully, still on the case, it seems, return to the big screen in (undoubtedly) another conspiratorial tale that may or may not involve the government and/or alien life forms and/or a powerful shadow organization pulling everyone's strings.
(Carin Baer / Fox Broadcasting Co.)