12 Images
Channeling old Hollywood, Lindsay Lohan-style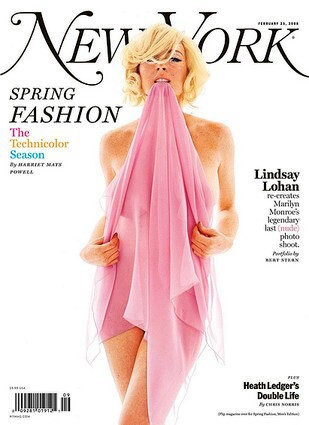 By Stephanie Lysaght and Deborah Netburn, Los Angeles Times Staff Writers
In Hollywood, where fashions change faster than you can say "padlocked Chloe bag," there's only one sure-fire way to stay ahead of the curve: move backwards. By channeling old-Hollywood glamour, style-savvy starlets ensure that they're never caught with a look that's "out." And although bullet bras and finger waves can be labor-intensive, it's a small price to pay to stay off the worst-dressed list.
LiLo loses the leggings
Former Rachel Zoe-minion
Lindsay Lohan
is even taking a stab at old-Hollywood style. In a recent spread in New York magazine, Lohan stripped down to re-create Marilyn Monroe's last iconic photo shoot.
(Bert Stern / Associated Press)
Jennifer Love Hewitt has Audrey Hepburn fans up in arms
When Jennifer Love Hewitt played Audrey Hepburn in the 2000 made-for-TV movie, "The Audrey Hepburn Story," she got more flak than praise, and taught her fellow starlets a valuable lesson: Emulate carefully; you're dealing with icons here! A skinny brunette does not Audrey Hepburn make.
()
Gwen Stefani, style star
Gwen Stefani's style never looks dated, namely because she doesn't follow trends. Instead, Gwen looks to 1950s screen sirens for inspiration. Stefani's vintage glamour-puss vibe even won her the role of Jean Harlow in "The Aviator."
(Andrew Cooper / Miramax Films)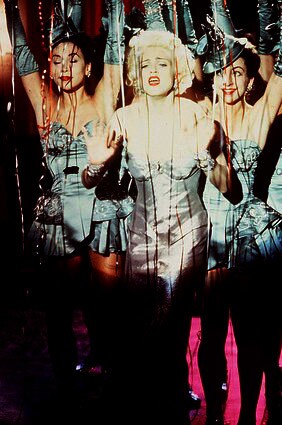 Madonna circa 1990
She's experimented with every look in the fashion pantheon, from almost single-handedly defining the beads-and-lace look of the early '80s to her spiritual earth mama style in the late '90s. But there was a time, circa 1990 (when she starred in "Dick Tracy") when Madonna was all deep-red fingernails and sculpted blond hair glamour. It didn't last, but it looked great.
(Buena Vista)
Christina Aguilera takes her style 'Back to Basics'
When Christina Aguilera released "Back to Basics" in 2006, she was trying to capture a lost sound in music; a jazzy, vintage flair. Around that time, Aguilera also did a full overhaul of her look, trading in her black extensions for a platinum bouffant. Even at her most pregnant, expectant mother Aguilera never compromised her new look, stepping out with sky-high stilettos and a cherry-red kisser.
(Frank Micelotta / Getty Images)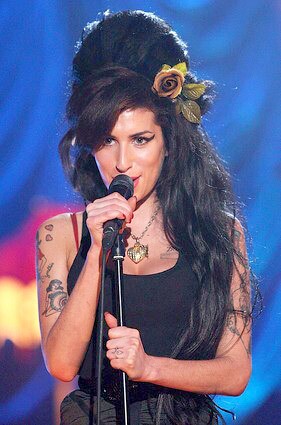 The beehive is back!
Amy Winehouse's old-school and soulful jazz stylings on her albums "Frank" and "Back to Black" helped made her become a multi-Grammy Award-winning artist. To match the old-timey feel of her songs, she frequently dons a 1960s-era super-high beehive and almost always sports dramatic liquid black eyeliner. But as the paparazzi's extremely unflattering photos of the singer prove, "old-fashioned" doesn't always add up to "classy."
(Peter Macdiarmid / Getty Images)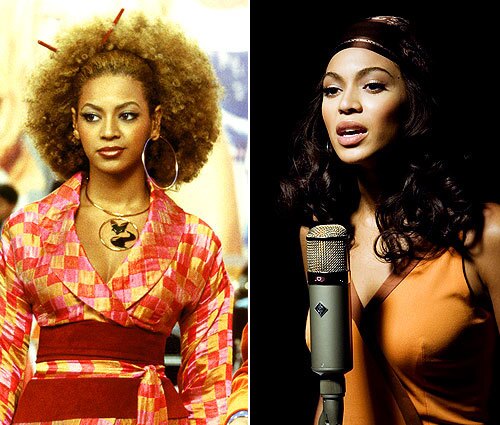 Beyonce through the ages
When one is as beautiful as Beyonce yet lacks a specific personality (or at least a public one), then one becomes the perfect style chameleon — and so we've seen Beyonce in '70s afros and caftans and '60s girl-group chignons in various movies and videos, despite her real-life penchant for contemporary minis.
(New Line Productions / David James / Dreamworks and Paramount Pictures)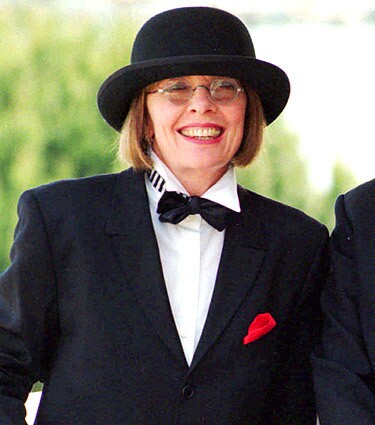 Keaton and Hepburn tie one on
Diane Keaton took her fashion cues from another old-Hollywood-heavy: Katharine Hepburn. Like Keaton, Hepburn was a style rebel in her time — eschewing the reigning sex kitten-look for a more masculine style, complete with loose-fitting trousers and men's neckties.
()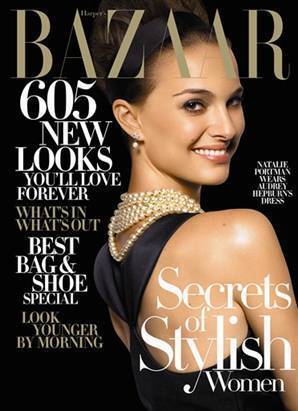 Natalie Portman fills big shoes -- plus a small dress
Perhaps the only actress who has managed to channel Audrey – and get away with it – is the elegant, waifish, and infinitely lovable Natalie Portman. On the cover of Harper's Bazaar, Portman posed as Hepburn and even donned the infamous LBD from "Breakfast at Tiffany's."
"I did feel very elegant suddenly," Portman told Harper's, after putting on the dress. "I mean, you can't possibly measure up to Audrey Hepburn; there's no comparison. But the elegance that she exuded was transmitted to the dress, you know, the feeling, the emotion of it."
()
Anna Nicole Smith idolizes Marilyn Monroe
The late Anna Nicole Smith's desire to be like Marilyn Monroe has been well-documented. Smith followed in her idol's footsteps by posing for Playboy and emulating her signature style. In fact, Smith was so eager to play Monroe on-screen that she offered to partially fund a film about Joe DiMaggio if she could play her idol. Smith was denied the role.
(Getty Images)