Hosts put the brakes on NPR's 'Car Talk'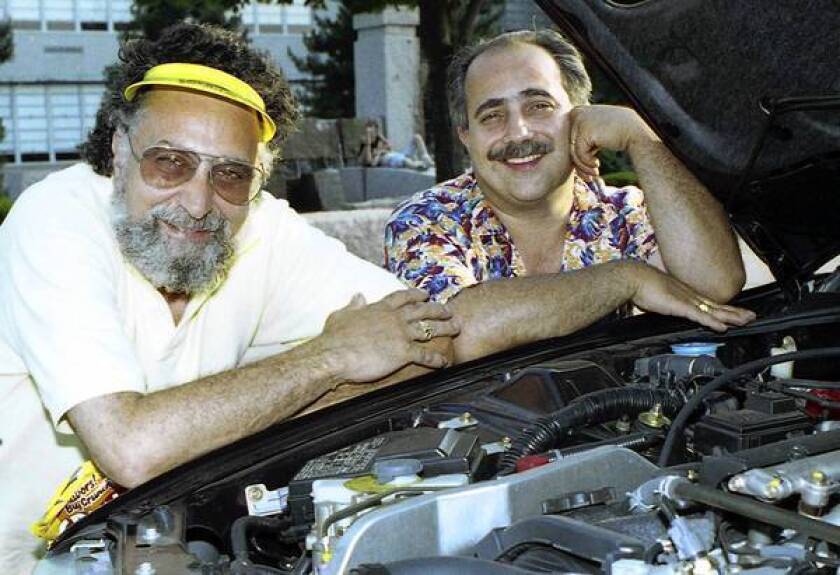 They were a couple of auto mechanics with a pronounced Boston brogue and, improbably, degrees from MIT. They hadn't a clue how to perform on radio, much less public radio.
So Tom and Ray Magliozzi just decided to have a good time. The result was "Car Talk," which shattered the perception that public radio is inaccessible to the masses and became National Public Radio's top-rated weekend show.
"They never developed that affect of sonorousness and seriousness and gravitas public radio is known for," said the show's executive producer, the man Tom and Ray would identify on air as Doug "Not-a-Slave-to-Fashion" Berman. "They didn't know any better, so they were just themselves."
After 35 years on the air, the brothers announced Friday that the run was ending. No longer would they be dishing on cars so old that their odometers switched to scientific notation or delivering gift advice to VW Bus lovers. The show informally known as "Click and Clack the Tappet Brothers" will tape its final original show this fall.
Declaring that "even one hour a week is too much" work, the comedian-mechanics said it was time to "stop and smell the cappuccino" instead of inhaling exhaust. The call-in show is syndicated on 660 radio stations and is heard by 3.3 million listeners weekly.
"The good news is that, despite our general incompetence, we actually remembered to hit the 'record' button every week for the last 25 years," said Tom Magliozzi, whose 75th birthday later this year was cited as the reason for the end of new "Car Talk" programming.
Starting in October, "Car Talk" producers will assemble shows using the more than 1,200 programs the brothers have recorded for NPR since 1987. "For a couple years at least, we're not going to see a lot of difference in how the show performs," said Eric Nuzum, vice president for NPR programming inWashington, D.C., adding that NPR did tests asking listeners to compare new "Car Talk" shows with ones crafted from old material. "The answer we got is it doesn't matter when it was recorded. Funny is funny."
The Magliozzis will continue writing their weekly "Dear Tom and Ray" column on the CarTalk.com website, which, within the last few weeks has answered "ethical" questions such as whether a mechanic should have removed a mouse nest from an engine during an oil change. On Friday, the site was flooded with an outpouring of affection for the radio show hosts who marry a deep knowledge of cars with a jocular style that pokes fun at themselves, their callers and the cars for which they seek advice.
"There goes Saturday morning," one fan wrote.
"WHAT!!! I have been calling into Car Talk for years trying to get on your show," wrote another. "I own 2 Fiats, have at least 1 ex-wife and my name ends in a vowel! Geez, we're practically family."
The brothers' thick accents hint at their Boston roots. Both Tom and Ray Magliozzi, 63, received bachelor's degrees (in economics, and humanities and science, respectively) from the Massachusetts Institute of Technology, but they decided to pursue auto mechanics and run their own shop, the Good News Garage, in Cambridge, Mass. (where Ray continues to work).
"Car Talk" made its debut in 1977 on WBUR in Boston after the Magliozzis were approached to field calls seeking automotive advice on a community radio station. The Magliozzis were such a hit they were offered their own show. Ten years later, they were picked up for syndication by NPR.
"Not many shows that are maintenance, how-to shows can carry it off where people listen to be entertained. That makes the show extremely potent," said Michael Harrison, publisher of Talkers Magazine, which tracks the talk radio industry.
Repackaging "Car Talk" with material from the last 25 years, Harrison said, is a novelty "but it's better than it going away completely. It's a very smart idea to keep it going by reorganizing the material so that people can continue to hear it."
The likability of the Magliozzi brothers hasn't always translated to other media. "Car Talk" inspired the short-lived "The George Wendt Show," in which Wendt played one of two brothers who ran a garage and hosted a call-in radio show. It aired on CBS in 1995-1996. In 2008, the Magliozzis lent their voices to the PBS animated series, "Click and Clack's as the Wrench Turns," which had cartoon versions of the brothers creating a car powered with pasta, among other exploits. The show was canceled after 10 episodes.
"Car Talk" is carried locally on Southern California Public Radio station KPCC-FM in Pasadena. According to an email that KPCC program director Craig Curtis sent to staff Friday, the station will continue to carry the program. " 'Car Talk' should stand up well in reruns for quite some time," he wrote, "and I expect we'll continue carrying the program as long as it's appealing to our audience."
Bill Davis, president and chief executive of Southern California Public Radio, said the reformat "underscores how important it is for public radio specifically and public media generally to be developing new shows, because these guys aren't going to live forever and neither is Garrison Keillor."
Writing at cartalk.com, Ray said: "We've managed to avoid getting thrown off NPR for 25 years, given tens of thousands of wrong answers and had a hell of a time every week talking to callers. The stuff in our archives still makes us laugh. So we figured, why keep slaving over a hot microphone."
Times staff writer Patrick Day contributed to this report.
---
The complete guide to home viewing
Get Screen Gab for weekly recommendations, analysis, interviews and irreverent discussion of the TV and streaming movies everyone's talking about.
You may occasionally receive promotional content from the Los Angeles Times.