'Twilight Saga': Kristen Stewart, Stephenie Meyer talk commitment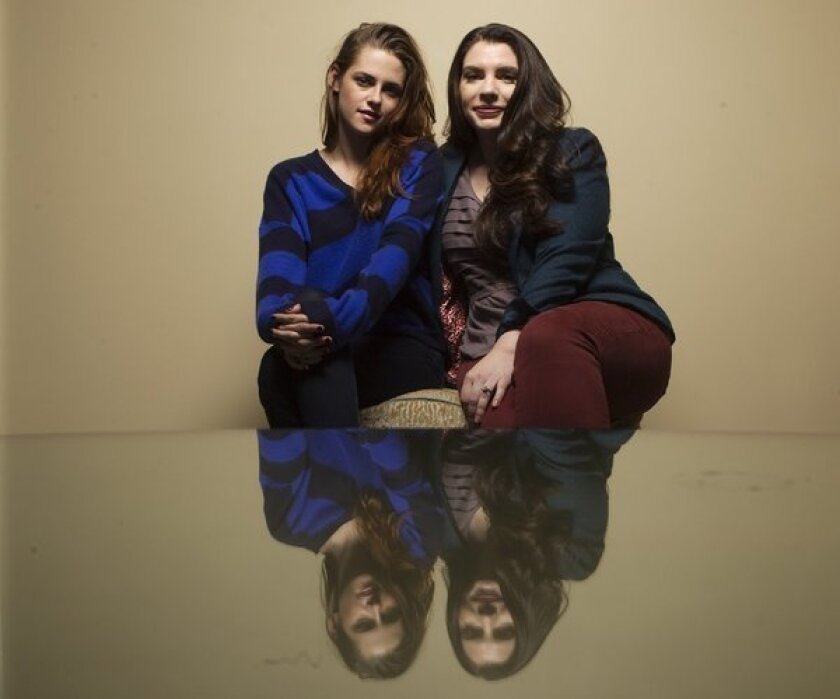 This last weekend saw the last tent city for the diehard fans of "The Twilight Saga." Hundreds of loyal devotees of the epic romance between a mortal teenager and her vampire boyfriend braved cold nights camped out at the L.A. Live complex awaiting Monday night's premiere of the fifth and final "Twilight" movie, "The Twilight Saga: Breaking Dawn Part II."
The film's nationwide debut in theaters this Friday marks the end of an era for the five-part movie series starring Kristen Stewart, Robert Pattinson and Taylor Lautner, based on the books by Phoenix-based author Stephenie Meyer. Back in 2008, when it all began on location in Portland, Ore., no one could have imagined what a cultural phenomenon "Twilight" would become for young female audiences.
"The first one felt like our one-shot, didn't it?" Meyer asks Stewart during a recent wide-ranging interview with the L.A. Times. "[Our attitude was] we are all going to go have fun and make a vampire movie and that's it, we will walk away from it. I don't think anyone of us thought it was going to be five years of our life."
PHOTOS: Stewart's career in pictures
During those intervening years, the three relatively unknown actors became huge superstars and the films grossed $2.5 billion worldwide. The movies also proved that girl-driven stories could dominate the box office, paving the way for "The Hunger Games," and the slew of book adaptations currently in development across Hollywood.
And as the series became more and more popular, the pressure to create a cinematic experience while remaining faithful to the books mounted. Meyer is a firm believer that the first movie's director Catherine Hardwicke had the most freedom, while the others were more constrained by the series' popularity.
"When we started doing this, there weren't a lot of people screaming about what they wanted. Catherine had a more creatively-open environment. Then after the reaction, Chris [Weitz] came in and there was a sense that these people are watching, they are waiting for the details, they want to see this exact scene. All the rest of the directors had a more difficult challenge. There was more pressure."
PHOTOS: RPattz and KStew through the years
Pressure was also mounting on the young stars, though it turned out to be far less then the weight Stewart put on herself to get the character of Bella Swan right.
"I never let the imposing, ever-present cloud of pressure affect me," Stewart said. "To me, it was all pressure from the inside. Not the outside. That could have been crippling. You would wind up playing a really disjointed character if you were trying to satisfy a hundred thousand girls."
"And every girl wants something different from each other," added Meyer.
VIDEO: 7 things we learned from the 'Breaking Dawn' trailer
Rather, through the years, Stewart's commitment to Swan and her loyalty to the novels only grew.
"I wanted to protect [Bella] so badly. That's how I find myself gravitating to certain roles," she said. "I have to say though, considering we didn't know we were going to finish the series, we made the first one our own in a way I would never, ever, ever feel humanly comfortable doing later on. I was much more concerned with detail later on in the series."
ALSO:
'Breaking Dawn' with 'Twilight' director Bill Condon
'Twilight's' tent city: Hundreds camp out awaiting premiere
Kristen Stewart, Stephenie Meyer reflect on 'Twilight' years
PHOTOS AND MORE:
VIDEO: A guide to upcoming movies
The Envelope: Awards Insider
PHOTOS: NC-17 movies: Ratings explained
---
Your essential guide to the arts in L.A.
Get Carolina A. Miranda's weekly newsletter for what's happening, plus openings, critics' picks and more.
You may occasionally receive promotional content from the Los Angeles Times.