James Stern talks about his documentary 'American Chaos,' which travels through the seething fervor of Trump territory
In the months leading to the 2016 election, James Stern ventured into the raucous, angry heart of Donald Trump's America. Stern had been raised a Democrat. His first political hero was Bobby Kennedy. But something deeper than politics was wrong in the nation, he believed, a divisiveness and rancor that Trump at once embodied and exploited.
Stern traveled across ranch lands, coal fields and gated communities. He listened, challenged and empathized. He was often bewildered by the vitriol he encountered. His new documentary, "American Chaos," which opens Sept. 14, is a journey into the fury and culture wars that have shaken the republic with withering tweets and carnival-like spectacle.
"I found people who felt like they weren't being heard," Stern says in the film. "So really, was it surprising that they'd listen to a man who told them they'd no longer be forgotten?"
The trick of "American Chaos" is its patience. The documentary grants Trump's base more than sound bites and stereotypes. Like an earnest explorer, Stern, a film and Broadway producer who won a Tony Award for "Hairspray," does not brandish his judgments. He probes, edging toward common ground, even when there is none, such as when a West Virginia man said he'd like to see Hillary Clinton executed for treason.
"American Chaos" is one of a number of recent documentaries, including Michael Moore's "Fahrenheit 11/9" and Errol Morris' "American Dharma," a portrait of former White House advisor Steve Bannon, that examines the strange, fractious state of the country. It is a hard, messy thing to capture: The politics is fast and fluid, the alternative facts ferocious, the racism veiled and the attacks on rivals unsparing, like an ever-shifting battle playing out on a field of Jumbotrons.
"It's a culture war," Stern said in an interview. "It all becomes a show. This is a cycle we're stuck in right now. This won't be the same in four years or whenever this is over. Trump is a singular figure. There's not going to be somebody else who's able to manipulate the day-to-day reality TV experience like he does. But right now people are using this in the way they use television. It's crazy."
To understand Trump's popularity, Stern escaped his liberal enclaves of Los Angeles, New York and Chicago. He discovered how wrong the polls and pundits were and how badly Clinton stumbled when she called Trump's supporters "deplorables." Clinton's campaign would be further marred by Russian hacking and the reopening of an FBI investigation, but Stern said her misguided remark validated to Trump's supporters "all the ways they felt they were being put down."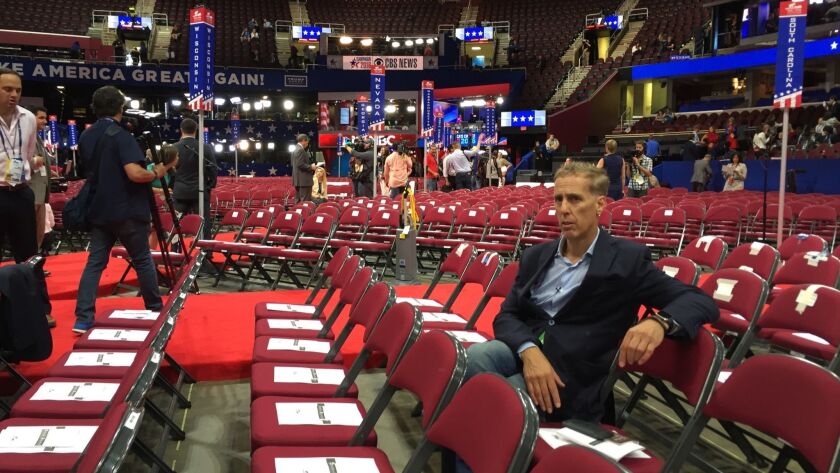 There are few surprises in "American Chaos." A more confrontational approach — he lacks the bite and satire of Moore — may have elicited deeper passions. But Stern's listening approach renders a resonant picture of the beliefs and fears that drive the president's base. America appears as a land of recrimination and unbridgeable parallel realities on issues that are fueled by social media rants. Stern parses the complications of immigration with Julio Martinez, a Cuban immigrant and former Florida mayor, who backs Trump's harsh policies because people should come "here legally like I came."
The director watches a presidential debate with men in West Virginia who hope Trump will resurrect the coal industry. One of them says, "Trump is an underdog, a self-created wonder." Another praises the billionaire developer for "saying everything the working man would like to be true." At one point, Stern asks how can a candidate who has had thousands of lawsuits filed against him by working people be a champion for their cause? Blank stares all around.
"The real danger for democracy is people cherry-picking facts," Stern said in an interview. "Once you start that, you go down a very deep rabbit hole. It's all the things we accused the Soviet Union of for years. That's the situation we have right now, and I think Trump has expanded on that and that's super-dangerous."
Stern visits Arizona rancher John Ladd, whose plight epitomizes an immigration problem that neither Republicans nor Democrats have been able to fix. Stern wanders along the Mexican border, where Ladd tells him that more than 200,000 undocumented migrants have crossed his land over decades. As he speaks, a drone rises in the night; it belongs to a drug cartel scanning for safe smuggling routes. The rancher says only Trump — his proposed wall and deportations — is offering solutions.
Trump and his largely white base have been criticized for racist sentiments. Stern said race was seldom discussed during filming.
"The rage about that was under the surface," he said. "People always said they didn't care one way or the other about color, but at the same time they did care about the 'other' or that Obama's middle name was Hussein and he didn't seem like them. There were dog whistles that talked around that topic. They never talked to it directly."
Stern came away from months of hotel rooms and filming believing that the nation's politics will drift toward the center after Trump's presidency. But by then, he said, the long-term consequences on civil rights and the environment may be indelible.
"We have a tendency to look at snapshots and think it's a trend, but I think this is more of a snapshot," he said. "The deepest danger, though, is the courts and the climate. The climate is so critical right now. We can't afford to have all these [environmental] regulations unwound and think it's going to be OK when the entire world is going from drought to wildfires. And obviously the courts are going to change things for many years."
Stern was reminded the other day how polarized American has become; how unforgiving the lines are between Democrats and Republicans. A talk show host chastised him for making a film about Trump's supporters. "I was being yelled at by a radio host on the left," he said. "He said, 'How could you give these people time? You're a Democrat. What's wrong with you?' It was so interesting. I said to him, 'What are you purporting the solution to be?' "
See the most-read stories this hour »
Twitter: @JeffreyLAT
ALSO
'The Captain' is a chilling glimpse of perverted power and atrocity at the end of WWII
The culture war started 30 years ago by Martin Scorsese's 'The Last Temptation of Christ' is alive today
---
From the Emmys to the Oscars.
Get our revamped Envelope newsletter, sent twice a week, for exclusive awards season coverage, behind-the-scenes insights and columnist Glenn Whipp's commentary.
You may occasionally receive promotional content from the Los Angeles Times.