From the Archives: Patricia Arquette talked about her sibling Alexis' gender transition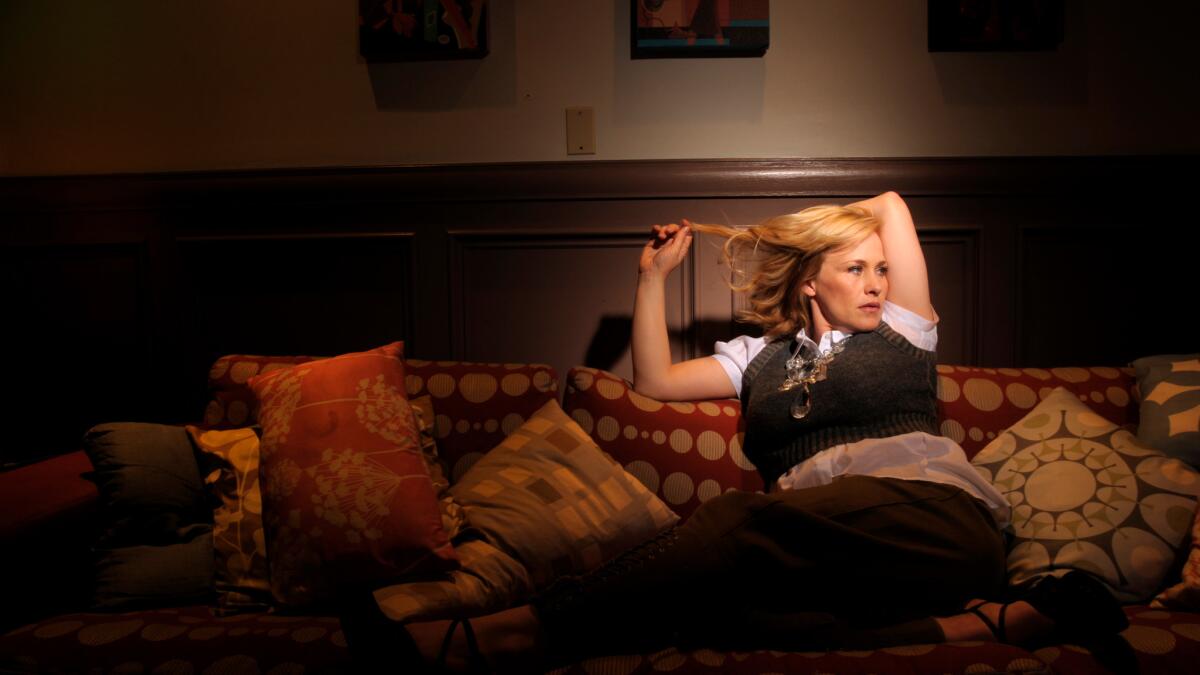 Editor's note: Transgender activist and actress Alexis Arquette died Sunday, Sept. 11, 2016, at age 47. This interview with Patricia Arquette was published in The Times in March 2008.
Patricia Arquette, the star of "Medium," said she was going through heaping stacks of papers. She has four siblings, all performers. A documentary about her sibling Alexis' gender transition, "Alexis Arquette: She's My Brother," was released last year. Her daughter Harlow, with her husband, actor Thomas Jane, is 5.
What have you been up to? Is that too vague?
I've been really busy since the strike. I'm working on this 12-year-long project with Richard Linklater. We shoot a week a year. I had actually been planning for a year to go to a very dear friend's wedding in India so I went for an extra week to Egypt. It's always been a big dream of mine. . .
It was really incredible. Even overrun with tourists and the craziness. I found myself weeping in front of the Sphinx.
How hippie-dippy are you in real life?
You mean, like, spiritual? I think I probably more tend to be hippie-dippier than most people, because I grew up in a hippie commune for two years. So I have a different perception -- the place I grew up in wasn't free drugs, free sex -- it was married people with families. [Interrupting herself] What the hell is going on here? Part of my wall is peeling off!
My parents were creatures of the '40s and they were supposed to be married in their same religion, and my mom was supposed to go to school to find someone to marry. But they were interested in the way other people thought, and in other cultures. . . . So I think I'm a little more open-minded than the average person.
And yet the fears that people had for our generation, who grew up in this fashion, didn't come to pass. Our lives aren't insane and reckless.
No, not in general. Unless
you get strung out on drugs or something. But there's still people waging that same battle. What if gay people get married? Oh, it's going to destroy the world! Somehow that's terrifying to them. When I was born, in '68, it was during the civil rights movement. It wasn't, you know, a standard way we live today.
I think we'll look back on the way that homosexuals are dealt with in our culture today, that it was almost barbaric and bizarre that we were so backwards-thinking. If that makes me hippie-dippy then sign me up!
So! You came into a new sister!
Oh, Alexis, yeah! Alexis is amazing. It's been amazing growing up with Alexis. It hasn't been all easy. It's been quite a soul-searching journey for everybody. . . . I remember Alexis growing up, and we'd be in school in kindergarten, and they'd say, "Get in line, boys here, girls here." Alexis would always get in the girls' line. And I remember Alexis getting dressed in drag at 4. And he was so effeminate, they all started calling Alexis "fag" and "queer" and so on. And of course I started fighting people.
Alexis thought: "That must be what it is . . ." only to come and realize later, "That's not what's different about me, it's not that I'm a gay man. It's that I'm in the wrong body: I am a woman."
I had all the questions at first: Do you love yourself? Is it something that you want to change about the way you look? I get concerned when anybody I love wants to do any change to the way they look -- where's this coming from and why?
See the most-read stories in Entertainment this hour »
She was like, "What difference does it make what container we're in? Am I who I am because I'm a woman? Or does it matter? Am I who I am regardless of whether I'm a woman or a man? My package was born with blue eyes -- my package has a penis, or a vagina. Is that what it's about?"
Wow.
You have to imagine you're wearing a costume, or some kind of outfit that indicates who you are all the time. And everyone responds to that and you can never take that costume off. . . . Accepting as I am, I didn't really understand and I can't say I really do understand it. But I did feel a sadness. Like, there's a loss. Am I going to lose my brother? I have memories of growing up: little faces we made, getting dressed up for Halloween.
Were there ways in which this called things into question about your identity?
Yes, I always imagined myself to be a very open-minded person. So when I was feeling a level of judgment . . . I really had to think about myself. I think it's an important question to ask in a society that is so much about the way you look. People take such extreme measures about the way you look.
And for the 5-year-olds in the family, it's probably not a big deal at all.
They love Alexis because they know who Alexis is. They don't like people because of the way they look -- they like people because of who they are. My daughter is very into princesses and she's very ultra-femme. I was not like that! So she just adores Alexis. . . . And Alexis came over once with not as much makeup on. And Harlow said, "I don't want that, I want you to have more makeup on! Next time have more."
She is girly!
People are like, "Oh it's so weird." And people say, like, "God what do you guys do for holidays, it must be so weird!" My reaction inside is: It must be so weird for you! That you grew up in a family that wouldn't be loving and accepting. That's the sad thing. So don't worry about how weird things are for us, because I'm worried about how weird things are for you. You know what I'm saying? Because that sounds like a nightmare.
Get the Indie Focus newsletter, Mark Olsen's weekly guide to the world of cinema.
You may occasionally receive promotional content from the Los Angeles Times.