How black women are breaking out of their dramatic safe spaces and shaking up the comedy world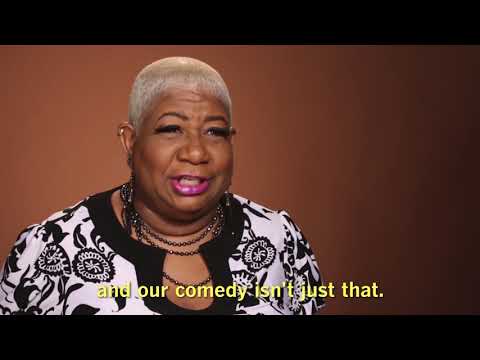 We spoke to these funny black women about their experiences in Hollywood. They had some thoughts.
For years, black women in Hollywood have found that the easiest, perhaps the only, path to major stardom is through dramatic roles. From Cicely Tyson to Viola Davis, Halle Berry to Kerry Washington, black women may not have been showered with dramatic leading roles, but they found them.
If they were comic actresses, however, they rarely rose above the role of second banana.
It took decades after stand-up legend Moms Mabley had to make do with the Chitlin' Circuit and variety-show guest spots for Whoopi Goldberg to become a bona-fide comedic movie star in the '80s. Since then, the number of black women considered bankable comedic leads by mainstream studios is limited to one: Queen Latifah. And even her reign was inexplicably short-lived.
Achieving success in comedy has always been tough for everyone, particularly those who were not white men. But while opportunities have increased for black men and white women, black women have continued to struggle.
For every Kevin James, whose stand-up led to a bountiful TV and film career, there's a Wanda Sykes who most often plays a supporting character.
For every Amy Poehler who went from "Saturday Night Live" to "Parks and Recreation" and a film career, there's a Tracee Ellis Ross, who had to wait seven years after "Girlfriends" wrapped before she could land a network comedy lead in "black-ish."
For every Kevin Hart, who breaks through to movie stardom, there's an Aisha Tyler or a Sherri Shepherd who doesn't, or a Leslie Jones or a Jessica Williams, who might be starring in a studio movie this second if they were a different hue or gender.
But a new future is on the horizon. Meet YouTube breakout Amanda Seales, who recently became a regular on HBO's "Insecure;" Sykes' mentee Zainab Johnson of "Last Comic Standing" fame; and Tiffany Haddish who deserves a Melissa McCarthy-style breakout for her work in "Girls Trip," which opens July 21.
The Times spoke with these three funny black women poised to shake up Hollywood to find out how industry expectations affect their work, how they define success and how they're complicating old-fashioned ideas of what funny is.
'My whole intention is to break down these limitations of what a black comedian is supposed to be.'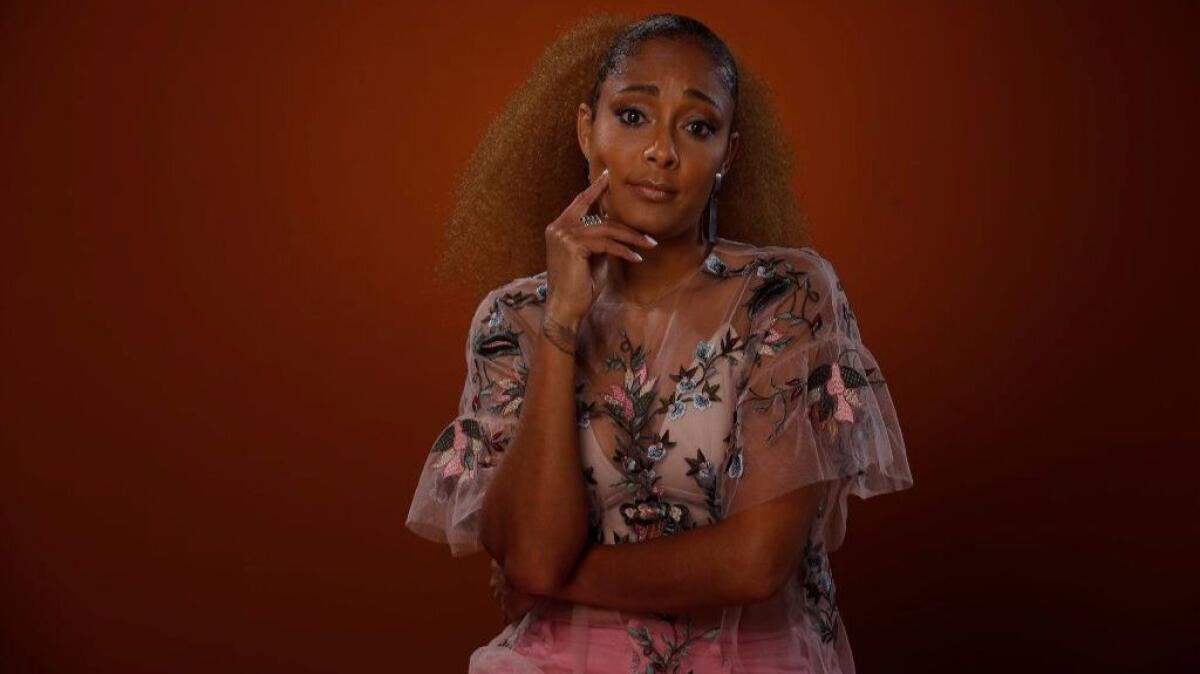 In the back room of Hollywood's Meltdown comic book store, comedian Amanda Seales stands on a stage, mike in hand. Her blond tresses pulled into two cornrows, she's wearing golden fitted pants that match the colors of her Colin Kaepernick 49ers jersey. She stares out into a dimly lighted room packed to capacity. There's barely any standing room, and you can count the number of white people on one hand.
This is the scene on a recent Tuesday night at "Smart, Funny and Black," Seales' monthly comedy game show. Kicking off the event, which always features two black comedians competing for the title of "master blackspert" (black expert), she puts the night's white visitors on notice.
"This is a black space," she said, noting that while they were welcome, they wouldn't be the center of attention for the next two hours. She encouraged them to join in on the "celebration of black culture, black history and the black experience."
For the duration of the show, a room full of black people relished in their glory, unabashedly and unapologetically. The crowd, accompanied by a house band, belted out in unison everything from the classic television theme songs of "Living Single" and "A Different World" to Tevin Campbell's "Can We Talk?" and the Jackson 5's "I'll Be There."
Contestants Yvonne Orji and Langston Kerman, both co-stars along with Seales on "Insecure," battled each other in naming the life events that reminded Tiger Woods and Michael Jackson that they were indeed black.
Minutes before the show's end, Seales noticed a white woman in the crowd yawning.
"Hang in there with me, white woman. We're almost done," she quipped. Everyone, including the white woman, laughed.
Seales has made a name for herself in comedy by being as black as possible, even in the presence of white people. She recently made headlines for calling out Caitlyn Jenner's white and class privilege during Katy Perry's livestreamed dinner party.
"I just got over" it, she said, about being direct regarding race, class and gender in all she does. After spending a number of years "trying to figure out how to get into the mainstream, be the 'it girl' and get the whites to like you — to cross over," she decided that a life constantly in conversation with the white gaze was not a life she wanted to live.
"I went to see '12 Years a Slave,' left the theater, stood on the street at Lincoln Center and said, 'That's it. We're done crossing over. We're going to break through and do it by being as black as we want to be,'" she recalled. "At that moment, I felt like if that wasn't how [success for me] was going to happen, I wasn't interested."
Seales then packed up her life, after already leaving behind 10 years in the music industry as Amanda Diva, and moved to Los Angeles. The years since, while often a struggle, are beginning to pay off.
"I've been grinding a really long time and I've been broke for a lot of years," she said. "I may not have looked like it, because if you're fly, you don't need a dollar, you just need charisma. But I was riding hope as currency for a very long time. I feel like now, more than ever, I'm in my purpose and comedy is the foundation of that."
That means in addition to her role on "Insecure" and going on film and TV auditions, she still gets onstage a few times a week to keep her comedic juices flowing. And with "Smart, Funny and Black," she's trying to further define funny along the way.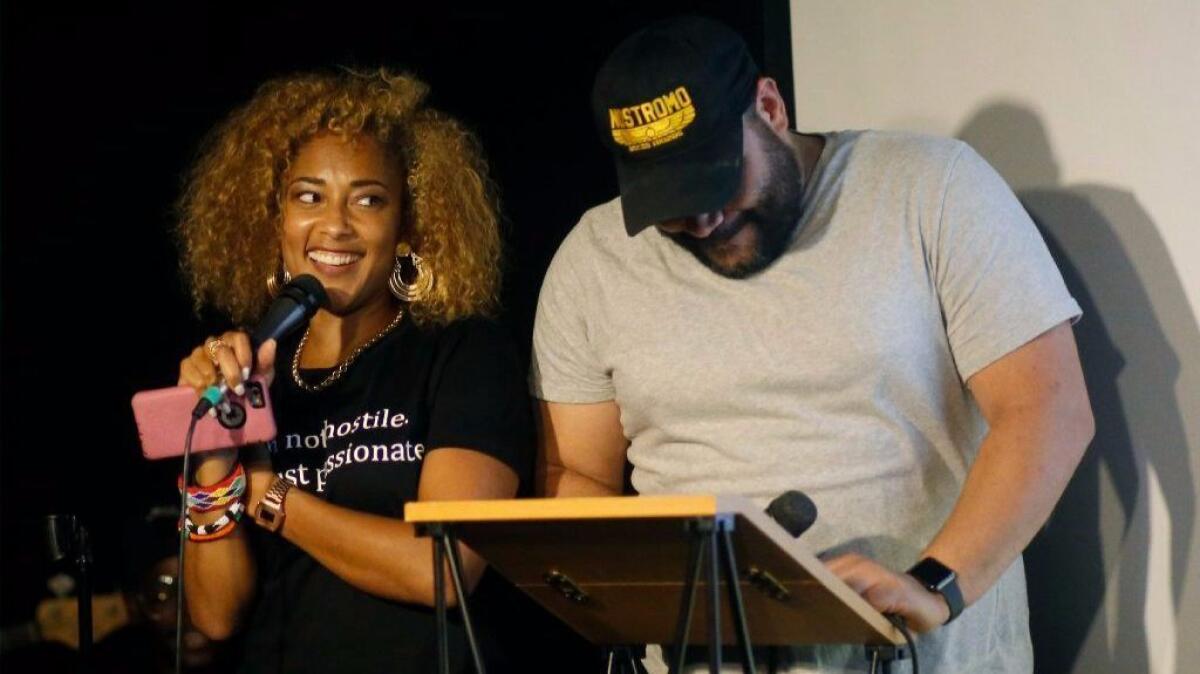 "My whole intention is to break down these limitations of what a black comedian is supposed to be and to open up a space. For a lot of comics who aren't as silly or physical, but more intellectual, we get looked at as 'alt comics,'" she said. "No, I'm still a black comic and there are black people who want to hear my type of black comedy, but that space hasn't been built out for us.
"In the white comedy world, there are all different kinds. With us, you're either 'Def Comedy' or [nothing]."
And Seales' "head-y" style of comedy ismaking room for different types of funny black women.
"I think [my peers and I] are ushering in a type of comedy that's not just [about] sex and relationships but also sinking our teeth into political and social issues in a way that black women haven't really been lauded for in the past," she said. Most of the time, black female comedians are expected to talk about their vaginas, she adds, using a word other than vaginas. "My comedy is different in that it's rooted in social commentary."
Through it all, her goal is simple: "to be a multimedia mogul and be able to have work that exists in my voice across many platforms, to be able to do stand-up year round globally" and to get "Smart, Funny and Black" on television. (She had a deal with truTV but the network "wasn't a fit demographically.")
"I feel like I have a unique voice that's true and authentic, and we need more of that," she said. "If I can inspire more of that, I need to do that in as many places as possible."
'It ain't really that believable for me to be your Rufio. I'm Peter Pan.'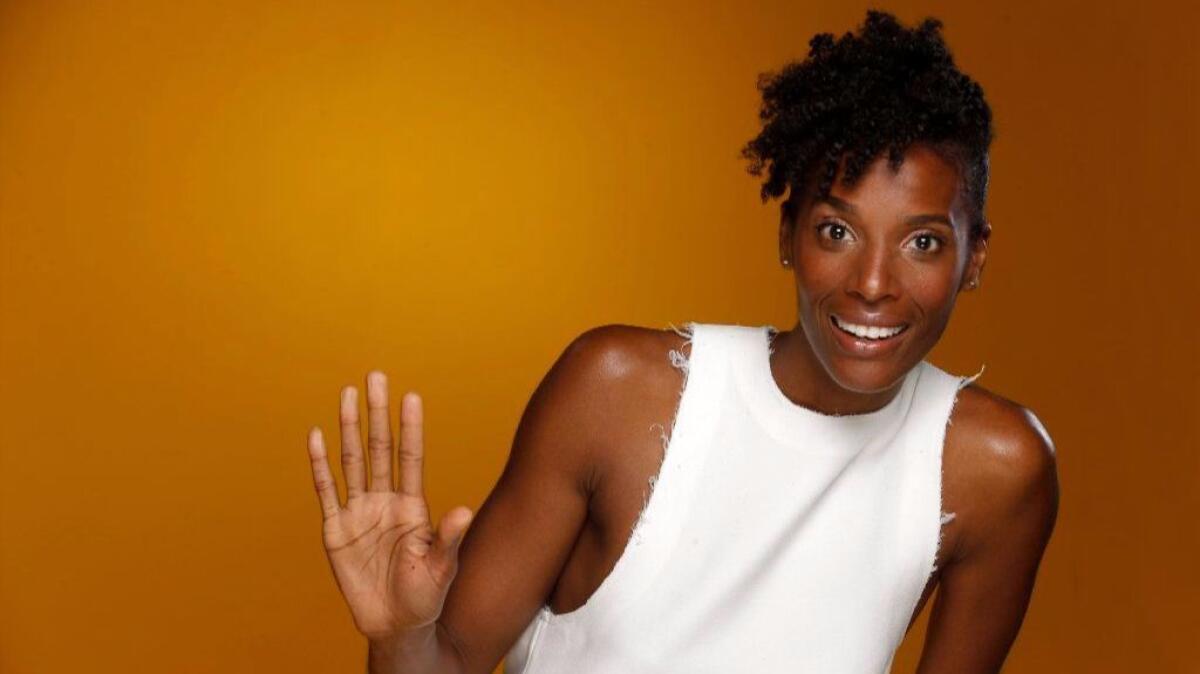 Zainab Johnson isn't quite like her contemporaries. Sure, she's just as funny and ambitious as the next, but she hasn't yet turned to social media or Web series or other digital outlets to get noticed . Her plan is to strike gold in the way many of the comedians who've come before her have done — with a sitcom based on her set.
"You could look at me as like a Thea [Vidale] — who we forget about," she said. "We forget that she was a stand-up comedian, a black woman, and starred on her own show [titled 'Thea,' in 1993]. I mean, she was basically the black Roseanne. I think I went back to that."
Johnson has faced some difficulty in getting her show, which ABC put into development in January, off the ground.
"These days, people need proof of product. So, if you were able to create a Web series, let's say like Issa Rae, people can be like, 'We get it. She has a voice,'" said the former semi-finalist on NBC's comedy competition show "Last Comic Standing." "I didn't have any production content online. I wasn't trying to say, 'Look at what I did. Let's take this from this platform and move it to a different platform.' It was more like, 'You watched me onstage and I want to create that stand-up setting [on TV].'"
But she did get in the room with network executives and scored a preliminary greenlight. That's where industry mentors — the kind who command respect, like Wanda Sykes and her producing partner Page Hurwitz — come in handy.
Still, she too battles expectations of what she and her set — in which she discusses her life as one of 13 siblings in a Muslim family who towers over most men — should be.
"I had a shaved head and I wore my hair in an afro a lot, so people expect the strong black woman thing," she said. "But I love to say some ratchet ..., just so that you understand that nothing — not my hair, not my look, not one particular joke — defines me. I'm a person in the world, and so the way that I approach stand-up is I tell my story.
"Sometimes my story involves the fact that I'm a woman and sometimes it involves the fact that I'm a black woman. Sometimes it involves the fact that I'm from a big family and sometimes it involves the fact that I have body issues. It encompasses so many things that it's just the human that I am, and I hate to say this in interviews… but it is what it is. You either … with me or you don't."
Johnson said that no matter what people might think she or her act is about, she often encounters the underlying presumption that because she is a woman, she won't be funny.
"I think that is the biggest expectation, or lack thereof — that you are not going to be able to entertain [an audience] adequately, and sometimes that's the case. But you want to know what? That's not because [a comedian is a] woman, that's because she's just not funny."
Male comics face their own expectations, she contends, noting that men often also "just talk about their bodies or just talk about women as 'bitch bitch bitch.'"
"But the thing about it is you get to see 100 of those, and so they don't stand out to you," she said. "You don't see very many women. So, if I tell you I saw three women and 100 men [when I booked shows], I'm gonna remember the three women, because they came few and far between, so they stood out to me. And if those women weren't good to me, I'm gonna remember that and I'm gonna assign that to the entire gender — which is ridiculous."
Nonetheless, she's pushing forward, as determined as ever with the hopes of being a household name and able to tour worldwide. And don't forget the scripted show in which she will star.
"I gotta star in my own show," she said, her face straightening up. "I don't play second well, and I don't say that to come off [arrogant]. I just realize how people start to perceive you [based on the roles you take] and I'm like, 'Yeah... nah. It ain't really that believable for me to be your Rufio. I'm Peter Pan.'"
And that means she's comfortable with things taking a little longer for her to make it big.
"You got to get everybody else to believe that you're Peter Pan too."
'I probably will have an Oscar, but it will come from some dope ass comedy.'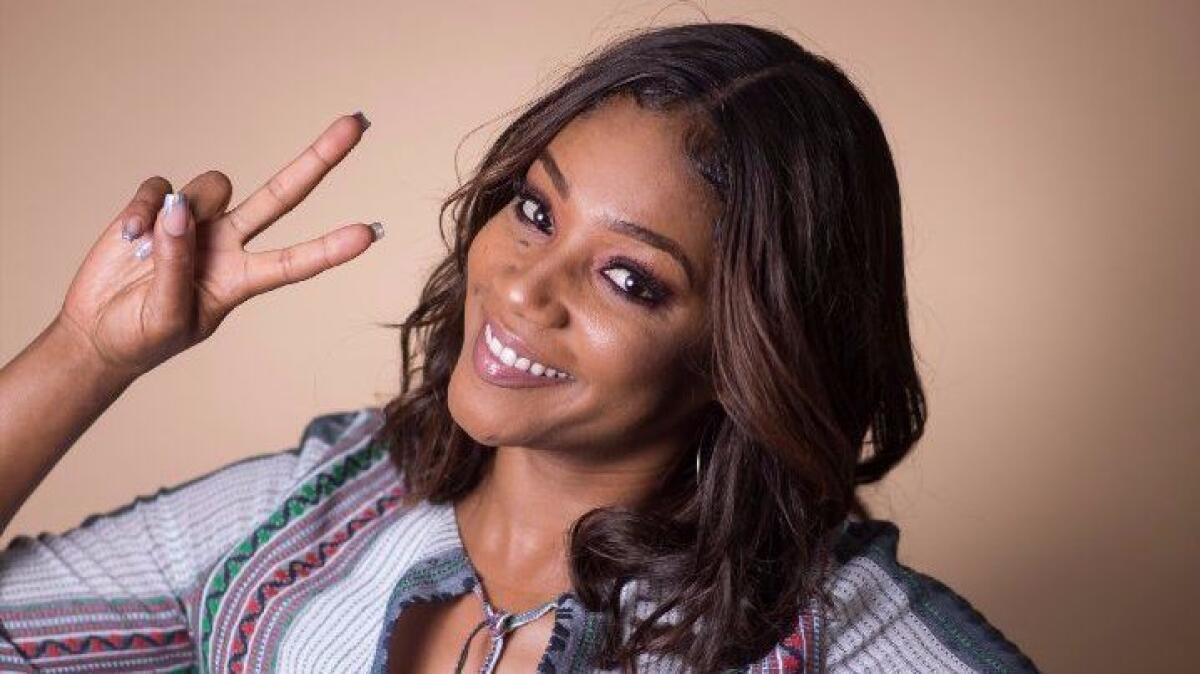 If what comedian and actress Kym Whitley says is true — that Hollywood gives only one funny black woman at a time chance at mega stardom — Tiffany Haddish is up next. Just look at the last few years of her career.
In 2013, she began a seven-episode role as Kevin Hart's wife on his "Real Husbands of Hollywood." She followed that by working with Tyler Perry on "If Loving You Is Wrong" and then booked a series regular role on "The Carmichael Show," opposite legends David Alan Grier and Loretta Devine, which just ended after three seasons. In between that, she filmed "Keanu" alongside Jordan Peele and Keegan-Michael Key and "Mad Families" with Charlie Sheen and Leah Remini.
But it's her latest project, "Girls Trip," opposite industry vets Queen Latifah, Jada Pinkett Smith and Regina Hall, that should rocket her to household name status.
"This past year in particular has felt like what it's supposed to be," she said. "I just feel like it's a dream come true. I've actually done a lot of things that I said I was going to do and I'm going to be able to do even more things that I've thought of."
Her "Girls Trip" role — in which she steals scene after scene and lands the biggest comedic punches out of the formidable quartet — landed her on the cover of Essence.
"When I first saw the cover, I cried so hard," she said, "like snot, tears, everything. It was tears of joy, because I remember being that little girl wishing to be on that cover, wishing to be able to do something that would empower women in some kind of way. To be worthy enough to be on that cover… Essence is huge!
"Now I got to get Ebony and JET Beauty of the Week," she laughed.
This is a far cry from Haddish's insanely humble beginnings growing up in South Los Angeles as a foster kid. But she made it out of "the system" and is thriving — a hopeful inspiration, she said, to others coming behind her.
"Every time I get to do a speech, I'm always like, 'Look at the foster care kids coming up!' because I remember being that kid and thinking that nobody comes out of the system and becomes successful.
"But you can! You just gotta put your mind to it. You gotta put in the work and you can do it."
Currently, Haddish is filming Tracy Morgan's forthcoming TBS series "The Last O.G.," with Cedric the Entertainer and other comedy heavyweights (and Peele as an executive producer).
To keep this trajectory going, she's got her head down, focused on working and being the funniest woman she can, never mind industry expectations or the apparent difficult journey that lies ahead to superstar status.
"The only thing I think of when I'm doing my job of being funny and working on these shows is, 'How can I deliver my message in a way that will stick with people?,'" she said. "Every teacher that I've ever had, that I still remember their name, made me laugh. I feel like comedy is the best instrument to teach."
Her first stand-up special, "Tiffany Haddish: She Ready! From the Hood to Hollywood," premieres Aug. 18 on Showtime. Though the special is an obvious industry calling card to build on her "Girls Trip" breakthrough and continue to show what she can really do, she's hoping it will also serve as "a learning tool."
"To teach that you don't always have to get a PhD, that just because you've been through something, it doesn't mean you can't move further on, that all the relationships ain't good, but you learn something from each one and it makes you better," she said.
"It needs to stick with you. I just know that.
"And when it comes to how funny I might be, as long as it makes me giggle a little bit, I know it's going to make somebody else laugh real hard. If it makes me laugh real hard, it should make them pee on themselves."
She also, to be clear, isn't interested in serious-ing it up to make it big.
"People always tell me, 'You should do drama. You should do drama,'" Haddish said. "Even my first agent was like, 'We want to send you out to be dramatic.' And I'm like, 'No. I'm a comedian. I'm funny. I want to do funny stuff.' Yeah, I could do drama very well. I'm very good at it. I'd probably get an Oscar ... I probably will have an Oscar, but it will come from some dope ass comedy that happens to make your heart open up. That's the goal."
In the short term, Haddish has a memoir set to come out in December titled "The Last Black Unicorn," and she's eyeing four more movies by 2018's end. She also wants to help create at least three TV shows: "Not necessarily [with] me in them, but if I could finagle that, that would be dope," she said.
If that's not enough, she would like a variety show by 2019.
Fortunately for Hollywood, anyone who sees "Girls Trip" will know that Haddish can deliver.
Get your life! Follow me on Twitter (@TrevellAnderson) or email me: trevell.anderson@latimes.com.
Get our L.A. Goes Out newsletter, with the week's best events, to help you explore and experience our city.
You may occasionally receive promotional content from the Los Angeles Times.