Remembering Harold Russell, the soldier-actor who won two Oscars for 'Best Years of Our Lives'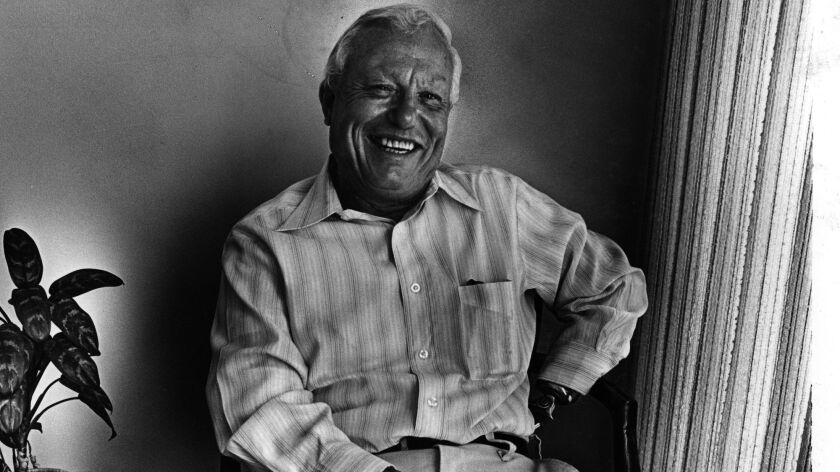 This year marks the 70th anniversary of the classic 1946 film "The Best Years of Our Lives." Director William Wyler's post-World War II drama remains one of the most popular movies of all time. "Best Years" is remarkably contemporary in its appeal, still touching the hearts of millions of fans throughout the world. Ten years ago, the late movie critic Roger Ebert noted: "As long as we have wars and returning veterans, some of them wounded, 'The Best Years of Our Lives' will not be dated."
Watching the film recently on Turner Classic Movies, I was moved by seeing my old friend Harold Russell come back to life again on screen. His role as Homer Parrish, an injured soldier with a pair of prosthetic hooks where his hands used to be, is one of the most distinctive in the history of Hollywood.
Harold was the only actor to ever win two Academy Awards for the same part. The largely unknown actor and veteran walked home with the Oscar for supporting actor, and academy voters also gave him an honorary gold statuette for "bringing hope and courage to his fellow veterans." (The movie also won best picture, taking seven Oscars in all.)
Harold's memorable role in "The Best Years of Our Lives" was an exemplary case of art imitating life. The film's original script was rewritten to reflect Harold's own injury from a terrible accident he suffered during World War II. To feature a real-life amputee as a major character in a big Hollywood film was a groundbreaking moment for the 1940s.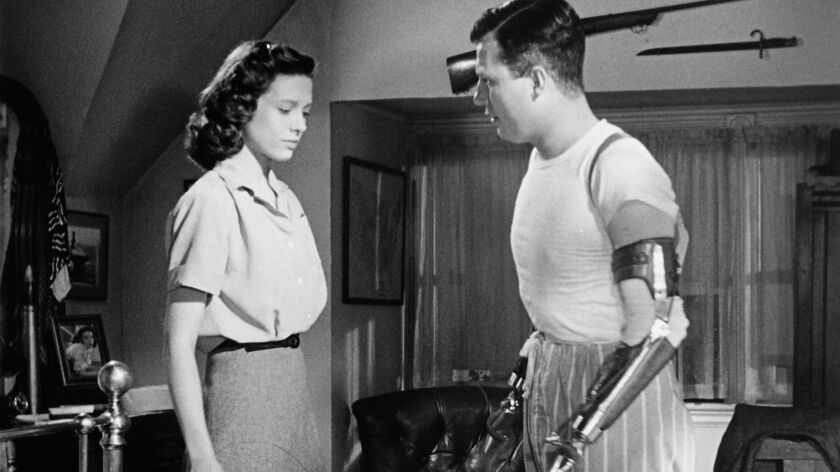 Plucked from obscurity by Wyler, Harold repeatedly rejected the role. He had no aspirations as a professional actor and was convinced that his lack of experience would show on the screen. Harold's stubborn humility wasn't an act. He'd always felt like a failure, even before the film turned his life upside down.
"The Best Years of Our Lives" also launched Harold's legacy as an advocate for the disabled. By 1961, Harold served on the President's Committee for the Employment of the Handicapped, a post appointed by John F. Kennedy. It was in that unique role that I came to know Harold Russell.
Working as a producer on a television show in 1999, I was able to spend a week with Harold when he came to Los Angeles to appear on our program, "Hollywood Salutes Easter Seals." Serving as both fixer and tour guide, I took Harold and his family around as he came back to Hollywood for what would be his final visit.
"Hollywood Salutes Easter Seals" was a celebration of the disabled community in the world of entertainment. Filmed as a live stage show at UCLA's Freud Theater, the humanitarian effort attracted some of Hollywood's finest talent. Since Harold was both a legendary actor and disabled veteran, I thought he was an ideal representative for the movie industry.
I tracked Harold down at his home in Needham, Mass. The producers of the program were concerned about his ability, at age 85, to travel across the country to California. Aside from a few cameo appearances, the actor had virtually vanished from the public eye. On the phone, Harold's energetic humor soon convinced me that he was up to the task. "Let me put down my juggling balls and bingo game," he said and laughed. "Let's talk about the extra frills in my contract."
After the Japanese bombing of Pearl Harbor on Dec. 7, 1941, Harold was so moved by President Franklin D. Roosevelt's "Day of Infamy" speech that he joined the Army the next day. His training as a paratrooper and an explosives expert provided a new sense of purpose.
At the age of 30, the young sergeant's Army career came to a crashing halt on June 6th, 1944, "D-Day." Working as a parachute corps instructor with the U.S.13th Airborne Division in North Carolina, Harold was horrified when a defective fuse ignited an explosive charge of TNT in his bare hands. The severity of his injuries required the amputation of both arms below the elbow.
The shock of the dreadful event sent Harold reeling into a deep depression for months. When he finally came out of his stupor, Army doctors at Walter Reed Hospital suggested that Harold replace his limbs with a visually pleasing pair of plastic hands. Harold refused, saying, "I don't need to be beautiful."
Then, a medical film about a new device, composed of mechanical hooks, got his attention. He was intrigued by the challenge of making them work, deciding to move forward with the "scary hooks," as he called them, because of their "obvious practicality and functionality." He dove into an arduous daily routine to learn the technique.
Harold mastered the manipulation of the prosthetics in just six weeks. His expertise so impressed his Army superiors that they cast him in a training film called "Diary of a Sergeant." His joy and gleeful approach proved captivating, transforming a potentially tough topic into an enjoyable ride for viewers.
Harold's notable bit part eventually grabbed the attention of film director Wyler, who saw it during early casting sessions for "The Best Years of Our Lives." Wyler later told Harold he simply couldn't forget his likability factor or his "true depth of feeling." Harold's "incredible prowess" with his "miraculous hooks" was just the "icing on the cake," Wyler said. The director was sure that he'd found his Homer.
Over 50 years later, as we planned Harold's visit to Los Angeles, he continually talked to me about Wyler's enormous influence on his life. In fact, the first thing Harold wanted to do in L.A. was see "Mr. Wyler's" star on the Hollywood Walk of Fame. And that was only the beginning. I would come to find out that Harold had a number of unusual requests.
Above all, Harold wanted me to watch "The Best Years of Our Lives" once again. Though I'd already seen the movie, the levels of its complexity had been eclipsed by my inexperience. Harold realized another glimpse would give me a new sense of appreciation for the film's contemporary themes. He was right about that.
The scenario of "Best Years" is incredibly relevant even today. As three veterans of World War II readjust to civilian life, they soon face a changed and intolerant society. Realizing nothing will ever be the same, the soldiers valiantly struggle to mend broken relationships as they try to recapture a semblance of normalcy. The drama continues to strike a familiar chord.
Mark Montgomery is a writer, producer and actor, currently working on a book about his experiences in Hollywood.
ALSO
A remastered 'Citizen Kane' is part of the AFI festivities
Our original film review of 'The Right Stuff' holds clues for John Glenn's path to senator
For classic Hollywood films, this is the best and worst of times
---
The complete guide to home viewing
Get Screen Gab for weekly recommendations, analysis, interviews and irreverent discussion of the TV and streaming movies everyone's talking about.
You may occasionally receive promotional content from the Los Angeles Times.