Sunday conversation: Itzhak Perlman talks about the art of listening, YouTube and his friend President Obama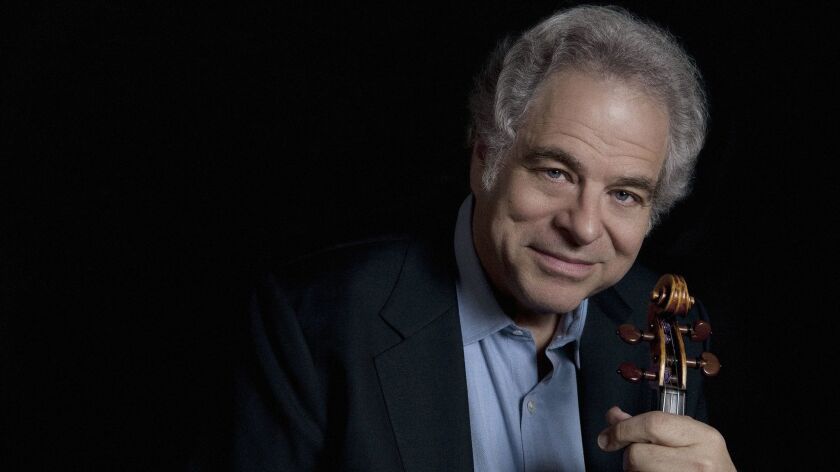 It's the middle of Hanukkah when we talk, but beloved violinist and music icon Itzhak Perlman is working.
Speaking by phone from his New York City home, the Israeli-born star is about to leave for the 2½-week winter residency at the Perlman Music Program in Sarasota, Fla. Then he'll head to Los Angeles, where he'll be both soloist and conductor with the L.A. Philharmonic at Disney Hall for performances Jan. 11 through 13. The program includes a work by Brahms, his "early-childhood falling-in-love-with" favorite composer.
"Itzhak," a recent documentary on the multiple Grammy and Emmy winner, has its California premiere this week at the Palm Springs International Film Festival and runs on PBS' American Masters next year.
Perlman, engaging as ever at 72, spoke about being the subject of a documentary (twice), why listening is the essential skill needed for playing and conducting, and why YouTube sometimes moves him to tears.
The documentary "Itzhak" is the second one made about you. Another called "Itzhak Perlman: Virtuoso Violinist" was made in 1978. How were the experiences different other than the fact you were older?
Isn't that enough? (He laughs.) You mean, the experience of having somebody follow you all the time…
Did it get more annoying now that you're older?
Not really. You sort of know what to expect. The greatest challenge in documentary is to be at the right place at the right time. So now out of habit I'm always saying 'Awk! Where is she [director Alison Chernick] now?" Wouldn't it be nice now if she were here to take this?'
It's interesting the ratio of all the footage one takes to when it finally appears is ludicrous — it's like 1 to 100 or something. We're always saying, 'Where is that moment?' "Oh, that's on the editing room floor.' So, if you add some things to the editing floor, you'd have another film.
You've played and conducted many times with the Los Angeles Philharmonic at Disney Hall. How do they rank among all the many places you've visited?
Oh, I love Disney Hall: It's beautiful to look at from the outside and just as terrific on the inside. I love to play there and with the Phil.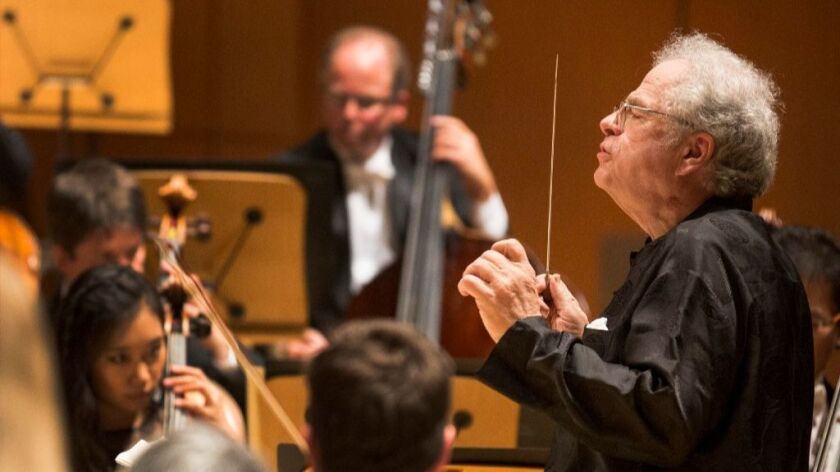 I understand one of your most requested pieces to play is John Williams' "Theme from Schindler's List."
Absolutely. I'm still absolutely amazed that no matter where I go — and it doesn't matter whether it's in China, Japan, Alaska, Europe or wherever — the only thing people ask me to play, specifically, is 'Schindler's List.' And no matter where I am and I announce I'm going to play it, and everyone goes, 'Ooh, aah.' It's incredible.
John Williams is such a genius; he put the perfect flavor to that film. I'd ask him, 'John, how did you do that? You're not Jewish, how did you get this thing so perfect?' And to me, it's also interesting how involved Stephen Spielberg is in the music. He was in Boston listening to the recording of the soundtrack, and very much into it.
You have a quote, "There is a lot of teaching in conducting, a lot of conducting in playing, and a lot of playing in teaching.' Can you unpack that a bit?
Well, look, to teach it's obvious you have to listen. But when you play an instrument, because you're involved physically, sometimes it interferes with your ability to listen correctly. So the challenge is to listen and not be affected by how you feel but by how it sounds. And that's kind of tricky. You might think, 'Oh, so what's in that?' You can hear so you can hear how it sounds.' Not true.
If I were to play a concert and ask my wife, who is my best critic, 'I really felt terrible. How was it?' And she'd say, 'It was terrific.' 'Really?' "Yes, really.' And the other way around. When you think it sounds really good because you're able to ace everything, it might not be as good as you think.
Same with conducting: In my case, I've been very lucky to conduct many wonderful orchestras. Let's say you conduct a Beethoven symphony they've performed hundreds of times. It sounds really good. So what do you have to say? It involves, how do I listen? What do I want the orchestra to sound like so that it will represent me? Again, it involves listening.
Do you handle your own social media and do you enjoy it?
I do a bit. Others post for me, but I have control of what is posted. They give me a whole bunch of posts and I choose which ones I want to show. It's a one-sided thing; I used to interact [with fans] but it became too much, since for everything you do that you think is good you have a hundred people who think it's fantastic and you also have people who think it's the most horrible thing ever.
When it comes to listening to music, what moves you?
I'm actually capable of being moved by a particular phrase, or a particular sound of either a singer or instrumentalist. It's incredible; it really affects me. Sometimes I listen to things on You Tube that I like, and if it's amazing I wind up in tears. It doesn't have to be so much the way it's performed, but the actual music itself.
Sometimes I question my students: 'What gives you goosebumps?' And I love the fact that the same goose bump piece to me, for you is, 'Nah, that one doesn't do it for me but this one does.' I always find that interesting.
Now this is a broad question, but let's try it: Of all the many places and people you've played for, are there one or two that are most memorable?
That really is too hard a question for me to answer … too many are memorable. But maybe Obama's inauguration and playing at the [Obama] White House. I am an Obama fan, for sure…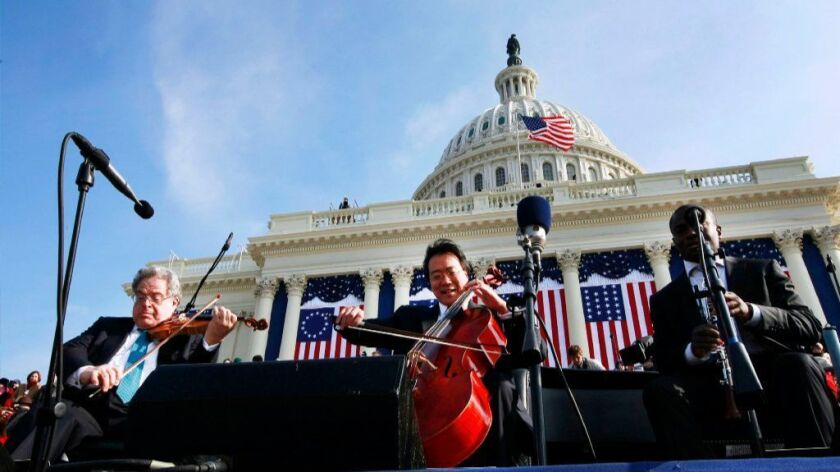 Speaking of President Obama, I understand whenever you two meet, you always show him the photos of your two adorable Portuguese water dogs, Muttek and Boychick. (The Obama dogs, Bo and Sunny, are also Portuguese water dogs.) And he says, "Hey, Michelle, come look at this. We've got to get these dogs together for a play date!" Has that play date ever happened?
No, but maybe now it would; now that he has a bit more time on his hands, it can happen. (He laughs.)
The world today needs a photo or video of those four big dogs romping around.
You're telling me. You're telling me. Oh God.
What are you watching and reading now?
I'm a film buff, but it's just that I never have any time to go. We haven't been to a film since the summer, and even then because of our Perlman Music Program, I'm always busy. We don't have time to go to anything. I read a little bit, but I'm not one of those 24-hour-a-day readers. I'm a listener — I love to listen to music; I love to listen to things that I've always liked.
---
Inside the business of entertainment
The Wide Shot brings you news, analysis and insights on everything from streaming wars to production — and what it all means for the future.
You may occasionally receive promotional content from the Los Angeles Times.