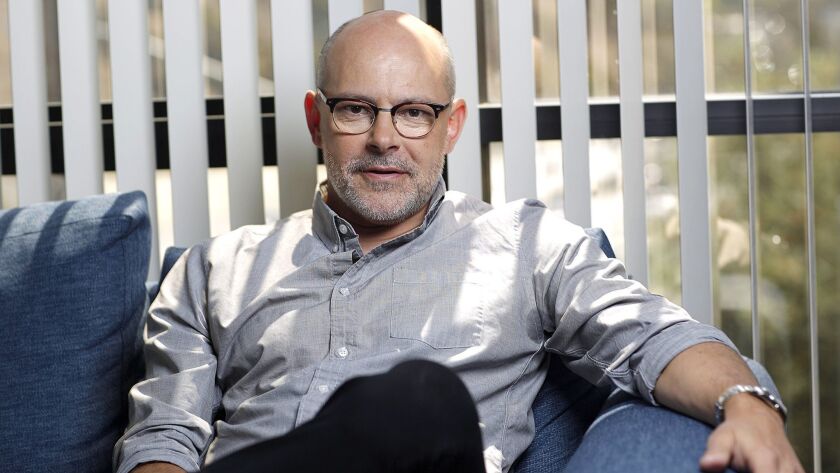 Throughout his career Rob Corddry has always played characters slightly off center.
He's great at embodying guys who are loud-mouthed talkers or cringe-inducing jerks, as seen in films like "Hot Tub Time Machine" and "Blades of Glory" to TV shows such as "Community." The actor, 47, has spent the last four years playing Joe Krutel, a well-meaning but often awkward financial advisor, on HBO's comedy "Ballers."
The series, helmed by "Entourage" alum Stephen Levinson, tracks the behind-the-scenes drama of the sports world with Dwayne "The Rock" Johnson as a retired NFL player turned financial manager. It returns for its fourth season Aug. 12, this time shifting the action from Miami to Los Angeles, where the focus is now on managing extreme sports athletes and the Los Angeles Rams.
For Corddry, "Ballers" offers an opportunity to find a balance between comedy and drama, especially as Joe is afforded more chances to take the reins this season. Corddry also has a new film, "Dog Days," in theaters, in which he plays a less comical role opposite Eva Longoria. While he hopes to continue broadening his career horizons, Corddry, who has won praise for creating and directing the absurdist, Emmy-winning TV series "Children's Hospital," also knows that it can be best to play to your strengths.
We talked to the actor about the new season of "Ballers," why he doesn't play leading men and whether "Childrens Hospital" might ever return.
>Joe always seems to be trying too hard or getting himself into uncomfortable situations. What do you enjoy about playing him?
I like playing guys that are smart but don't appear smart on the outset. It's hard for me, Rob, to be embarrassed personally. I don't get embarrassed easily. Joe is similar, but he's usually in a position of embarrassed or about ready to be embarrassed. I love characters that just talk a little bit too much and get themselves into trouble. That's my thing. I'll play that to the day I die. I'm very happy with my particular pigeonhole.
Did you always know that was the sort of guy you wanted to play?
No. When I had hair I was thinking I would play the leading man. I was doing Shakespeare most of the time. And I was always cast as the jackasses. I was cast as the goofball who gets into trouble. The comic relief, basically. It took a long time for the light bulb to go off over my head that perhaps my skills and vibe lay in other areas. And thank God it did because who wants to play a leading man? I'd rather be the one who tells the leading man, "Hey, you should go do that crazy thing! Nothing bad can happen to you."
Your "Ballers" character really seems to revel in moving from Miami to Los Angeles. What does he connect to in L.A.?
I'll have to answer this in a very obtuse way. I've been here in Los Angeles for 10 or 11 years and my appreciation of Los Angeles has grown over the years. For the last five or so I've really liked living here. Joe, however, is in love with it. To the degree where he thinks the palm trees are greener than in Miami. The funny thing is that Joe's love of Los Angeles is contagious. I have this newfound love – my appreciation of Los Angeles has evolved once again via myself and a character that I play.
I have this newfound love – my appreciation of Los Angeles has evolved once again via myself and a character that I play.
Rob Corddry
Do you see L.A. as a sports town?
No, not at all. I'm a Boston sports fan, especially the Red Sox and the Patriots, but my daughters are Dodgers fans and I love going to Dodger Stadium. And they're National League, so I can let myself enjoy that. But we'll see in terms of football. They seem to be putting the right kind of money into it. They seem to have the support they're going to need. But two teams [the Rams and the L.A. Chargers] seems like overkill to me.
Now that the show is set in L.A. does it visit iconic locations throughout the city?
Yeah. Roscoe's Chicken and Waffles plays a big part. They definitely explore the whole fabric of this city, especially on the Westside. I think that's where the character feels more at home. It's more Miami-like near the beaches. I'm an Eastside boy myself, so I didn't get into that part of it. I don't like crossing La Cienega. Forget the 405. I haven't seen the 405 in years. My problem is La Cienega.
So in moving to L.A. it's not necessarily becoming a redux of "Entourage"?
Oh, no. Not at all. They don't deal with show biz. I think the sports world is a richer world from which to draw stories. The first couple seasons of "Entourage" it was like a documentary, almost. But it starts to eat its own tail after a while because I don't think there's as many stories you can tell in such an insular world. But sports is just so varied and the drama that goes behind those one little sentence blurbs you see in the newspaper about an ACL tear — it's a whole season arc on "Ballers."
Did you know much about that world before you landed on this show?
Nothing! It was so interesting to me. Because I play fantasy football and an ACL just meant that my guy was sitting on the bench for five or six weeks, or maybe even the whole season. But now I know more about the contractual issues. And they don't tell you how exactly he got that ACL tear or what led to him getting injured. Was he tired? Why was he tired? We could tell a story right now based on a phrase in the sports section of the L.A. Times.
"Ballers" is known as a real guy's show. Do you find that it also gets a lot of female fans?
Well, Elizabeth Warren, the good senator from Massachusetts, mentions "Ballers" and calls it her favorite show on the first page of her latest book. And I got the chance to ask her why. She's the policy senator and this show is about different people at different stages of their career and different stages of their financial life. Whether they've got money for the first time or they've lost it all and they're trying to get it back. I can see why she would be very interested in a show about financial managers.
Now are you obligated to always vote for her?
I would vote for her for queen of America if she ran. She's one of the good ones.
Did you always imagine "Ballers" would run for this long?
It was always known, at least personally to me, that it would run as long as Dwayne was interested. I think HBO is happy with the show, as far as I can tell. I think it's all up to Dwayne. Whether he gets sick of the commute or something. But I don't have a gauge on that. He seems happy to me.
So your life is in the hands of the Rock.
That feels better than having my life in the hands of a lot of other people. If I had to choose I'd choose the Rock's hands any day. He's very strong.
You have a new film out called "Dog Days," which was directed by Ken Marino. Do you always try to work with your former collaborators from "Childrens Hospital"?
My rule is that I want to work with people I love who are cool. Hollywood is such a minefield of bad eggs. I've been very picky about who I work with and on what. The reductive way to say it is that I want to do cool stuff with people who aren't jerks. The "Childrens Hospital" cast definitely falls into that category.
Lots of shows are getting rebooted these days. Do you think "Childrens Hospital" will ever come back for more episodes?
I am almost positive it will come back in some form or another. That's all I'm allowed to say on that subject. There have been words spoken and words returned. There have been conversations. There have been smiles and handshakes. Something's going to happen. "Childrens Hospital" will be back in some form.
---