L.A. movie openings, March 23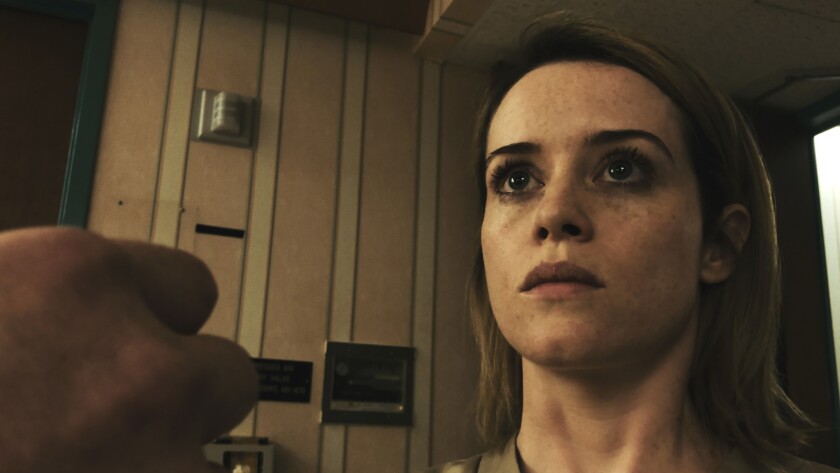 March 23
Attack of the Southern Fried Zombies
Undead hordes terrorize Charleston, Miss. With Miles Doleac, Michael Emery, Jeremy Sande. Written by Mark Newton, Christian Hokenson, Stephan Stromer, Daniel Wood. Directed by Newton. NR.
Bag of Marbles
Young brothers in occupied France use their wiles to find their family. With Dorian Le Clech, Batyste Fleurial Palmieri, Patrick Breuel, Elsa Zylberstein. Written by Alexandra Geismar, Jonathan Allouche, with Aurent Zeitoun, based on the novel by Jospeh Joffo. Directed by Christian Diguay. In French, German, Yiddish, Russian with English subtitles. (1:50) NR.
Barren Trees
Two hitmen track down a man in the witness protection program. With Ryan Eatherton, Acel Martin, Faith Kelly. Written and directed by Ryan Eatherton and Lel Zhenchuan. (1:39) NR.
Beauty and the Dogs
Sexually assaulted by police officers after leaving a party, a young Tunisian woman fights for her rights in a n unjust society. With Mariam Al Ferjani, Ghanem Zrelli, Noomane Hamda and Mohamed Akkari. Written and directed by Kaouther Ben Hania. In Arabic with English subtitles. (1:40) NR
Dead on Arrival
Poisoned with no antidote, a man finds himself on the run from detectives and gangsters. With Billy Flynn, Christa B. Allen, D. B. Sweeney, Chris Mulkey, Lillo Brancato. Written and directed by Stephen Sepher. NR.
Final Portrait
American writer James Lord is asked to sit for a painting by Italian artist Alberto Giacometti in 1964 Paris, only to be subjected to the man's excruciating creative process. With Geoffrey Rush, Armie Hammer, Tony Shalhoub, Sylvie Testud, Clémence Poésy. Written and directed by Stanley Tucci. (1:30) R.
Game Over, Man!
Three video gamers are tested when the hotel where they work is seized by terrorists. With Adam Devine, Anders Holm, Blake Anderson. Written by Holm. Directed by Kyle Newacheck. NR.
Gone Are the Days
An aging outlaw seeks redemption and faces his past in this western. With Lance Henriksen, Tom Berenger, Danny Trejo. Written by Gregory M. Tucker. Directed by Mark Landre Gould. R.
I Kill Giants
Battling evil in a fantasy world is a teenage girl's method of dealing with school and a troubled home. With Zoe Saldana, Imogen Poots, Madison Wolfe, Sydney Wade. Written by Joe Kelly. Directed by Anders Walter. (1:46) NR.
Isle of Dogs
When all canines are exiled to a garbage dump island, a 12-year-old boy sets out to find his bodyguard dog in this animated film. Voices of Bryan Cranston, Koyu Rankin, Edward Norton, Liev Schreiber, Kunichi Nomura, Bill Murray. Written and Directed by Wes Anderson. (1:41) PG-13.
Madame
A deception by a wealthy American woman in Paris involving her loyal maid and a British art dealer leads to a comedy of errors. With Toni Collette, Harvey Keitel, Rossy de Palma, Michael Smiley. Written and directed by Amanda Sthers. (1:31) NR.
Midnight Sun
Teen love is threatened by a 17-year-old girl's life-threatening sensitivity to sunlight. With Bella Thorne, Patrick Schwarzenegger, Rob Riggle, Quinn Shephard. Written by Kenji Bando. Directed by Scott Speer. (1:30) PG-13
A Normal Life
A young college-bound man grapples with the reality of leaving behind his teenage brother, who has Down syndrome. With Sam O'Byrne, Trevor Barella, Bettina Devin. Written and directed by Alex Herz. (1:14) NR.
Pacific Rim Uprising
A new generation of the gigantic, human-piloted fighting machines must vanquish monstrous beasts to save humanity. With John Boyega, Scott Eastwood, Jing Tian, Cailee Spaeny, Rinko Kikuchi, Burn Gorman, Adria Arjona, Charlie Day. Written by Emily Carmichael & Kira Snyder and Steven S. DeKnight and T.S. Nowlin; story by DeKnight and Nowlin; based on characters created by Travis Beacham. Directed by DeKnight. PG-13.
Paul, Apostle of Christ
Luke struggles to spread the Gospel as Paul is held captive during the reign of Roman emperor Nero. With Jim Caviezel, James Faulkner, Olivier Martinez, John Lynch, Joanne Whalley. Written and directed by Andrew Hyatt. (1:47) PG-13.
The Peacemaker
Irish author and University of Massachusetts, Boston, professor Padraig O'Malley seeks peaceful resolutions for divided societies around the world in this documentary. Directed by James Demo. (1:30) NR.
Pyewacket
Dabbling in the occult leads a teenage girl to inadvertently summon a malevolent force in the woods. With Nicole Munoz, Laurie Holden, Chloe Rose. Written and directed by Adam MacDonald. (1:30) NR.
Roxanne Roxanne
Teenager Lolita "Roxanne Shanté" Gooden rises up from the NYC projects to become the city's fiercest battle DJ in early 1980s Queens. With Chanté Adams, Nia Long, Mahershala Ali, Elvis Nolasco, Kevin Phillips, Shenell Edmonds, Adam Horovitz. Written and directed by Michael Larnell. (1:40) NR.
Sherlock Gnomes
Garden gnomes Gnomeo and Juliet and their family and friends return, aided by the famous detective in this animated sequel. Voices by James McAvoy, Emily Blunt, Chiwetel Ejiofor, Maggie Smith, Michael Caine, Johnny Depp. Directed by John Stevenson. PG.
Shifting Gears
A father and son enter the Dirt Track Grand National in a bid to save their family-run garage. With R. Keith Harris, Brooke Langton, M.C. Gainey, M. Emmet Walsh, John Ratzenberger, C. Thomas Howell. Written by Harris. Directed by Jason Winn. (1:42) NR.
The Redeemed and the Dominant: Fittest on Earth
Documentary on the 2015 Reebok CrossFit Games. Featuring Tia-Clair Toomey, Mat Fraser, Kara Webb. Written and directed by Heber Cannon, Marston Sawyers, Ian Wittenber. (1:44) NR.
Then There Was Joe A law student struggles to keep his hoodlum brother out of trouble. Starring, written and directed by Justin Warren. With Ray Grady. (1:43) NR.
Triumph: The Untold Story of Perry Wallace
Documentary on Perry Wallace, who became the first African American basketball player in the Southeastern Conference in 1966. Featuring Andrew Young, Dr. Harry Edwards. Narrated by Forest Whitaker. Directed by Rich Gentile. NR.
Unsane
Inside a mental institution, a young woman confronts her greatest fear. With Claire Foy, Joshua Leonard, Jay Pharoah, Juno Temple, Aimee Mullins, Amy Irving. Written by Jonathan Bernstein & James Greer. Directed by Steven Soderbergh. (1:38) R.
------------
See the most-read stories in Entertainment this hour »
---
The complete guide to home viewing
Get Screen Gab for weekly recommendations, analysis, interviews and irreverent discussion of the TV and streaming movies everyone's talking about.
You may occasionally receive promotional content from the Los Angeles Times.