SoCal movie events & revivals, Feb. 17-24: Burt Reynolds, 'Black Orpheus' and more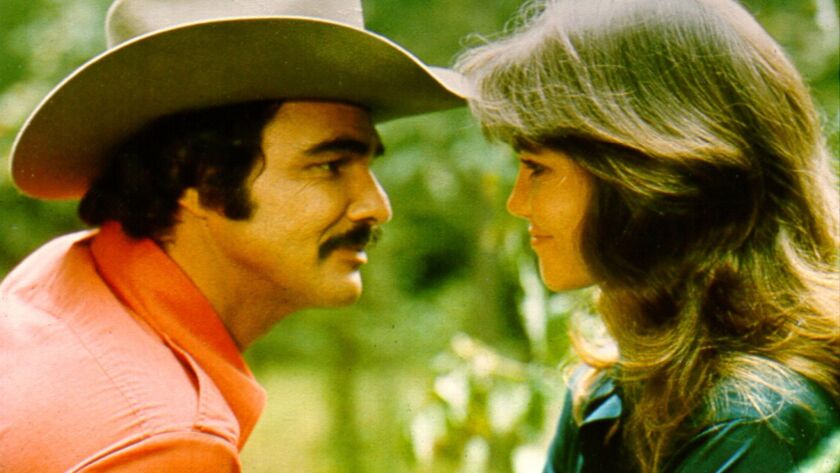 2019 UCLA Festival of Preservation Three-day showcase for recently restored films concludes with a full slate of classic dramas, indie flicks, comedy shorts, cartoons, etc. UCLA Hammer Museum, Billy Wilder Theater, 10899 Wilshire Blvd., Westwood. Sun., various showtimes and prices. www.cinema.ucla.edu.
Your Face + Visage Acropolis Cinema pairs the L.A. premieres of Taiwanese filmmaker Tsai Ming-liang's 2018 experimental series of portrait shots and his semi-autobiographical 2009 drama. Downtown Independent, 251 S. Main St., downtown L.A. Sun., 5 p.m. $15. www.acropoliscinema.com.
Black Orpheus 60th-anniversary screenings of writer-director Marcel Camus' classic 1959 fantasy that sets the ancient myth of Orpheus and Eurydice during Carnival in Rio de Janeiro; in Portuguese with English subtitles. Laemmle Town Center 5, 17200 Ventura Blvd., Encino; Playhouse 7, 673 E. Colorado Blvd., Pasadena; Royal, 11523 Santa Monica Blvd., West L.A. Wed., 7 p.m. $13. www.laemmle.com.
Death in Venice A composer becomes obsessed with a handsome youth he encounters while visiting cholera-ridden Venice, Italy, in Luchino Visconti's 1971 drama based on the Thomas Mann novella; with Dirk Bogarde, Björn Andrésen. In English, French, Italian and Polish with English subtitles. American Cinematheque, Egyptian Theatre.6712 Hollywood Blvd., Hollywood. Thu., 7 p.m. $12. www.americancinematheque.com.
Smokey and the Bandit/Semi-Tough The New Bev's salute to the late Burt Reynolds continues and includes the actor opposite Sally Field, Jerry Reed and Jackie Gleason in director Hal Needham's 1997 road comedy, and director Michael Ritchie's 1977 satire of pro football and the New Age movement costarring Kris Kristofferson and Jill Clayburgh. New Beverly Cinema, 7165 Beverly Blvd., L.A. Fri.-Sat., 7 and 9:05 p.m. $10. www.thenewbev.com.
Phantasm/The O'Clock High/10 to Midnight Triple feature includes director Don Coscarelli's 1979 terror tale, director Phil Joanou's 1987 teen comedy and the 1983 vigilante thriller starring Charles Bronson. American Cinematheque, Aero Theatre, 1328 Montana Ave.Santa Monica. Sat., 7:30 p.m. $15. www.americancinematheque.com.
---
Get the Indie Focus newsletter, Mark Olsen's weekly guide to the world of cinema.
You may occasionally receive promotional content from the Los Angeles Times.