L.A. movie openings, Feb. 24-March 3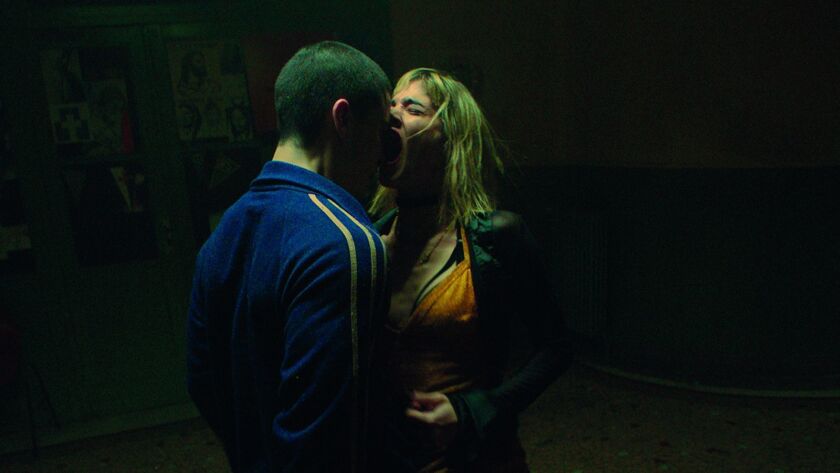 March 1
Apollo 11
Documentary about NASA's 1969 mission lunar-landing mission led by commander Neil Armstrong. Directed by Todd Douglas Miller (1:33) G.
Beers of Joy
Globe-spanning documentary about beer aficionados. Directed by David Swift, Scott Owen. (1:30) NR.
The Boy Who Harnessed the Wind
A boy in Malawi builds a windmill to help his impoverished village. With Maxwell Simba, Chiwetel Ejiofor. Written and directed by Ejiofor. (1:53) NR.
The Cannibal Club
The elite meet to eat human meat in this horror comedy from Brazil. With Tavinho Teixeira, Ana Luiza Rios. Written and directed by Guto Parente. In Portuguese with English subtitles. (1:21) NR.
Cliffs of Freedom
A village girl in 19th-century Greece loves an Ottoman military officer against the backdrop of the Greek War for Independence. With Tania Raymonde, Jan Uddin, Raza Jaffrey, Billy Zane, Lance Henriksen, Kevin Corrigan, Costas Mandylor, Patti LuPone, Christopher Plummer. Written by Van Ling, Marianne Metropoulos, Kevin Bernhardt; based on a novel by Metropoulos. Directed by Van Ling. In Greek and English with English subtitles. (2:27) R.
Climax
A dance rehearsal turns into all-night rave then descends into an LSD-fueled nightmare. With Sofia Boutella, Romain Guillermic. Written and directed by Gaspar Noé. In French and English with English subtitles. (1:35) R.
The Competition
Documentary about a prestigious and rigorous Paris school for aspiring filmmakers. Directed by Claire Simon. In French with English subtitles. (2:01) NR.
Devil's Path
Two men are stalked in a remote wilderness park known as a gay hookup spot. With Stephen Twardokus, JD Scalzo. Written by Twardokus, Matthew Montgomery. Directed by Montgomery. (1:27) NR.
Greta
A young woman is befriended by a lonely widow with a twisted agenda. With Isabelle Huppert, Chloë Grace Moretz, Colm Feore, Stephen Rea. Written by Neil Jordan, Ray Wright; story by Wright. Directed by Jordan. (1:38) R.
The Hole in the Ground
A woman and her young son encounter horror in a rural town. With Seána Kerslake, James Cosmo. Written by Lee Cronin, Stephen Shields. Directed by Cronin. (1:30) R.
The Iron Orchard
An ambitious man strives to make a name for himself in the oil fields of 1930s West Texas. With Lane Garrison, Ali Cobrin, Austin Nichols. Written by Gerry De Leon. Directed by Ty Roberts. (1:52) R.
The Last Resort
Documentary about two photographers who focused their cameras on a community of Jewish retirees in 1970s Miami Beach. Directed by Dennis Scholl, Kareem Tabsch. (1:10) NR.
Level 16
Teenage girls try to survive in a prison-like boarding school. With Katie Douglas, Celina Martin. Written and directed by Danishka Esterhazy. (1:42) NR.
A Madea Family Funeral
Tyler Perry reprises his role as the cantankerous black matriarch in this entry in the comedy franchise. With Cassi Davis, Patrice Lovely. Written and directed by Perry. (1:42) PG-13.
Mapplethorpe
"The Crown's" Matt Smith portrays the controversial 1970s-80s New York artist and photographer. With Marianne Rendon, Brian Stokes Mitchell, Carolyn McCormick. Written by Ondi Timoner, Mikko Alanne; based on a screenplay by Bruce Goodrich. Directed by Timoner. (1:42)
Pretty Broken
A young woman from a dysfunctional family mourns the loss of her father in this comedy drama. With Jillian Clare, Tyler Christopher, Stacy Edwards. Written by Jill Remensnyder. Directed by Brett Eichenberger. (1:43) NR.
Prosecuting Evil: The Extraordinary World of Ben Ferencz
Documentary profiles the last living prosecutor from the Nuremberg Trials. Written and directed by Barry Avrich. (1:23) NR.
Saint Judy
Fact-based drama about an immigration attorney who fights to change U.S. asylum laws. With Michelle Monaghan, Alfred Molina, Alfre Woodard, Common, Peter Krause. Written by Dmitry Portnoy. Directed by Sean Hanish. (1:46) PG-13.
Sharkwater Extinction
Documentary about illegal shark fishing. Written and directed by Rob Stewart. (1:28) NR.
Smaller and Smaller Circles
A pair of Jesuit priests investigate crimes in Manila. With Nonie Buencamino, Sid Lucero, Carla Humphries. Written by Raymond Lee and Ria Limjap. Directed by Raya Martin. In English and Filipino with English subtitles. (1:51) NR.
Something
New parents are menaced by an unseen entity. With Michael Gazin, Jane Rowen, Eric Roberts. Written and directed by Stephen Portland. (1:26) NR.
Stray
A teen with supernatural abilities joins forces with a female detective to investigate her mother's death. With Karen Fukuhara, Christine Woods, Takayo Fischer. Written by J.D. Dillard, Alex Theurer; story by Dillard, Theurer, Joe Sill. Directed by Sill. (1:29) NR.
This Magnificent Cake!
Stop-motion animation about colonization in the late 19th century Belgian-occupied Congo. Directed by Marc James Roels and Emma de Swaef. In Dutch and French with English subtitles. With the shorts "The Burden" (2017, Niki Lindroth von Bahr) and "Oh Willy…" (2012, Roels and de Swaef). (1:15) NR.
Tuftland
A mysterious letter draws a young woman to a small Finnish town for a job at a sinister textile plant. With Veera W. Vilo, Saara Elina, Miikka J. Anttila. Written and directed by Roope Olenius. (1:29) NR.
2050
A family man becomes emotionally attached to an android sex worker. With David Vaughn, Irina Abraham, Dean Cain. Written by Brian Ackley; story by David Vaughn, Princeton Holt. Directed by Holt. (1:44) NR.
Virginia Minnesota
Two young women revisit a shared tragedy from their childhood. With Aurora Perrineau, Rachel Hendrix, Harold Perrineau. Written and directed by Daniel Stine. (1:38) NR.
We Die Young
A veteran Afghanistan war tries to help a teen gang member and his younger brother escape a ruthless drug lord in Washington, D.C. With Jean-Claude Van Damme, Elijah Rodriguez. Written by Lior Geller; story by Geller, Andrew Friedman. Directed by Geler. (1:33) R.
The Wedding Guest
Two strangers find themselves on the lam together in Pakistan and India. With Dev Patel, Radhika Apte. Written and directed by Michael Winterbottom. (1:34) NR.
Woman at War
A 50-something woman in Iceland leads a double life as an environmental activist and industrial saboteur. With Halldóra Geirharðsdóttir. Written by Ólafur Egilsson, Benedikt Erlingsson. Directed by Erlingsson. In Icelandic, Spanish, English and Ukrainian with English subtitles. (1:41) NR.
Wrestle
Documentary about a wrestling team at a struggling high school in Huntsville, Ala. Directed by Suzanne Herbert, Lauren Belfer. (1:36) NR.
---
From the Emmys to the Oscars.
Get our revamped Envelope newsletter, sent twice a week, for exclusive awards season coverage, behind-the-scenes insights and columnist Glenn Whipp's commentary.
You may occasionally receive promotional content from the Los Angeles Times.