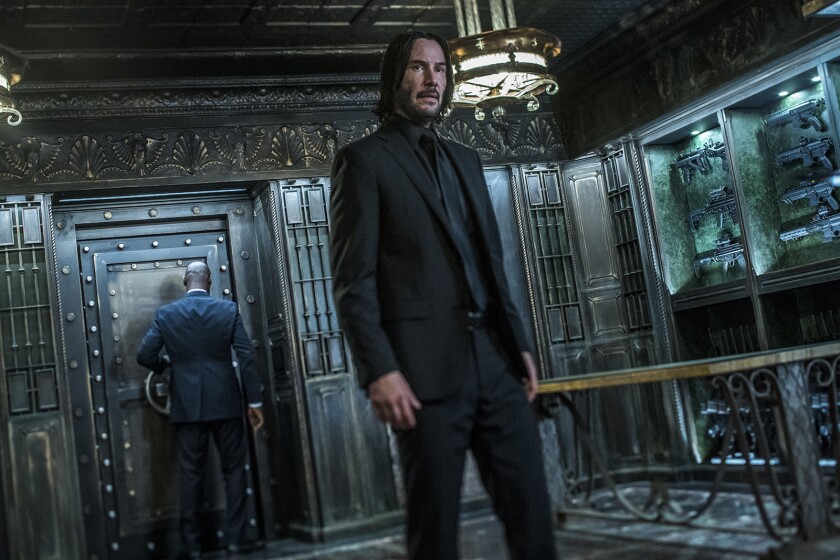 May 17
All Creatures Here Below
A couple on the run from police in L.A. wind up in Kansas City. With Karen Gillan, David Dastmalchian, Jennifer Morrison, David Koechner, Richard Cabral, John Doe. Written by Dastmalchian. Directed by Collin Schiffli. (1:31) NR.
Amaurosis
A couple find themselves in a dark place following the death of their son. With Richard Flood, Simon Cotton. Written and directed by Gary Sinyor. (1:48) NR.
Aniara
A spaceship bearing settlers bound for Mars is knocked irrevocably off-course. With Emelie Jonsson, Arvin Kananian. Directed by Pella Kagerman, Hugo Lilja. In Swedish with English subtitles. (1:46) R.
Ask for Jane
Women band together to provide safe though still-illegal abortions in 1960s Chicago. With Cody Horn, Alison Wright, Chloë Levine, Sarah Steele. Written by Rachel Carey; based on an idea by Cait Cortelyou. Directed by Carey. (1:48)
Breakneck
Two extreme sports athletes enter a mysterious high-stakes competition. With Lorenzo Richelmy, Ludovic Hughes, Simone Labarga. Written by Fabio Guaglione, Fabio Resinaro, Marco Sani. Directed by Jacopo Ronidinelli. (1:42) NR.
Chasing Portraits
Filmmaker Elizabeth Rynecki searches for long-lost paintings by her great-grandfather, a Jewish Polish artist who was killed in a WWII concentration camp. (1:18) NR.
A Dog's Journey
The pooch with a purpose forms a new attachment and vows to watch over her in this sequel. With Marg Helgenberger, Betty Gilpin, Kathryn Prescott, Dennis Quaid and the voice of Josh Gad. Written by W. Bruce Cameron, Cathryn Michon, Maya Forbes, Wally Wolodarsky; based on the novel by Cameron. Directed by Gail Mancuso. (1:48) PG.
Extracurricular Activities
A high schooler arranges the seemingly accidental deaths of his classmates' parents for fun and profit. With Colin Ford, Ellie Bamber, Angela Kinsey, Bobby Lee. Written by Bob Sáenz. Directed by Jay Lowi. (1:26) NR.
John Wick: Chapter 3 — Parabellum
The super-assassin played by Keanu Reeves is back, pursued by other hired killers looking to collect a $14-million bounty. With Halle Berry, Laurence Fishburne, Asia Kate Dillon, Lance Reddick, Jerome Flynn, Jason Mantzoukas, Anjelica Huston, Ian McShane. Written by Derek Kolstad, Shay Hatten, Chris Collins, Marc Abrams; story by Kolstad. Directed by Chad Stahelski. (2:10) R.
Loving Vincent: The Impossible Dream
Documentary about the making of an Oscar-nominated animated short film on painter Vincent van Gogh. Directed by Miki Wecel. (1:00) NR.
Photograph
A street photographer in Mumbai passes off a picture of a young woman as his fiancée to appease his meddling grandmother. With Nawazuddin Siddiqui, Sanya Malhotra, Vijay Raaz. Written and directed by Ritesh Batra, Emeara Kamble. Directed by Batra. In Hindi with English subtitles. (1:50) PG-13.
The Professor
A stuffy academic begins to cut loose after learning he has only six months to life. With Johnny Depp, Zoey Deutch, Rosemarie DeWitt, Danny Huston, Ron Livingston. Written and directed by Wayne Roberts. (1:31) R.
Q Ball
Documentary about a basketball team at San Quentin prison. Featuring Kevin Durant and members of the Golden State Warriors. Directed by Michael Tolajian. (1:36) NR.
Quartet
Restored version of the 1981 drama about a novelist, her art-dealer husband and others in 1920s Paris. With Isabelle Adjani, Alan Bates, Maggie Smith. Written by Ruth Prawer Jhabvala; based on a novel by Jean Rhys. Directed by James Ivory. (1:41) R.
The Serengeti Rules
Documentary about five pioneering scientists who changed our understanding of the natural world. Written and directed by Nicolas Brown. (1:24) NR.
Slaughterhouse Rulez
Students and teachers at a British boarding school do battle with otherworldly creatures that emerge from a nearby sinkhole. With Simon Pegg, Nick Frost, Michael Sheen, Asa Butterfield. Written by Crispian Mills, Henry Fitzherbert; story by Mills, Fitzherbert, Luke Passmore. Directed by Mills. (1:44) R.
The Souvenir
A female film student in 1980s Britain has an ill-advised romance with a dishonest charmer. With Honor Swinton Bryrne, Tom Burke, Richard Ayoade, Tilda Swinton. Written and directed by Joanna Hogg. (1:59) R.
The Sun Is Also a Star
Love blooms for two young people over the course of one life-changing New York City day. With Yara Shahidi, Charles Melton, John Leguizamo. Written by Tracy Oliver; based on the novel by Nicola Yoon. Directed by Ry Russo-Young. (2:00) PG-13.
Trial by Fire
A Houston mother of two fights for justice in the case of a death row inmate convicted of an arson-related triple homicide in this fact-based drama. With Jack O'Connell, Laura Dern, Emily Meade, Jeff Perry. Written by Geoffrey Fletcher; based on an article by David Grann and the letters of Cameron Todd Willingham. Directed by Edward Zwick. (2:07) R.
A Violent Separation
A small-town deputy helps his older brother cover up a murder. With Brenton Thwaites, Ben Robson, Alycia Debnam-Carey, Claire Holt, Francesca Eastwood, Ted Levine, Gerald McRaney. Written by Michael Arkof. Directed by Kevin Goetz and Michael Goetz. (1:46) NR.
We Have Always Lived in the Castle
The arrival of a charming cousin upends the lives of two sisters and their uncle living on a secluded estate in the wake of a family tragedy. With Taissa Farmiga, Alexandra Daddario, Sebastian Stan, Crispin Glover. Written by Mark Kruger; based on the novel by Shirley Jackson. Directed by Stacie Passon. (1:30) NR.
Zilla and Zoe
A macabre 10-year-old tasked with filming her big sister's wedding tries to shoot it as a horror movie instead. With Aida Valentine, Sam Kamerman, Greg James. Written and directed by Jessica Scalise. (1:44) NR.
---