How Chadwick Boseman brought power and purpose to Marvel's 'Black Panther'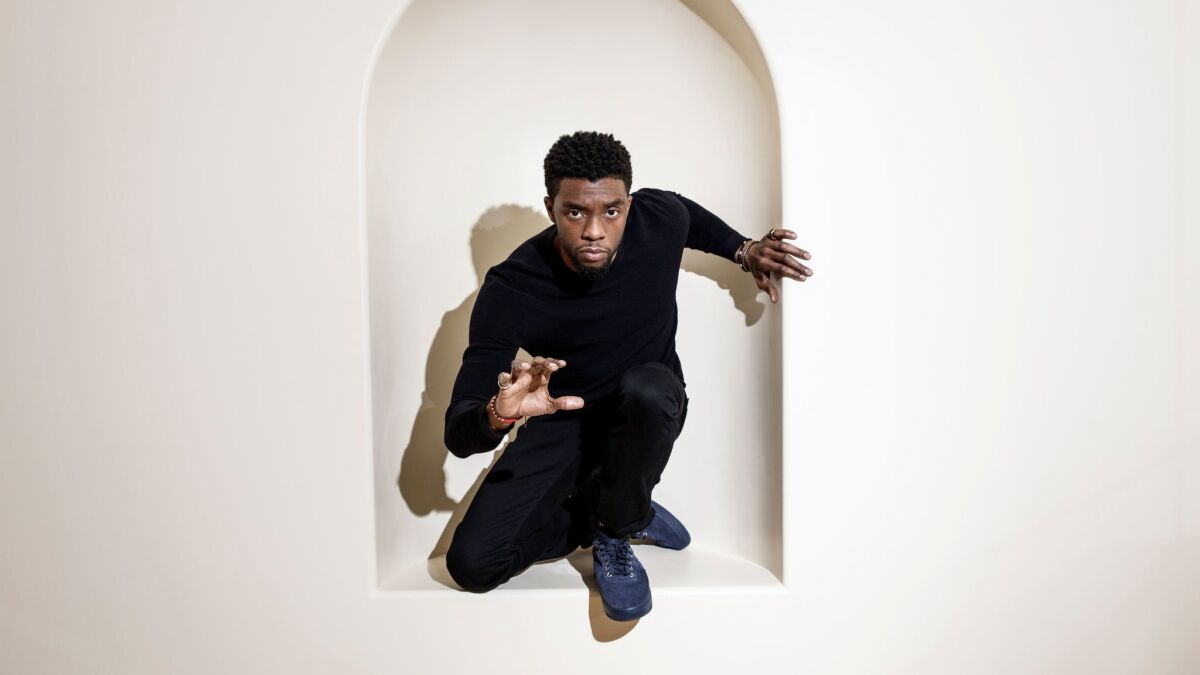 Long before he was cast as the first black superhero of the modern Marvel era, and before he brought the Avengers-adjacent King T'Challa of Wakanda to life in his own groundbreaking standalone tentpole, Chadwick Boseman was keeping notes on what a "Black Panther" movie should be.
"I can remember several times writing in my journals, 'That would be a cool thing to see in Black Panther' – ideas from real life, from real history, or real archaeology or architecture," said Boseman, 41, taking in the sunshine on a Beverly Hills hotel terrace in the midst of a frenetic press tour.

For the record:
9:20 a.m. Feb. 9, 2018
This article has been corrected with Chadwick Boseman's current age, 41, the year he received the offer to play Black Panther, 2014, and the film he was promoting at the time, "Get On Up."
"The projects that I end up doing, that I want to be involved with in any way, have always been projects that will be impactful, for the most part, to my people — to black people," said Boseman, a playwright and theater director turned actor and, now, blockbuster movie star. "To see black people in ways which you have not seen them before. So 'Black Panther' was on my radar, and in my dreams."
Having first come to wide attention as baseball legend Jackie Robinson in 2013's "42," Boseman went on to play James Brown in "Get On Up" the following year, and then-future Supreme Court Justice Thurgood Marshall in last year's "Marshall." That run of critically acclaimed performances cemented Boseman as a go-to actor for (real life) heroes even before the high-profile "Black Panther" gig came along.
52 years after debuting in the pages of Marvel Comics, the character created by Stan Lee and Jack Kirby is getting his biggest pop culture berth yet. Directed by "Fruitvale Station" and "Creed" helmer Ryan Coogler and co-written by Coogler and Joe Robert Cole, "Black Panther" arrives in theaters Feb. 16 on a wave of overwhelming critical acclaim and is poised for a domestic box office opening in the range of $150 million.
Boseman and Coogler, 31, have already made an impact with their take on "Black Panther," a sprawling work of Afrofuturistic fantasy flair exploding its way out of the Marvel Cinematic Universe formula and flourishing in the absence of, well, the Avengers. Instead of Tony Stark and his crew, it's Boseman's T'Challa and his fellow countrymen and women — played by Lupita Nyong'o, Daniel Kaluuya, Danai Gurira, Forest Whitaker, Letitia Wright, Winston Duke and Angela Bassett, leading a predominantly black cast — who take center stage.
The lineup of black talent in front of and behind the camera, unprecedented for a movie of this scale, has already established Coogler's film as a standard-bearer for black representation in Hollywood. Even the setting — the fictional African country of Wakanda, a tech-forward tribalist nation that has long kept its advances, and its stockpiles of the powerful metal vibranium, secret from the outside world — is revolutionary in the comic book genre.
Coogler's world-building is transporting and vibrant, weaving the DNA of African cultures into the fabric of the film with the help of collaborators both new (veteran costume designer Ruth E. Carter) and familiar (production designer Hannah Beachler, cinematographer Rachel Morrison). But it's within the fraught dynamic between the hero and his primary adversary where "Black Panther" deftly explores subversive and probing concerns around race, history, heritage and identity.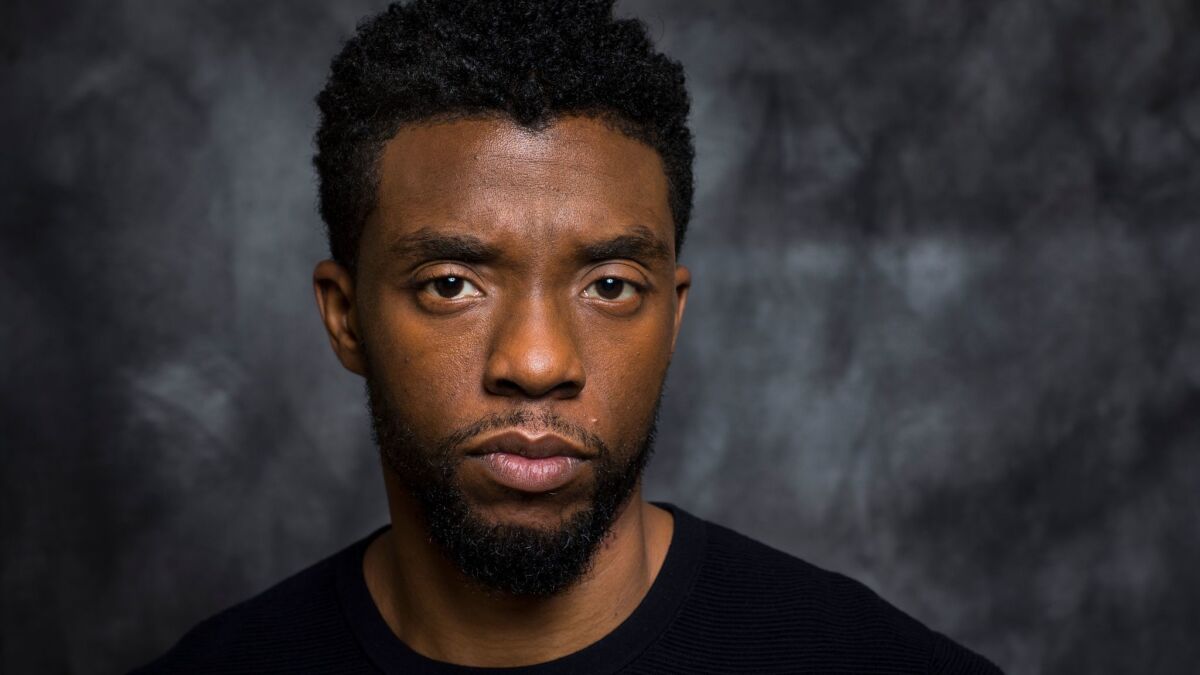 The conflict between an African American and his African [counterpart], is one that has existed since colonialism and since slavery.
— Chadwick Boseman
Building off T'Challa's introduction in "Captain America: Civil War," Boseman steps fully into the hero's suit with stately gravitas as the newly crowned king wavers between his late father's isolationist principles and the impulse to open Wakanda to the world. In the process, he encounters a new threat in the form of a mysterious American dubbed Killmonger (Michael B. Jordan, who has starred in each of Coogler's films to date).
"Most African Americans have had a moment where they're like, 'I know I'm of African descent — but I don't have that connection,'" said the South Carolina-born Boseman. "That's something that needs to be healed. That's something that's broken and has to be made whole. That conflict within the movie, and the conflict between an African American and his African [counterpart], is one that has existed since colonialism and since slavery."
"It's interesting to me because it's an in-house conversation that we're allowing y'all to see," he added with a smile, "that I think will also affect you in a much different way because you bring something different."
He's excited for young people, especially young black men and women, to see themselves reflected onscreen. "The thing that I've noticed is that I have brothers from the continent — people from Nigeria and Mozambique, Sierra Leone, Senegal, South Africa — coming up to me and saying, 'I know you're from here, but you represent what we are back home.' It's touching to me that they get to see an African character onscreen and that they identify with him."
"There will be other people from the States who will see [Michael B. Jordan's] character and identify with him," he added. "I actually do. Because his argument is a valid argument, the disconnection from Africa and the need to know where you come from."
But people of all ages and walks of life will leave the theater with what they bring to it, he muses. "There are also a lot of little white kids that are excited about 'Black Panther' — who I've seen in Black Panther costumes, who want autographs and toys signed — kids that are Asian, Latino," he said. "There's no limitation on ethnicity and gender or even age. All of that is humbling, to say the least."
Chadwick Boseman stars in the latest trailer for Marvel's "Black Panther."
Back in 2014, Boseman was overseas in Zurich promoting "Get On Up" when he got the career-changing call from Marvel's head honchos. Boseman admits he weighed the pros of taking on the role against the only con, in his mind — "that Marvel might not be as committed as they should be to making a 'Black Panther' movie on par with the other movies that they make...that it would be some kind of second-class citizen, a second-class superhero movie for black people."
Walking into his first meeting with Marvel's cinematic brain trust, including studio head Kevin Feige and executive producers Louis D'Esposito, Victoria Alonso and Nate Moore, put those fears at ease.
"I went in and I met with them — and I saw that Nate was black," he laughed, "which was important because as a minority you can have this viewpoint of how it looks inside the corporation and inside the building, this view that it's a table full of white men, because we've had to deal with tables full of white men a lot. To walk in there and see that there were women and that one of the shot-callers was black made me feel more comfortable with what was going on."
The battle to realize Black Panther in the right ways began before Coogler came onboard, as Boseman shaped the character for his "Captain America: Civil War" debut. One of his hardest-fought victories was keeping T'Challa's accent grounded in his African roots, for which the actor traveled to South Africa to study and chose a South African dialect coach.
The people of Wakanda had never been conquered by British or other colonists, but unnamed parties behind the scenes suggested T'Challa should have a British accent, an American one or even one just a few shades more European, said Boseman.
"Well, why would he have gone to study anywhere? Who could educate him outside of Wakanda?" he argued, opening the door for the "Black Panther" cast to use a range of authentic accents — including the South African tongue isiXhosa, now the official canonical language of Wakanda. "That makes no sense. As wealthy and advanced as [Wakanda is], he must speak to his people in his language and in their sound."
Perhaps surprisingly for an expected blockbuster, "Black Panther" proudly represents not only a wide swath of heritage, history and celebratory black identity but touches openly on the ripple effect their presence and absence can have across generations.
"The truth of the matter is Stan Lee and Jack Kirby and the whole Marvel bullpen created Wakanda and created T'Challa and created Black Panther, and made him a smarter, more accomplished character than any of the other white characters, in the mid-1960s," Feige told journalists at a press conference following the film's premiere.
"They had the guts to do that in the mid-1960s. The least we could do is live up to that and allow this story to be told in the way it needed to be told and not shy away from things that the Marvel founders didn't shy away from in the height of the Civil Rights Era."
The momentum behind "Black Panther" has been palpable even before the Los Angeles world premiere turned Hollywood's Dolby Theatre into a royal affair, where everyone from Ava DuVernay to Snoop Dogg turned out in support. The feeling that the film marks not only a moment but the heralding of a movement in the industry is one Boseman has seen building around him in recent years.
"I think we've been feeling it and talking about it before we could say it," he said. "At this point, with this movie coming out, you can say it. Me as the lead on a poster, at a movie theater, beside John Boyega on a ['Pacific Rim Uprising'] poster… You have 'A Wrinkle in Time' following both of those movies. You have 'Atlanta' and 'Insecure' and 'Empire'; it is an interesting moment in film and TV."
Hollywood doesn't have us in a position where we're — there's a term called 'crabs in a basket' — fighting over one spot, fighting for position.
— Chadwick Boseman
"It was different being at the [NAACP] Image Awards this year because people were genuinely excited about seeing each other and enjoying each other's work," he continued, citing the acceptance speech DuVernay delivered, which went viral. "Hollywood doesn't have us in a position where we're — there's a term called 'crabs in a basket' — fighting over one spot, fighting for position. There's a celebration to a certain degree of each other's work.
"You couldn't say that three years ago. You couldn't say that five years ago. You couldn't say that when Ryan was doing 'Fruitvale'; there was '42' and 'Selma' — you could feel it easily then, but you couldn't say that."
Ahead of opening his first $200 million movie, Boseman thought back to ten years ago. That's when everything changed thanks to a move from New York, where he was primarily working in theater, to Los Angeles, where his film career took off.
"As soon as I came to L.A., things immediately shifted for me," said Boseman. "I was now actually here with the people who were making the decisions; I wasn't out in New York sending in tapes to L.A."
After a string a TV guest roles, playing Robinson set him down the biopic path, even if he insists the heroic theme that continues through to T'Challa was accidental.
"I don't think you really have a choice but to see a throughline," he chuckled. "It's not necessarily intentional. Well, it is to a certain degree. At a certain point, once you realize what this is, you want to spend your time doing things that will be worth it. And it hasn't been worth it to me to just pick something for the money, or just because it was comfortable or because it was a sure thing.
"[Given] the time spent doing a film and researching it, you're going to come out a different person on the other side — especially if it's a challenge to you. It's always been, 'What is this going to do to make me better?' And that's the throughline."
Boseman, who has a BFA in directing from Howard University and helmed two short films, still plans to direct in the future. He also hopes to make the thriller "Expatriate" for director Barry Jenkins, which he co-scripted, as one of his next projects. But with T'Challa already confirmed to return to screens in this summer's all-hands-on-deck Marvel epic "Avengers: Infinity War," Boseman admits that "Black Panther" commitments have made it trickier to figure out his next steps.
"Is ['Expatriate'] the next thing I'm going to do? I'm not exactly sure how it's going to fall, schedule-wise. I'm trying to open this movie." He paused, correcting himself, and flashed a confident smile. "I'm not trying to. I am opening this movie."
---
Get our L.A. Goes Out newsletter, with the week's best events, to help you explore and experience our city.
You may occasionally receive promotional content from the Los Angeles Times.