'Room's' Brie Larson says 'It's not gonna look pretty,' but it will be real
As a child actor going out on auditions for fish sticks and Barbie doll commercials, Brie Larson desperately wanted to be taken seriously.
"What they're looking for is an effervescent kid who has a cute voice and can do a song and dance," said Larson, now 26. "But I wanted to do monologues. They would ask my name and what my hobbies were and I'd say, 'I like to act.' … They're like, 'Ah, yeah, OK, let's move on to the next kid.'"
SIGN UP for the free Indie Focus movies newsletter >>
Hollywood has caught up to Larson's sincerest childhood ambitions, however. Her performance in "Room," the A24 drama currently in theaters about a young mother and son living in captivity, has earned critical praise and multiple film festival audience awards for its sensitive and powerful depiction of maternal love in the direst of settings.
"The funny part is, now I don't really want to be taken seriously," Larson said, reflecting on her evolution. "Now I find seriousness to be rather ridiculous."
With the poise and perspective earned from nearly 20 years of awkward auditions, Larson has glided, comfortably, into the spotlight, including the glare of awards season. At the Telluride Film Festival in September, she briefly considered wearing a free T-shirt she had gotten with an Oscar on it for a day of media interviews — "But then I thought, 'I don't know if people will get that I'm being funny.'"
After a breakthrough leading role in the 2013 independent film "Short Term 12," Larson has been making more studio films, playing Amy Schumer's little sister in this summer's hit comedy "Trainwreck" and getting cast opposite Tom Hiddleston in the upcoming "Kong: Skull Island."
But she is part of a cohort of twentysomething actresses, including Shailene Woodley and Jennifer Lawrence, who seem determined to take Hollywood on their own terms, with their individuality and privacy in tact. Asked, after a series of other personal questions, where she lives, Larson said, "Why don't you just say that I live on Mars?"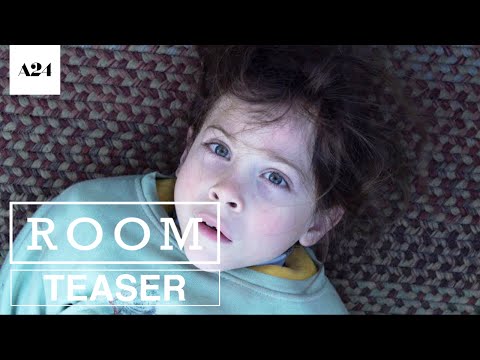 In "Room," which was adapted by screenwriter Emma Donoghue from her bestselling 2010 novel of the same name, Larson plays Ma, a young woman who has been kidnapped and spends several years trapped in a shed, where she is repeatedly raped and bears a son, Jack (Jacob Tremblay).
Directed by Irish filmmaker Lenny Abrahamson, "Room" is told from Jack's limited point of view amid Ma's attempts to create a semblance of normality in their lives. She bakes homemade birthday cakes and sings "Big Rock Candy Mountain" — and at night when her captor comes to rape her, hides Jack away in a cupboard.
In casting the role of Ma, Abrahamson was looking for an actress with dramatic chops, but also a sense of playfulness and warmth. He had seen Larson in "Short Term 12," in which she plays a supervisor at a group home for foster children, and as Toni Collette's bubbly teenage daughter in the Showtime series "United States of Tara."
"There's a self-consciously authentic style of performance that you sometimes get, which is all about, 'Feel the depth of me as a human being,'" Abrahamson said. "I wanted somebody who's in their mid-20s, but you can feel their teenageness. That was Brie."
When Larson auditioned for the part, she said, she needed to prove to herself as much as to Abrahamson that she could handle the emotionally intense role.
"I wanted to see if I could do it," Larson said. "I didn't want to jump into this job without knowing."
A fighter emerges
While preparing for "Room," Larson interviewed victims of sexual abuse and spoke with a trauma counselor, and was struck by a recurring theme: The women had been afraid to say no. For Ma, whose survival instinct drives the action in both the novel and the film, Larson said she wanted to cultivate an untamed quality.
Rather than a victim, the character emerges as a fighter against impossible odds.
"A lot of stuff I was reading in mythology was about how women used to be taught to be wild," Larson said. "The wild woman was an essence that existed in the world. We're still coming back from many years of us being chiseled out to be identical and quiet. One thing I wanted to get in was Ma becoming not nice."
In the course of making the movie, Larson began to reflect on the sacrifices her own mother made. Born in Sacramento to parents who ran a chiropractic office together, Larson moved to a small apartment in Burbank with her mother and younger sister when her parents divorced. As her acting career took off, she started home-schooling.
"There were times my mom and I butted heads, over my curfew over something like that," Larson said. "Whenever we would hit these moments of emotional backfire, she would say, 'You just don't understand what it's like to be a mother … I could never handle losing you.' I was like, 'OK, but just, like, chill out.' It really wasn't until I did this movie where I would call her hysterical at least once a week begging for forgiveness, just going, 'I see it now, I understand and I am so, so sorry.'"
Among the first jobs Larson booked, at around age 7, was a pharmaceutical ad.
"I was a blur in the background," she said. "In my mind it was like, 'I'm on camera. I'm being seen.'"
TV pilots and a Disney Channel movie soon followed, and at the same time Larson launched a music career, releasing a pop album at 16. Though it is her acting that ultimately caught on, Larson still sings and writes music for herself. It's one of multiple creative outlets that fill her time in between shooting. Another, quirkier one, is designing fonts.
"In between takes, in the middle of an emotional scene, I got into the zone of writing the alphabet," Larson said. "I'm always interested in whatever I can do to not look at my phone."
During the shooting of "Room," Larson relied on various techniques to place herself inside the character of Ma, including eschewing makeup and wearing baggy, unflattering clothes.
"When I was younger watching movies it felt like everything was glossy and beautiful and I didn't really relate to it," Larson said. "It's been really important to me to show something that's real. So if we're gonna do this movie, I'm not gonna wear makeup. It's not gonna look pretty, it's gonna look real; and that's what I want young girls to see."
Along with the physical, Larson adapted emotionally to playing a character numbed by a life in captivity in ways that were visible to her director.
"We would have lunch and Brie would be tense and fragile," Abrahamson said. "There was a jumpiness. I knew she was strong and clever. But there were times when we were approaching big emotional scenes when she had to gather herself."
Although the Toronto-based production of "Room" wrapped last December, the film's character has lingered with her, Larson said.
"It's really hard for me to read a newspaper of something involving rape right now," she said. "It's a long time to continue that sense of pain and darkness."
The question of whether audiences will want to experience that darkness is an issue as the film expands to theaters outside New York and L.A. this weekend. TV ads for the film emphasize the maternal bonds forged between Ma and Jack more than their terrifying situation.
And for those who might be afraid of the film's subject matter, Larson has a suggestion.
"I think if a movie makes you cry, you probably needed to cry," she said. "This is about love, seeing the love between Ma and Jack and how they work as a team."
Follow me on Twitter: @ThatRebecca
Get our L.A. Goes Out newsletter, with the week's best events, to help you explore and experience our city.
You may occasionally receive promotional content from the Los Angeles Times.