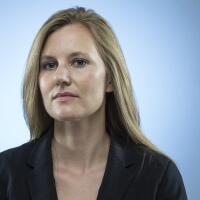 Rebecca Keegan
Former staff writer Rebecca Keegan covered film at the Los Angeles Times until 2016 and is the author of "The Futurist: The Life and Films of James Cameron." Prior to joining The Times, she was the Hollywood correspondent for Time magazine. A native of New York State, she graduated from Northwestern University.
The Academy of Motion Picture Arts and Sciences will give an honorary Oscar to British film editor Anne V.

In August, in a nondescript warehouse in North Hollywood, two lions of Disney animation were debating an intricate shot in their new movie, "Moana."

Propped over her breakfast at a West Hollywood cafe one morning in late October, Amy Adams was contemplating her dream role.

Since Labor Day weekend, Barry Jenkins has screened his new film, "Moonlight," to enthusiastic audiences at seven prestigious festivals, collected near unanimous praise from critics for its tender portrait of black masculinity and closed a deal to adapt one of the hottest novels of the year, Colson Whitehead's "The Underground Railroad," for television.

Robert De Niro will come charging into the awards race Nov. 11, when "The Comedian," a film starring the seven-time Oscar nominee as an insult comic, has its world premiere at AFI Fest.

While researching her role as Nat Turner's wife in the new film "The Birth of a Nation," actress Aja Naomi King found a small but crucial sentence in an 1831 Richmond, Va., newspaper clipping.