Andrea Bocelli reflects on having his life on film in 'The Music of Silence' and his 'heavenly' gift
If you really want to know about Andrea Bocelli, you should probably ask his wife the questions, the Italian tenor quips.
The classical crossover star is fielding questions about his life story ahead of the release of "The Music of Silence," a new biopic that opens in theaters on Feb. 2. The movie, directed by Michael Radford and starring Antonio Banderas, is based on Bocelli's 1999 memoir of the same title.

For the record:
3:00 p.m. Jan. 26, 2018An earlier version of this post said "The Music of Silence" would also be released in on VOD Feb. 2. The release is only in theaters.
Like the book, the film portrays Bocelli's life growing up on a picturesque Tuscan farm, the medical issues that took his sight as a boy and his early passion for singing. It's an intimate look at the beginnings of a prolific international career, and a window into an extraordinary life.
Speaking over the phone through a translator from his home in Italy, Bocelli reminisces about past appearances at the Hollywood Bowl (he's performing there again this summer) and chats about the very near future. Beyond the next 48 hours, the 59-year-old singer says, he'd rather not make too many plans.
"The Music of Silence" is based on a book you wrote about your life. Did you have a role in adapting it into a screenplay?
My role was that of writing the book. And the book is actually a story that is very similar to that of my life. I spent some time with Anna Pavignano, who is the author of the screenplay, and I gave her a few suggestions here and there. But I also think that when it's a world that you don't know, you have to enter tiptoeing, very carefully, paying attention, understanding what you may not know.
In the movie there is an uncle named Giovanni who encourages you to pursue singing from a young age. Can you tell us about the real Uncle Giovanni?
The movie is a little bit of a summary of the actual story. Where you see one uncle in the movie, in reality there were several people who were very encouraging. Not only family –– and he represents both close and distant family –– but also friends.
Can you describe the experience of making a film based on your life?
I was on set a few times for some of the scenes. I can't really say that I was breathing the air of the set because I was there only for some of the scenes. But that was something that really stuck with me and I will remember vividly.
You're turning 60 this year. What do you envision your career will look like over the next decade? Do you have plans to retire or do you want to continue performing regularly?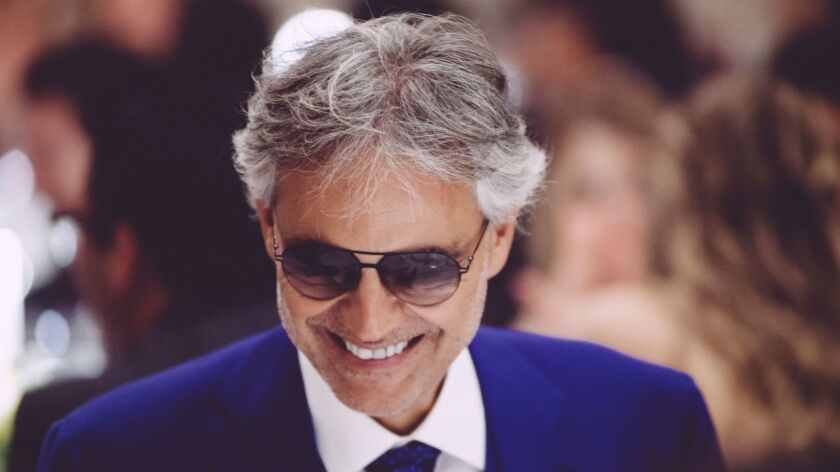 I believe in letting God's plans run their course and I just trust in him and try to follow the path that he has laid down for me.
Andrea Bocelli
My ID says so, but I try not to think about it. In terms of plans, I try never to make plans for more than 48 hours at a time. I don't think it's a wise thing to make plans for more than 48 hours because if you do, things may change and your plans don't succeed. I think it's very difficult to make plans for the distant future. I believe in letting God's plans run their course and I just trust in him and try to follow the path that he has laid down for me.
You're in Italy with your family right now. Can you describe a typical day in your life there?
When I am home like I am now I try to rest and I try to spend time with my friends because I don't have much of an opportunity to spend time with them when I'm performing all over the world. And I try to follow my passion, such as mounting my horses, which unfortunately I can't do today because the weather is really bad.
From Luciano Pavarotti to Celine Dion, you've collaborated with so many superstar vocalists both in the pop and classical world. Is there anyone you haven't performed with yet that is on your bucket list?
The last thing that was very successful was my participation in a music video with Ed Sheeran. I must say I have collaborated with many different artists of different cultures, from different parts of the world and different kinds of music and I think it's always very enriching. The world is really full of great artists, and I'm always open to be enriched by a collaboration of this sort.
You've received some pretty negative reviews from serious classical music critics. How do you feel when you read those?
It's something that happens to everybody in classical music. It happens to everybody who acquires some fame at some point. Even Maria Callas had a lot of negative reviews at one point or another. The important thing is to examine yourself and your performance and try and see if you are really presenting yourself in front of the public in the best possible condition, if you express the best abilities that you have. The bottom line is to remember the advice that Virgil gave Dante in "The Divine Comedy" when he said, "don't mind them, just keep on walking."
People all over the world adore you. Can you articulate what you think it is about your performances and recordings that is so endearing to your fans?
I never really try to find out the answer to this question because I believe that my singing voice is a gift from the heavens. And you never question a gift from the heavens.
You're returning to the Hollywood Bowl this summer. What are your memories of singing there? Can you describe the experience?
I have lots of great memories of the Hollywood Bowl. I remember specifically Liz Taylor was sitting a few times in the front row during my concert and once she even came up on stage with me while I was singing. I remember how warm the public was, even though sometimes in the Hollywood Bowl it gets chilly.
What are you listening to these days?
Opera.
Any operas in particular?
Right now I'm spending a lot of time with Donizetti's Lucia di Lammermoor because I will be performing it in May at the Teatro Carlo Felice in Genoa. I'm also studying Andrea Chenier [by Umberto Giordano] because I will be performing it in July at the Teatro del Silenzio in Tuscany.
---
The complete guide to home viewing
Get Screen Gab for weekly recommendations, analysis, interviews and irreverent discussion of the TV and streaming movies everyone's talking about.
You may occasionally receive promotional content from the Los Angeles Times.