With 'Crown Heights,' ex-NFL player Nnamdi Asomugha is claiming space in Hollywood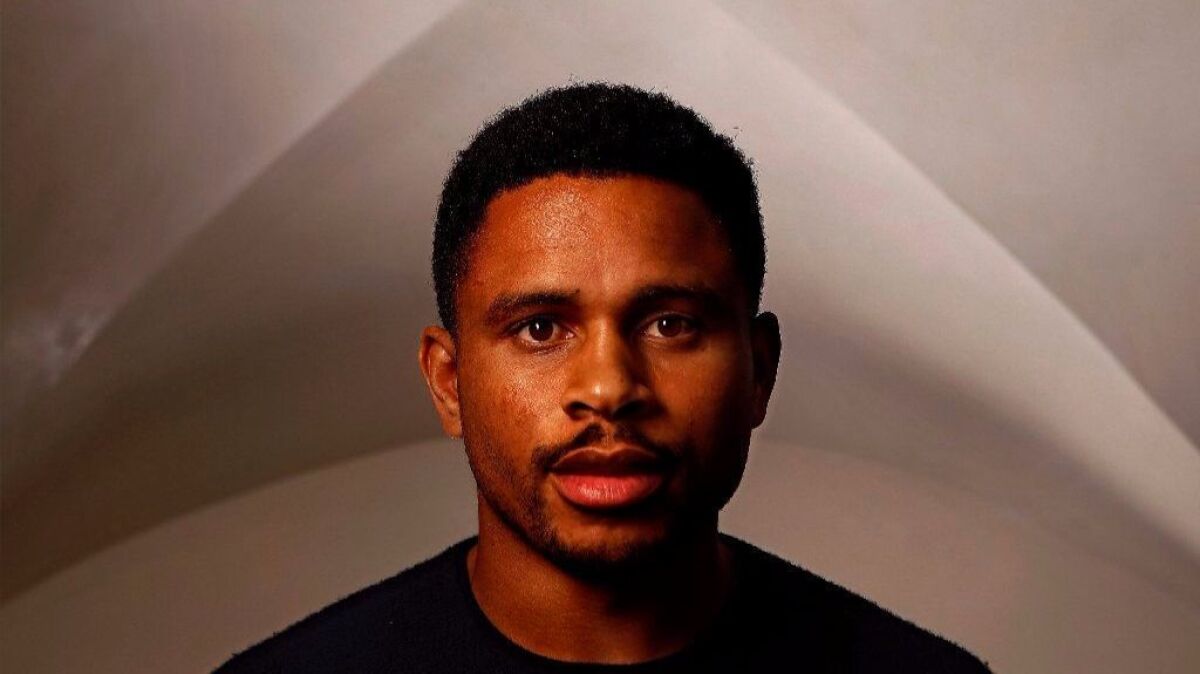 Nnamdi Asomugha never thought he'd actually become an actor. Sure, like many young black boys growing up, there were two careers that captured his idea of success: on the field or court as a professional athlete or on stages and screens as a top-billed entertainer.
But he was also the son of Nigerian parents who migrated to the United States in the 1970s. They had two very different career paths in mind: doctor or lawyer. "And actually those are the only two professions on the planet," he said with a laugh, repeating his parents' early admonition.
Now, after a decade of a professional football career before retiring in 2013, Asomugha is making moves to establish himself as a Hollywood power player in front of and behind the camera. As a star and producer of "Crown Heights," opening Aug. 25, the former player for the Oakland Raiders, Philadelphia Eagles and San Francisco 49ers is following a long line of athletes extending their careers far beyond the 50-yard line.
"Thank God I was successful [in football] because now my mom is like, 'I have faith in you,'" he said, smiling.
"Crown Heights," which won the audience award at this year's Sundance Film Festival and was acquired by Amazon Studios, chronicles the true story of Colin Warner ("Get Out" and "Atlanta" costar Lakeith Stanfield), who was wrongfully convicted of murder in 1980 and sentenced to a minimum of 15 years in jail. His best friend Carl King, played by Asomugha, devoted 20 years of his life to proving his innocence. (Warner was exonerated in 2001.)
What Carl taught me is that one person can do it, galvanize a community to follow you and right that wrong.
— Nnamdi Asomugha
"This is not the 'American dream' they were looking for," said Asomugha of the two Trinidadian immigrants who had developed a bond in their Brooklyn neighborhood.
Such a weighty film is a far cry from Asomugha's first major Hollywood gig. While he admits acting "was always sort of inside me," noting that he frequently lobbied to have his family's single TV in his room as a child, he didn't seriously consider "thespian" as a career option until around 2008.
While on the set of a Nike commercial, the director invited him to drinks after. Though Asomugha could not accept the invite because he had a flight to catch, the director left him with a bit of advice.
"'I want to tell you that I do this all the time and you are gifted at this,'" Asomugha recalled the director saying. "'So, whenever you're done [with football], I think you should pursue this and take lessons.'
"I just thought it was nice of him," Asomugha said of the notes. Three months later, Asomugha got a call from his agent saying that same commercial director wanted him in his television show.
The director was Peter Berg. The show was "Friday Night Lights." "I had no clue who Peter Berg was," he said, "but that was one of the moments that told me this is something I could take seriously at one point in my life." He ultimately appeared in a guest role on the Season 4 premiere.
Asomugha's Hollywood origin story is just one example of what Courtney Brunious, associate director of USC's Sports Business Institute, describes as "a lot of crossover between sports and entertainment these days."
Because athletes often network in similar circles as Hollywood, "they're getting more exposure to the industry" and with "all the opportunities to produce content now versus 15 years ago where there were only so many outlets," many athletes are taking the opportunity to extend their 15 minutes of fame.
"They're utilizing their celebrity to further their interests beyond just playing sports," Brunious said.
Asomugha is following in the very big shoes of the likes of Jim Brown, Terry Crews, Michael Strahan, Earvin "Magic" Johnson and LeBron James. He notes that his time as an NFL cornerback has translated well to his Hollywood pursuits.
"I tell people all the time that football taught me about life in every single aspect," he said. "The leadership qualities that you have to have to be a producer on a film is something I learned being a captain on the team. Then, the amount of preparation it took to be successful at football … seeing that, going through it and knowing the process, and being able to bring that to acting has been very beneficial for me because I prepare in a very similar way."
"Crown Heights" writer-director Matt Ruskin said that he could see the parallels between Asomugha's approach to sports and acting in his work ethic.
"Just observing how meticulous and detail-oriented he was, I could tell he was totally living and breathing this role … and see how he probably developed that skill while becoming a world-class athlete," he said. "What he was lacking in experience he made up for tenfold in preparation."
It should also be noted that "Crown Heights" may not have been quite as authentic without Asomugha. He brought onboard a production company that allowed the film to shoot on location in New York — as opposed to Louisiana where the previous production company wanted to take advantage of tax credits, Ruskin said.
This is just one way that Asomugha is approaching his time in Hollywood, using his name and connections to tell stories that resonate with him. And at the core of his small but mighty brand thus far — which spans executive producer credits on "Beasts of No Nation," the short documentary "Waiting for Hassana" and a forthcoming Harriet Tubman film starring Cynthia Erivo, plus producer of "Crown Heights and another current release, "Patti Cakes" — is identity.
"It's so crazy. That's not intentional but I've realized there is this theme in all of them," he said. "Where do I fit in the world? Where do I fit in time? I didn't know I was gravitating toward those stories."
Perhaps, Asomugha said, it comes from his upbringing — outside of his home he was in America, but inside he was in Nigeria. (He was born in Louisiana, but grew up in Los Angeles.)
"That can be confusing because as a kid you're trying to see where you fit in," he said. "And I guess there was this identity complex there that I didn't realize until film made it glaring for me."
With "Crown Heights," very much a narrative approach to the ongoing conversations around mass incarceration as seen in the Oscar-nominated doc "13th" and shows like "Queen Sugar" and "Orange Is the New Black," Asomugha is throwing his voice in. Having been arrested twice between the ages of 13 and 16 for crimes he didn't commit and forced to spend a day in a holding cell — "It's nothing compared to what Colin spent, but when something like that happens, it stays with you" — he hopes the film will help open people's eyes.
"They can go into this film really blind to the fact that this happens and see that a real human went through this — and it happens all the time but sometimes we're just ignorant to it," he said.
"What Carl taught me is that one person can do it, galvanize a community to follow you and right that wrong."
Get your life! Follow me on Twitter (@TrevellAnderson) or email me: trevell.anderson@latimes.com.
---
Get our L.A. Goes Out newsletter, with the week's best events, to help you explore and experience our city.
You may occasionally receive promotional content from the Los Angeles Times.