Domhnall Gleeson, on playing gentle and evil and surviving the harsh shoot for 'The Revenant'
Domhnall Gleeson took the phrase "working actor" to new heights in 2015. He was in four very different movies: the sci-fi thriller "Ex Machina," the romantic immigration tale "Brooklyn," the wilderness survival picture "The Revenant" and the blockbuster sequel "Star Wars: The Force Awakens." Which, by the way, are all nominated for Academy Awards.
His characters in those films varied from a gentle Irish soul in "Brooklyn" to the evil Gen. Hux in "Force Awakens." So what about 2016? Well, it's starting off busy enough as he shoots the new "Star Wars" installment in London.
See more of Entertainment's top stories on Facebook >>
Calling from his home in Dublin, he spoke about growing up in an acting family, playing characters both sensitive and wicked, and what exactly it was like shooting "The Revenant" in the frozen wilderness.
Your dad, Brendan Gleeson, is also a well-known actor. Did you try to hide that fact as a kid?
No, I was very proud that he was my dad. I mean, I didn't go around shouting it from the rooftops. "Braveheart" came out when I was in secondary school, and people my age hadn't seen that. So people didn't really know him. And I wasn't, like, "Hey, you know who my dad is? Maybe we should hang."
Watch Q&As with the 'The Revenant' cast and crew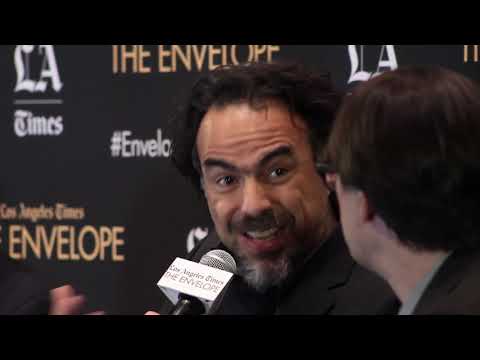 On Now
Video: 'The Revenant': Limited shooting hours
On Now
'The Revenant': Attraction of the story
On Now
Video: 'The Revenant': Know what you're getting into
On Now
'The Revenant': Knowing a character's future
On Now
'The Revenant': Conditions affect performance
On Now
Video: 'The Revenant': The bear scene
On Now
'The Revenant': Agility of the story
What did you think of his job? Did you think it was cool he was in movies with big stars like Mel Gibson?
Well, he wasn't like super famous or living in America. I probably saw a few pictures of him in Hollywood on red carpets, but he mostly did Irish films at that time. So I didn't dream about Hollywood so much, but Broadway always excited me. When I did a play on Broadway, the notion of that and living in New York seemed quite cool.
So how did you realize you were interested in acting?
At first, it didn't really seem like a need inside me. Maybe I was afraid of it. I mean, I had done plays in school. I did "Grease" in fourth year. I was Doody.
Wait, who?
Doody. One of the friends of Danny.
My bad.
I was also in a school play called "The Cabbages." I think we all played cabbages, and I had to eat cabbages on stage while dressed as a massive cabbage. I hated my greens, so I was half gagging. That was my first experience suffering for my art. I have long been a committed actor. And that's a joke, you know.
Since this pivotal role as a leafy green, you've gone on to play the quintessential nice guy numerous times. Does that have something to do with your off-screen persona?
I guess I can understand it. It's happened enough now that I realize it has to come from somewhere. I don't find it to be insulting or emasculating at all. The best men have to have some sensitivity.
So was turning to the dark side as Gen. Hux in "The Force Awakens" a challenge?
I liked him because he allowed me to explore the notion of authority — he's someone who enjoys authority and holds onto it at all costs. The costume was brilliant and added a whole other layer for me. We talked about the idea that he's an obsessive and probably doesn't sleep much.
So he was pale with dark eyes. We wanted him to look like somebody who was dead set on one thing.
Did you film with the cast in Abu Dhabi?
No, and if I'd been in Abu Dhabi, I can promise you I'd be a nightmare to be around.
Why?
I'm good in the cold. I'm not delirious, skipping around or anything, but I like it.
So the reportedly brutal conditions on "The Revenant" set didn't bother you?
Well, cold and wet is a different thing. As long as I was working, I was fine, because you know this is on camera and the possibility of it being really good keeps you warm.
But on a day when you're out there, in and out of the river, standing around and not knowing if you're going to get to your bit that day — those days suck. Because you're just hanging around, trying to keep warm with heat pads in your gloves.
You still live in your native Ireland. Have you felt pressure to move to the U.S. to pursue your career?
I think it's important to keep a place here. There's an importance to not living out of a suitcase — at least in my head, there's always a home somewhere. I think it's good not to have boxes of stuff in your parents' house.... My agents would never put any pressure on me to move. They want me to be happy as well as getting jobs. I'm comfortable in Dublin. I like it being my home.
You've filmed in some pretty exotic spots recently — "Ex Machina" in remote Norway, "The Revenant" in the wilds of Canada. Does living off-the-grid entice you?
I'm not sure. I start to miss other people. With work, I spend enough time in hotel rooms that when it comes to my own life, I want to be around people. If I went camping with stuff from the 1820s, then I'd be like, "Everyone step back!" But with modern gear? I'd have to say, "Do these poles go with this particular tent?" I'm not a big camper.
Twitter: @AmyKinLA
Get the Indie Focus newsletter, Mark Olsen's weekly guide to the world of cinema.
You may occasionally receive promotional content from the Los Angeles Times.